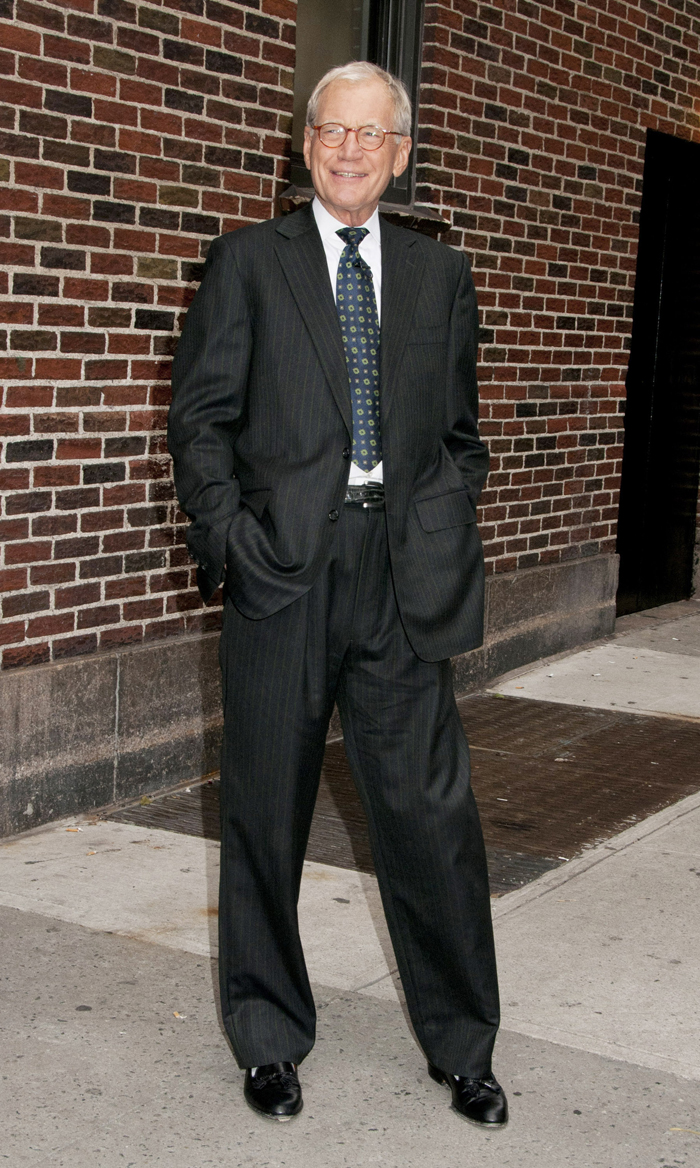 I was thinking about this subject just the other day. And dreading it. David Letterman announced his retirement from CBS' The Late Show during Thursday night's episode. This was bound to happen. Dave has been trucking along at CBS for 22 years as host, and that gives him a total of 33 years hosting his late-night talk show(s). He is 67 years old. He's officially outlasted Jay Leno. Now Dave is ready to retire. He sat behind his desk at the Ed Sullivan Theater and declared his intention to leave the show in 2015: "It's been great … but I'm retiring." The audience seemed surprised but gave an immediate standing ovation.
Dave is one of my comic heroes. He's always been a magnificent bastard and a grumpy curmudgeon who has mastered the art of sly sarcasm. He is very skilled at nailing celebrities in interviews and not letting them get away with much. Dave doesn't throw softball questions, but he has a loyal following of celebs who always return for another round. Dave's own career is not without scandal. The last time Dave gave a huge speech like this was during his extortion scandal (where he confessed to bedding his former assistant). That was a real mess, but Dave recovered his stature and is ready to ride off into the sunset … and marry Paul Shaffer. LOL:
In a move that will complete the generational transition in latenight, David Letterman is preparing to retire from CBS next year.

Letterman is expected to discuss his plan to retire in about a year on Thursday's edition of The Late Show. Letterman disclosed his plan during Thursday afternoon's taping of The Late Show.

"The man who owns this network, Leslie Moonves, he and I have had a relationship for years and years and years, and we have had this conversation in the past, and we agreed that we would work together on this circumstance and the timing of this circumstance. And I phoned him just before the program, and I said 'Leslie, it's been great, you've been great, and the network has been great, but I'm retiring,'" Letterman said according to a transcript issued by his PR rep.

"I just want to reiterate my thanks for the support from the network, all of the people who have worked here, all of the people in the theater, all the people on the staff, everybody at home, thank you very much. What this means now, is that Paul and I can be married.

"We don't have the timetable for this precisely down — I think it will be at least a year or so, but sometime in the not too distant future, 2015 for the love of God, in fact, Paul and I will be wrapping things up." Afterward, Letterman received a standing ovation from the audience at the Ed Sullivan Theater.

As of next year, Letterman will have hosted Late Show on CBS for 22 years. He logged 11 years as host of NBC's Late Night before famously being passed over at NBC for Johnny Carson's throne on The Tonight Show — over Carson's objection. Letterman has logged more than 6,000 episodes during his long career.

Word of Letterman's plan spread quickly via Twitter on Thursday afternoon after musician Mike Mills, who appears on Thursday's show, noted Letterman's big news following the taping.

Letterman's departure will cap a busy period of host shuffling in latenight following Jay Leno's retirement from The Tonight Show, which made way for Jimmy Fallon to take the helm.

Staying on through 2015 will allow Letterman to comfortably outlast his longtime rival, although Leno had the ratings advantage during most of his 22-year run on NBC.

With Letterman stepping down, the latenight TV landscape will be dominated by hosts (Fallon, Jimmy Kimmel, Seth Meyers, Craig Ferguson, Jon Stewart, Stephen Colbert, Conan O'Brien) who came of age professionally in the post-Johnny Carson era.

In fact, Letterman is the bigger influence on his contemporary crop of rivals. ABC's Kimmel has made no secret of idolizing his 11:35 p.m. competitor.

Confirmation of Letterman's retirement raises question of a successor. Craig Ferguson has hosted The Late Late Show following Letterman since 2005, but it's not immediately clear if CBS sees him as 11:35 p.m. successor potential.
[From Variety]
Dave will still be around for about a year. That leaves plenty of time for some great grumpy interviews. I hope he interviews potty mouth Jennifer Lawrence again. He must f-bomb Tom Cruise one more time. Most importantly, I hope Dave squeezes in at least a dozen more episodes featuring Bill Murray.
Of course people are already talking about who will replace Dave as Late Night host. Craigy Ferg (sad to say) doesn't have a shot at this gig. Dustin at Pajiba has offered several suggestions. The Daily Beast has campaigned for a woman to take over for Dave. They unfortunately suggested Chelsea Handler (who will soon leave E!) for the job. NO.
Here's the full version of Dave's announcement during last night's episode: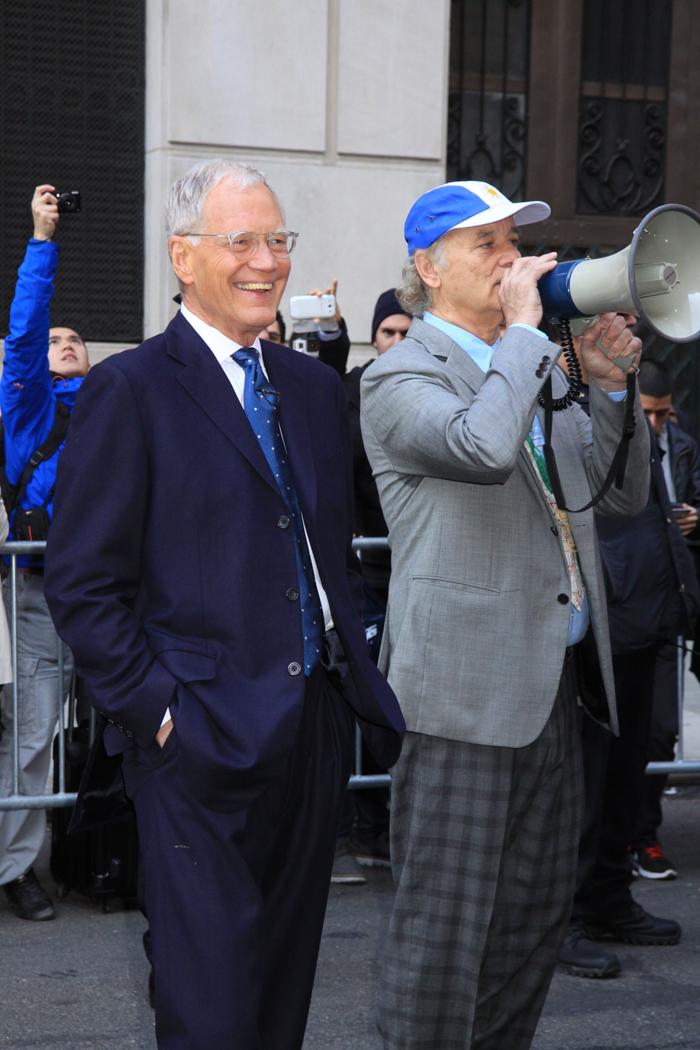 Photos courtesy of WENN