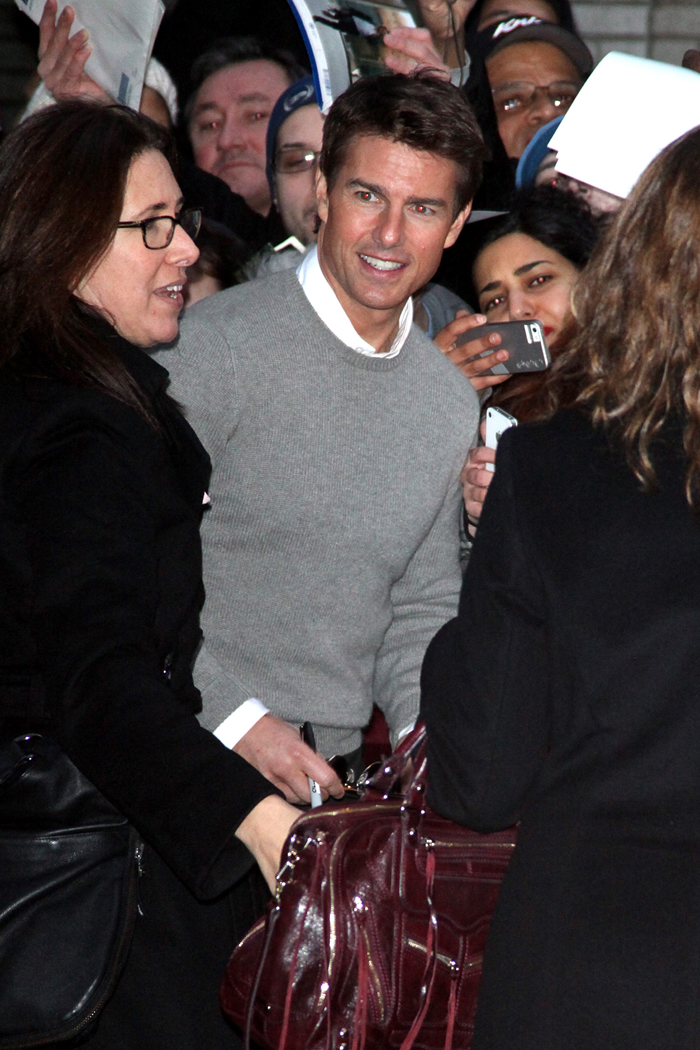 Tom Cruise stopped by the "Late Show with David Letterman" last night, and that means he's in New York City, so maybe he'll decide to take a few minutes from his very important, hectic schedule and visit Suri. It's the least he can do. I kind of love the above photo, which is rather enlightening because Tom's red eyes are betraying the very moment when Xenu comes out to play.
Now onto a more important topic, which is the re-appearance of Tom's moobs. We are officially back on Moob Watch, people. Kaiser was the first one to notice Tom's adorable little A-cups, and then she called him out on trying to use his shiny, blue, puffy jacket to hide those suckers. The moobs went away for a few months while Tom got in shape to shoot a few action flicks, but then Tom wore the moob-hiding jacket last week in Madrid, so I guess that's a good indication that they're back, right? Look at them. They are so perky. Honestly, I wish my rack was this small. I'd save so much money on sports bras: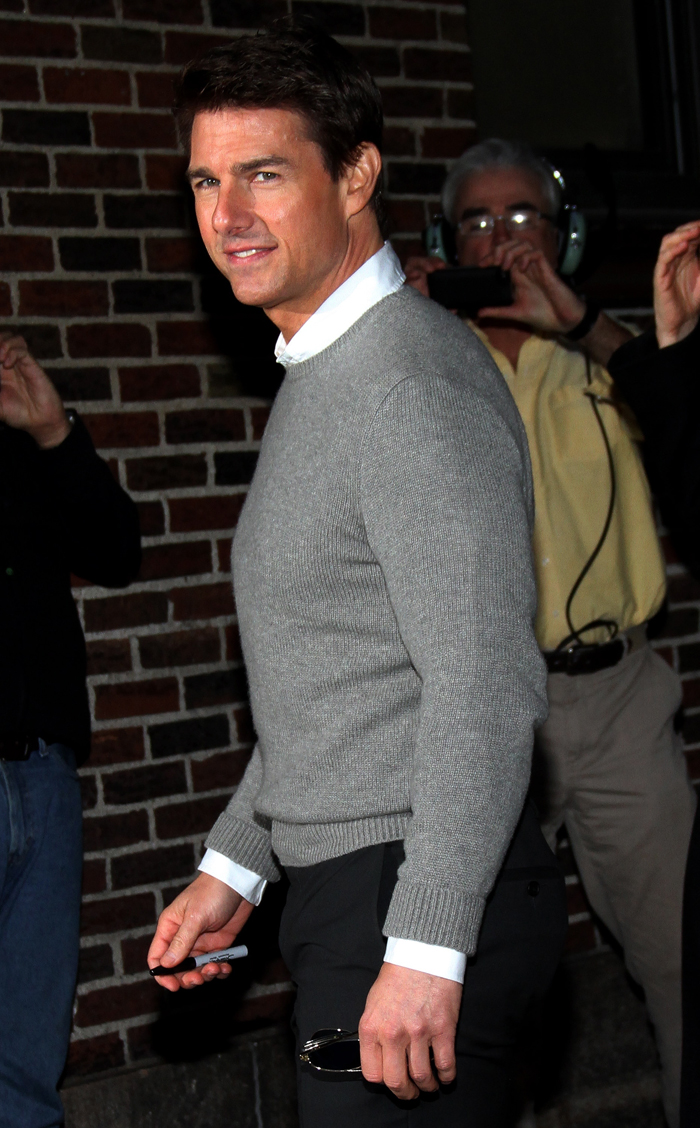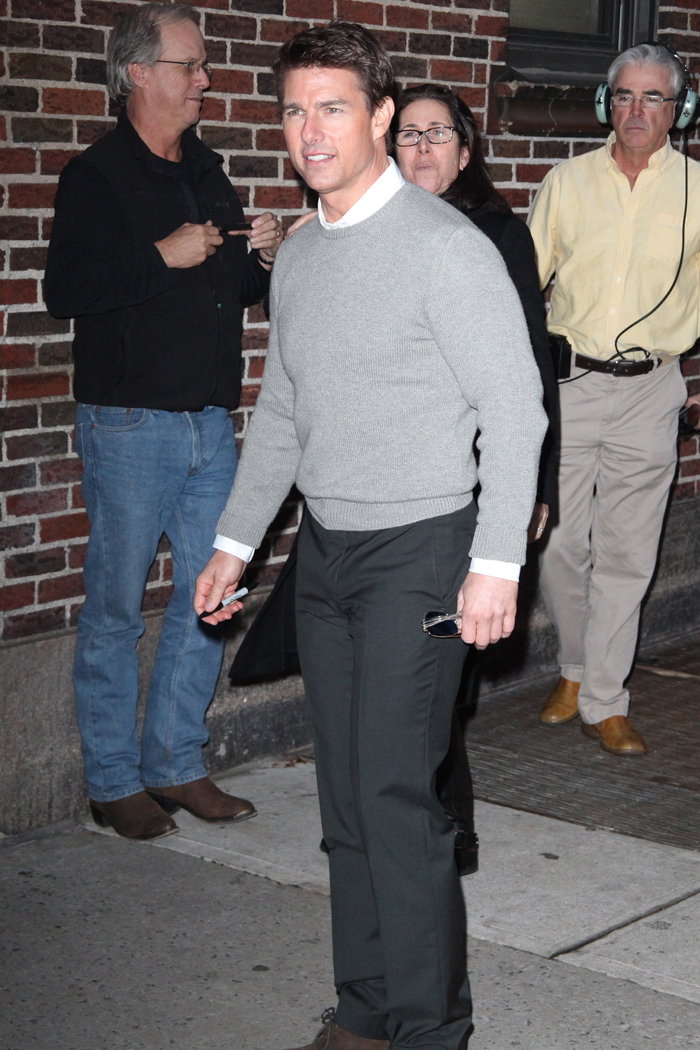 Tom's actual appearance last night on Letterman was an eventful one, but not because there was much talk of Jack Reacher. They did show a clip, but Paramount's promotion has dropped to a mere trickle in regards to discussing the movie, which is quite violent with all manner of gunplay and Tom beating the living crap out of various characters. That is, in the fallout of the Sandy Hook shootings, the NYC premiere has been postponed out of respect to the victims of the tragedy, which is a smart move. So good on Tom for taking it down a notch too when it comes to pimping his latest project (although other Scientologists haven't been nearly as well-behaved, and I've been giving Juliette Lewis the middle finger all weekend for retweeting "news stories" about how all violence is a direct result of psychiatry — because Xenu drugged his peeps before blowing up all the volcanoes).
In lieu of discussing much about Jack Reacher, Tom and Dave talked about their kids. More specifically, Dave pondered when having "the talk" was appropriate, and then Dave started in on how his kid knows a dirty word or two. Here's Tom's shocked face when Letterman drops the F-bomb and a video clip of the moment below: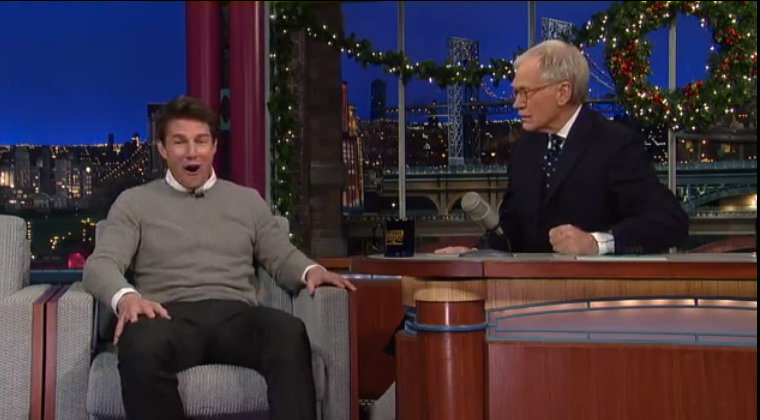 Oh, Tom. His response is rather hilarious yet ultimately predictable here. He's such a "clean" guy, you know? I remember how Adam Carolla talked about how Tom stopped by Jimmy Kimmel's house to watch football (and Tom brought his mom), and Tom was so offended (although he was trying to hide it) at all the poop jokes and alcohol-ridden behavior on display. In Adam's words, "He comes across as a guy who's battling to be normal, like he's from another planet, and he's studying guys and saying, "What would a guy do in this situation?'." And then Adam did a really gross thing with a football in front of Tom. Wait, what was I talking about?
Right. MOOBS.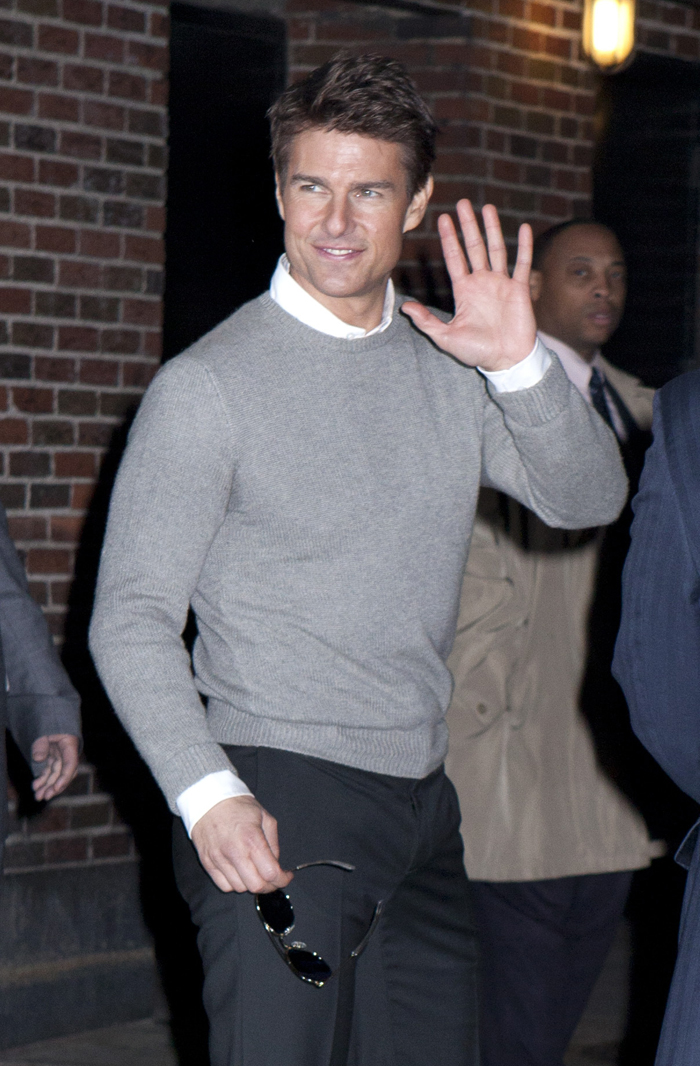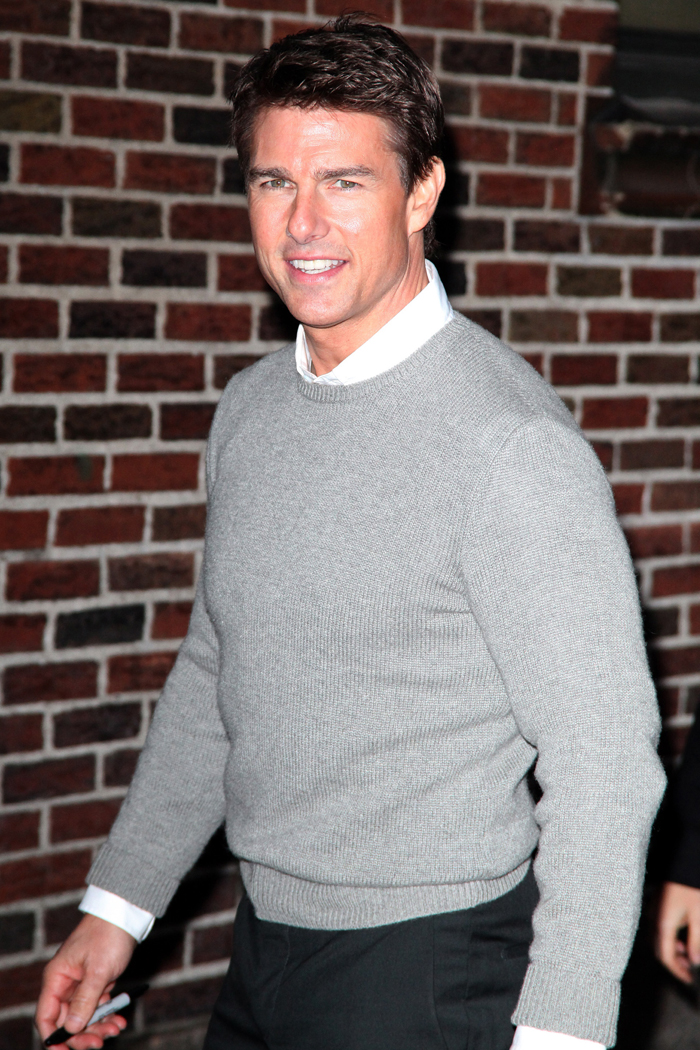 Screencaps courtesy of YouTube, photos courtesy of WENN