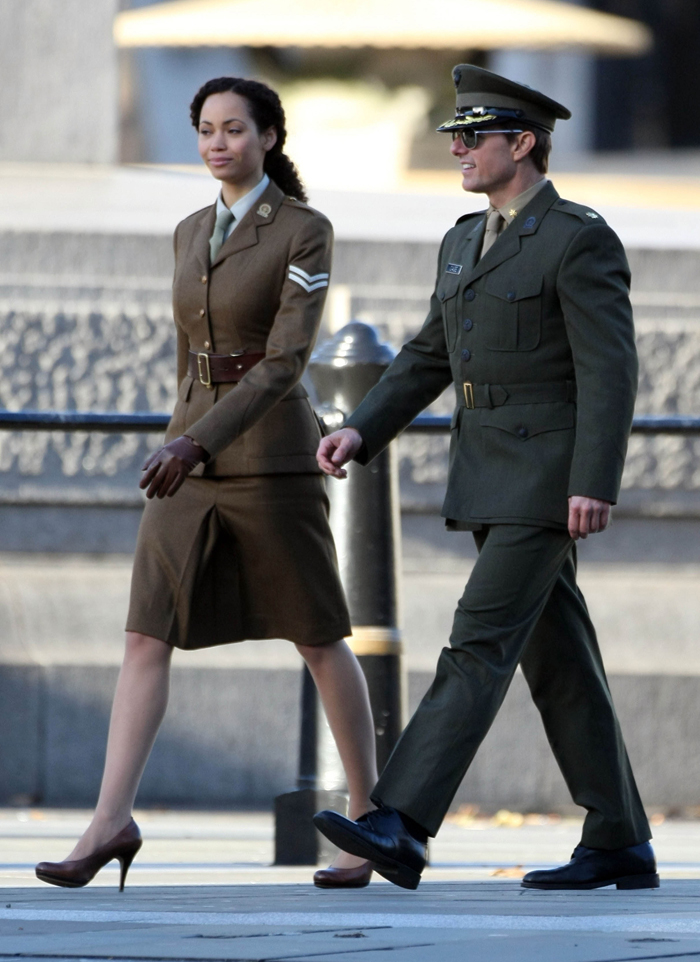 Here are some photos of Tom Cruise (and his sexy lifts) filming All You Need is Kill in London over the weekend. These set photos aren't nearly as righteously epic as the film's first official still, wherein Tom looked like he was preparing to crap his pants in the role of an inept military leader trapped in a time warp while fighting a war against invading aliens (all hail Xenu!). Tom was on the set for this film all weekend long. He was photographed on location in Trafalgar Square on Saturday (while wearing his puffy, moob-hiding jacket). Then on Sunday, Tom was shooting in full military costume while Traflagar Square was completely closed off to the public while Tom flew in via RAF 'copter and frolicked with a bunch of tanks and whatnot. How exactly was Tom working all weekend if he was supposedly visiting with Suri for the first time in more than 17 weeks? That's a damn good question.
Of course and according to the unsubstantiated rumor masquerading as a legitimate HuffPo story, Suri was with Tom from Tuesday through Sunday, and she was presumed to have been squired back to the States via Tom's private jet late Sunday evening. In an interesting move, People picked up the same visitation story with no additional details and despite the very clear fact that there have been NO new pictures of Tom and Suri together. However, Tom did find time to spend the entire weekend on the London set of his latest machismo-filled action flick. Here are the details of the weekend shoot from the Mail: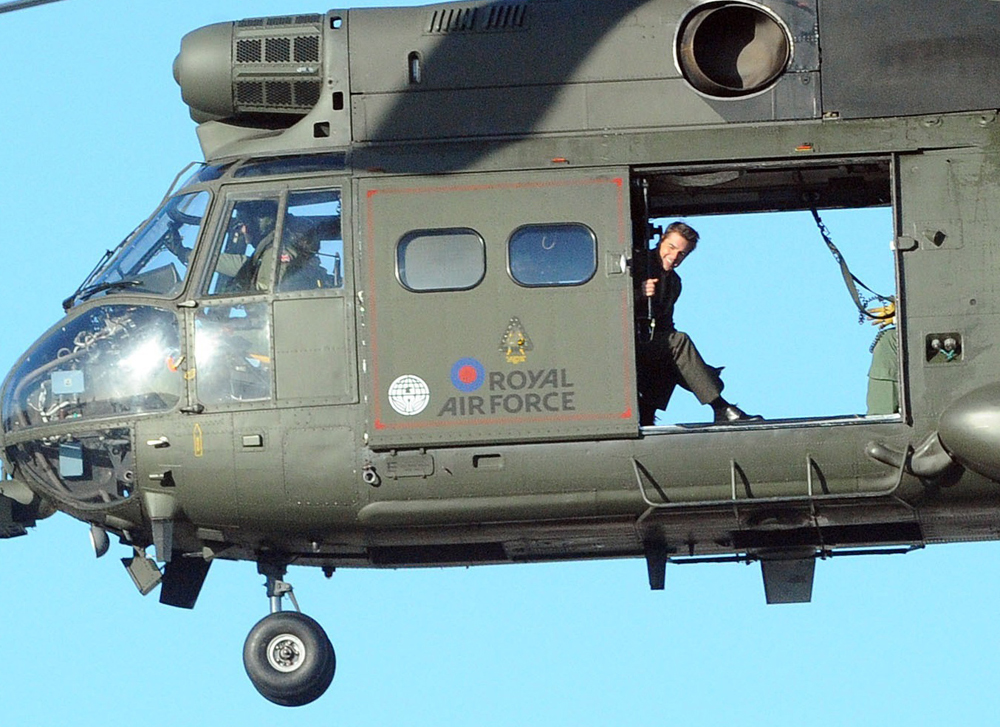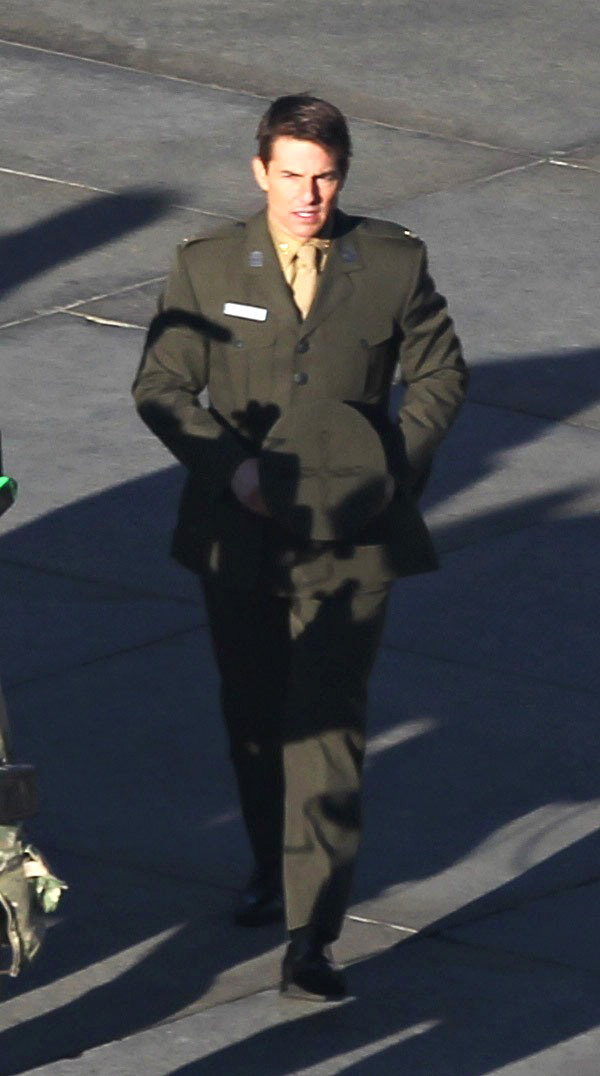 It's not every day London's Trafalgar Square is completely shut down for the filming of a big budget Hollywood movie. But then again, it's not every day that Tom Cruise is in town.

The 50-year-old actor certainly made sure to make his presence known as he cordoned off the famous location to shoot scenes for his new movie, All You Need Is Kill, in the early hours of Sunday morning. Arriving on location in an RAF helicopter, the Hollywood star touched down with a bang as the chopper carefully negotiated its way onto the central London set.

But it certainly wasn't for the faint-hearted, with the helicopter having to narrowly dodge a number of landmarks, including Nelson's Column. And as he landed slap bang in the middle of Trafalgar Square, Tom treated onlookers to another joy as he stepped out looking utterly dapper in a hunky military uniform.

The star was groomed to perfection as he marched through the streets in his tailored khaki ensemble, which was accessorised with a smart hat and aviator-style sunglasses. Tom was joined on set by a whole host of extras, who seemed to be wearing protective helmets and khaki ponchos over their camouflage gear.

The A-list actor seemed on fine form as he got to work, looking cool, calm and collected as he shot a number of action scenes. The star made his presence well and truly known as he cordoned off Trafalgar Square once again to film scenes for the movie in the miserable weather. Giving tourists a treat, the 50-year-old and the crew had shipped in a number of large tanks, suggesting that they were filing an action scene.
[From Daily Mal]
So what gives? I was initially inclined to believe that Tom was actually with Suri but only because she wasn't photographed with Katie over the holiday weekend. However, there have been no photo ops from Tom either, which is a very uncharacteristic move from him. Did his team finally wise up and say, "Tom. No more grinning at paps or swimming with reporters. And definitely no more wife auditions"? I doubt it. And what about Tom's obvious desire to prove his #1 Daddy status after suing Life & Style for their recent "abandoned by daddy" story? I just don't know.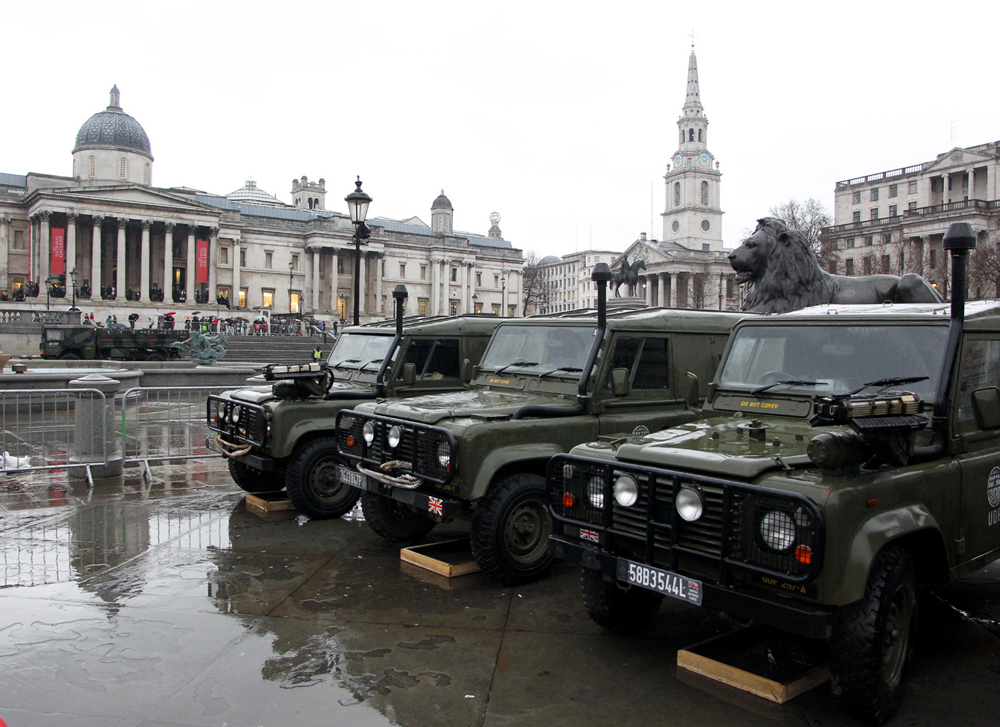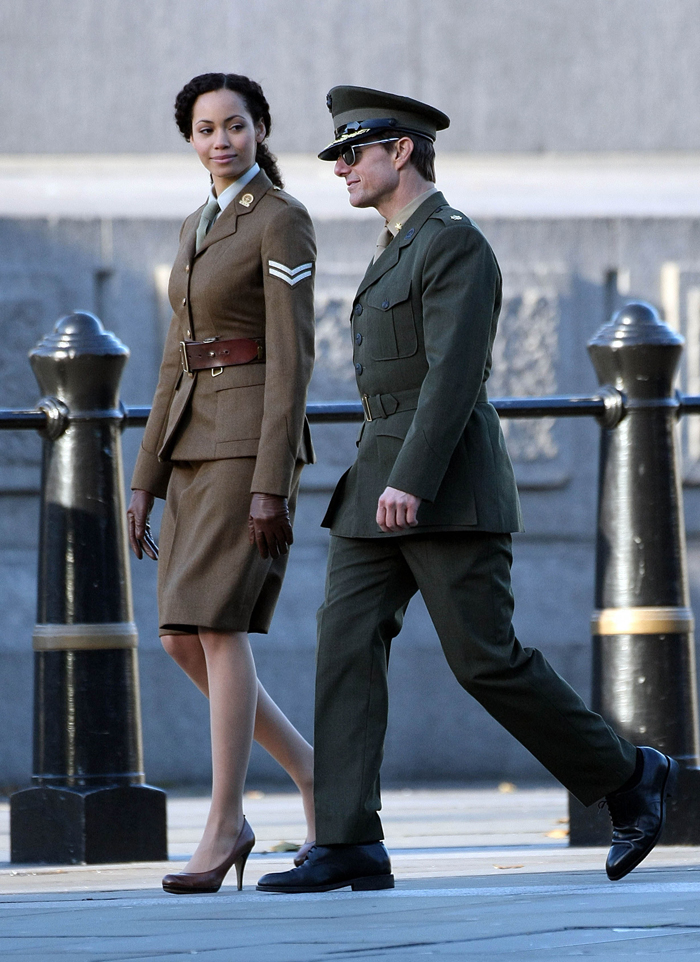 Photos courtesy of Fame/Flynet