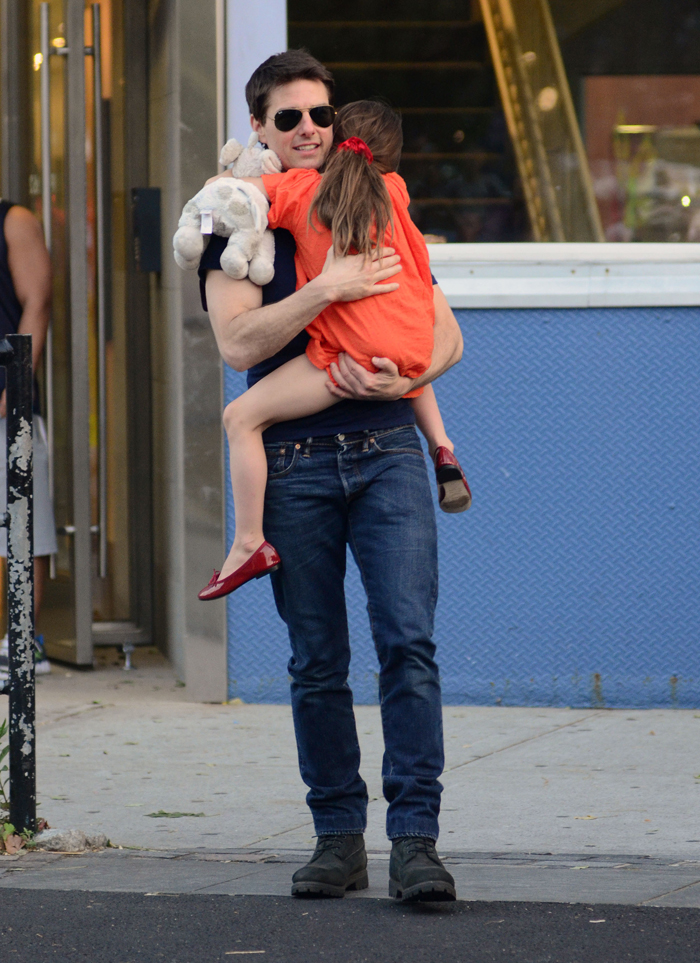 Tom Cruise is finally pissed off enough about his destroyed reputation (which, by the way, is entirely his own fault) and has decided to do something about it by suing the hell out of Life & Style. The tabloids, naturally, are what Tom sees as the source of all of his problems instead of the real culprit, Scientology. Never mind that Tom doesn't mind using the tabloids for his own purposes, such as that time he invited a Star reporter to witness his bittersweet reunion with Suri in mid July. Speaking of Suri, Tom hasn't seen his youngest daughter in nearly thirteen weeks. THIRTEEN. It was late July when he and Suri visited Disneyworld together, and he hasn't seen her since then. That's about three months and sort of speaks for itself, doesn't it?
Well, this issue is the precise matter that is getting under Tom's skin at this point. He doesn't understand why people are so disgusted that he's not hanging around his daughter. He's working, okay? And raving in London nightclubs on the weekends and whatever else he's doing to avoid getting on that private jet of his and seeing Suri. But Tom is angry that anyone would claim that he doesn't have anything but his daughter's best interests at heart, and it should be just fine (perfect, in fact) that he calls her on a regular basis. Tom just doesn't get it, but someone will pay for thinking he's not the ideal father, and Life & Style getting sued to that effect for $50 million plus punitive damages, and Tom is demanding a jury trial as well. Like that wouldn't turn into a sh-tshow, right?
TMZ has a copy of the papers filed by Tom's attorney, Bert Fields, and the language in the article is pretty hilarious. Not only are defendants supposedly "wholly unconcerned about the truth of what they publish and what harm it causes," but they are also guilty of "vile and reprehensible" conduct. Further, "plaintiff is not a litigious person and has not sued them before. But to falsely accuse him of abandoning his child crosses the line. Enough is enough." In addition, "the true facts are that plaintiff loves his daughter dearly and would never abandon her. Whenever his work has taken him on location away from Suri, he speaks with her every day." The thing is — this lawsuit is about the July 30 issue of Life & Style. The portrait of Tom's absence in Suri's life is much, much worse now, and he is oblivious of this fact because it only angers him that the term "suppressive person" has entered the conversation. Here are the details from TMZ: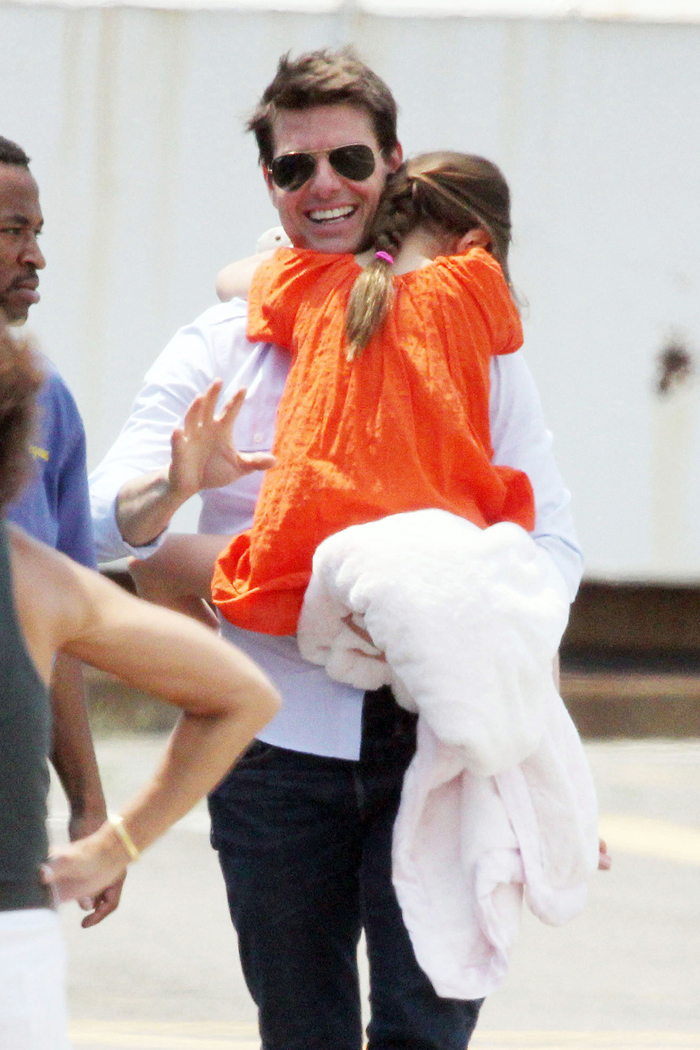 Tom Cruise just filed a $50 million lawsuit against Life & Style and In Touch magazines, claiming the mags defamed him by reporting he had abandoned 6-year-old Suri.

In the lawsuit, filed in L.A. federal court, Tom takes issue with the July 30th cover of Life & Style, which reads, "SURI IN TEARS, ABANDONED BY HER DAD" — as well as the October 1st cover of In Touch, which shows a picture of Suri above the headline, "ABANDONED BY DADDY."

According to the suit, Tom claims the mags' headlines are FALSE — insisting, he "loves his daughter dearly and would never abandon her."

Tom is suing for $50 million plus punitive damages for defamation and invasion of privacy. In Touch and Life & Style are sister magazines owned by the same publishing company Bauer Publishing.

Cruise's lawyer, Bert Fields says: "Tom is a caring father who dearly loves Suri. She's a vital part of his life and always will be. To say he has 'abandoned' her is a vicious lie. To say it in lurid headlines with a tearful picture of Suri is reprehensible."

Fields goes on: "Tom doesn't go around suing people. He's not a litigious guy. But when these sleaze peddlers try to make money with disgusting lies about his relationship with his child, you bet he's going to sue."

Fields goes on to bash the mags, saying, "These serial defamers are foreign owned companies with their global headquarters in Hamburg. They take money from unsuspecting Americans by selling their malicious garbage. Having to pay a libel judgment may slow them down."

Fields says any money Tom gets from the mags will go to charity.
[From TMZ]
Notice that while Tom is allegedly "not litigious," he threw an absolute fit and threatened to sue over the Enquirer's "Tom is a monster" story that detailed how he screamed at Katie for four straight days over the CO$ and kept Suri in a windowless room for the first several months of her life, but he never went forth with that lawsuit. Nor has he taken any measures to sue Vanity Fair for their tales of Tom's incisor-filing wife audition process. Because, you know, those things are all true, and Tom has no proof to the contrary.
However, Tom really feels like he's doing nothing wrong where Suri is concerned. He really was absent on Suri's first day of school but detests that In Touch (in a subsequent companion article named in the lawsuit) printed, "'Was Suri's dad there for her first day of school?' No — Katie's family friend." Tom's also apparently incensed that IT merely recounted the days (44 at press time) that Tom had not seen Suri in person and pointed out that "Katie has been there for her," "Katie's doing it all," "Tom's agreed to shot five more back-to-back movies," and has been "amping up his social life" in London bars, which he has most certainly been attempting to do. What has really irritated Tom though is that L&S illustrated its Suri story with the infamous photo of Suri crying at a pet shop. Once again, the implicit message here is "bad Katie" for making Suri cry over a puppy. Further, Katie must really be the awful parent, while Tom is the wonderful father who calls her every day and takes her to Disneyworld when the mood suits him.
I also find it highly amusing that Tom claims all the proceeds from this suit will go to "charity" when we all know it will merely go to a CO$-affiliated organization. Tool.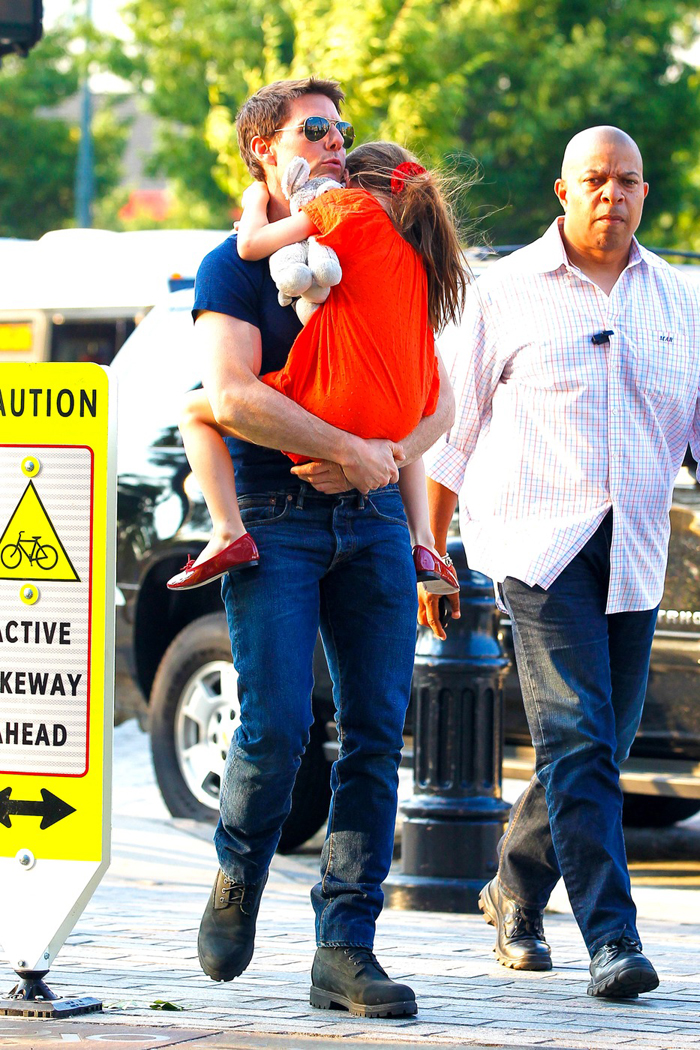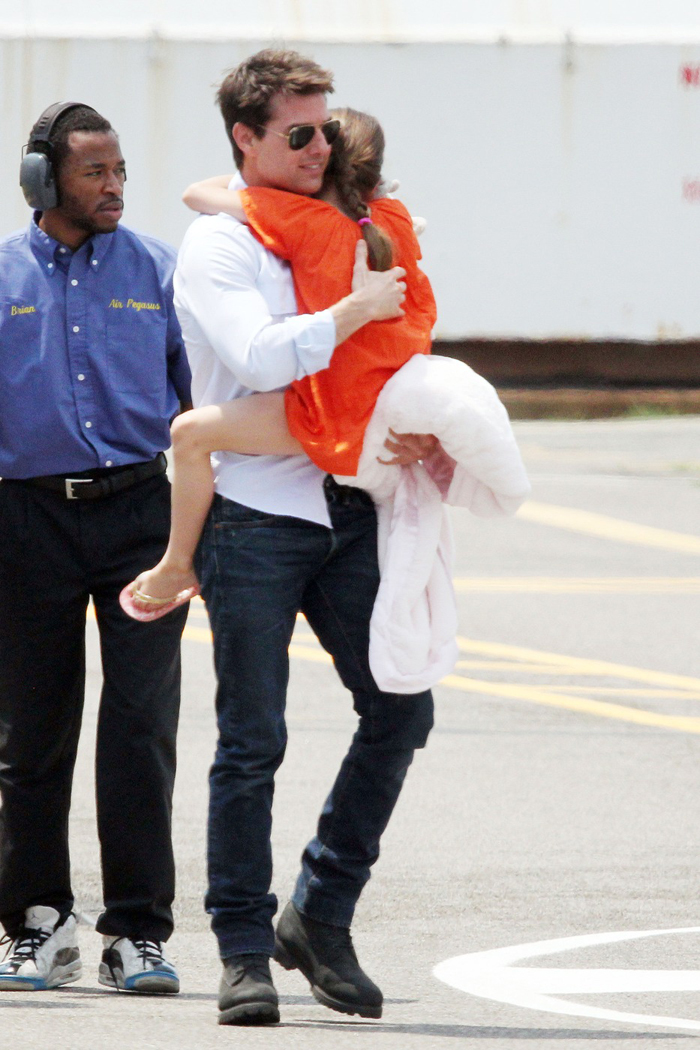 Photos courtesy of Fame/Flynet and Pacific Coast News