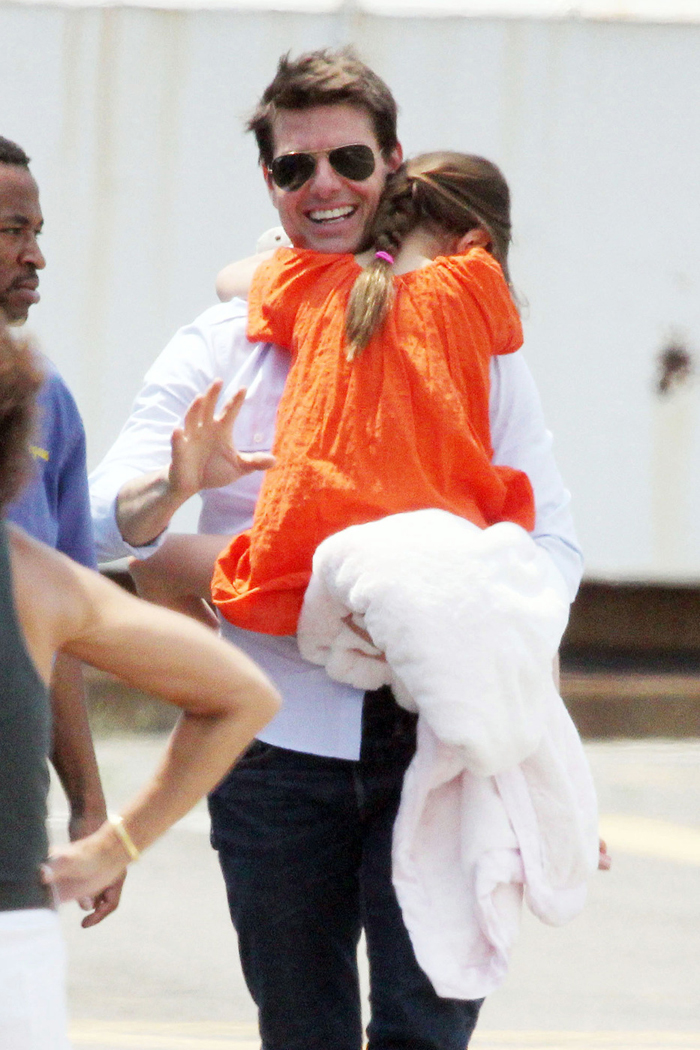 This week's tabloid extravaganza has slowed a little bit (and just in time for the lip-biting scandal of the century, right?) in regard to the TomKat divorce. Mainly, Star and In Touch are both running with the story that Tom is playing the full-court press in an effort to spoil the hell out of Suri to the point where she'll eventually request to live with him instead of Katie. It's a blatantly unfair tactic that occurs in many divorces, but it's particularly egregious when Daddy just happens to be an A-list action movie star and one of the richest men in the world. Of course, Katie is nowhere near living a decrepit, poverty-level lifestyle herself, but she's definitely on a budget, you know? She can't afford to blow around $200,000 on a two-day trip, but Tom can and will do so on a repeated basis.
Anyway, the title to this post might have been slightly misleading, but Tom was indeed overly warm and welcoming to a Star reporter who went swimming with he and Suri at the Greenwich Hotel. While the reporter didn't technically identify himself (according to the details revealed in the story), I think it was pretty obvious that Tom knew it was a member of the press, and he fully intends to play the media just like he's accused Katie of doing. He can't help himself from grinning at the paps like he's the best father in the world because he took a few days away from his hectic schedule to acknowledge his daughter's existence. Just look at how differently Tom treated the reporter and another bystander in this account from Star: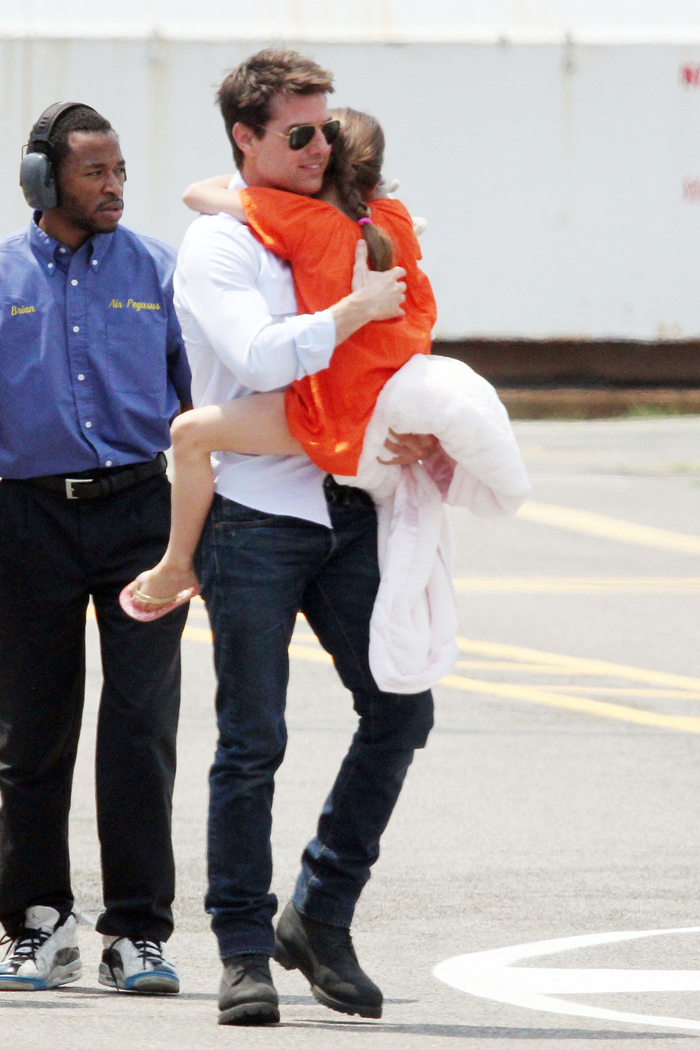 It was 98 degrees in NYC, the kind of day when New York kids hole up inside or, if they're lucky, find some water to play in. The Greenwich Hotel had the best of both options, and indoor pool. That's where Star's undercover reporter found Tom and Suri.

"How's the water? Is it warm?" our reporter asked Tom as she entered the pool room. Other than a security guard posted outside the door and a lifeguard, no one else was there.

"Yeah, it's pretty warm!" he called back.

"Are you guys going to be here awhile? I don't want to disrupt your alone time together," she said.

I don't know. Suri, are we going to be here awhile?" he asked his daughter.

"Yes," she chirped.

"Don't worry about it," Tom said. "Come on in!"

Our reporter chose not to interfere with their reunion, but for the next hour and half would up swimming and hanging out with Tom and Suri. He and his daughter played "catch," where Suri would paddle around the pool on a foam noodle as Tom chased her. They also played a game where she was always safe on her "sea horse." He also taught her how to shoot water out of the foam noodles and blow bubbles in the water.

Towards the end of their pool time, another couple entered the room. When the woman realized who he was, she became excited.

"So you're the reason all the paparazzi are outside!" she declared. "Someone told me all this commotion was over Mary-Kate Olsen."

"Can we please not talk about this?" Tom said. But she kept rambling about how she couldn't understand why they wouldn't just leave him alone. This time, Tom raised his voice and said, "Please, let's not talk about this, OK?"

Our reporter was left with an overwhelming impression of an extremely doting father and a daughter who trusted him implicitly."
[From Star, print edition, August 8, 2012]
See? Tom knew right away that the fawning bystander should be dealt with accordingly, but the "undercover" reporter had pretended not to even know who Tom is. And since everyone (for better or worse) in New York City would recognize Tom (and his lifts, which I hope he removed before entering the pool — shrinkage), anyone who acts so casually around him should automatically tip him off that it's a member of the media trying to get some dirt. Tom may have issues with reality (as evidenced by Xenu worship), but he's not a stupid man. I really think that Tom knew this person was a reporter, and he played it up immensely.
Of course, I'm not saying that Suri doesn't adore her father, and she obviously does. I just think this is yet another way that Tom is going to make things difficult for Katie in the long run. At this point, she needs the public's sympathy on her side because it's the only real advantage she has over Tom, and now he's trying to take that away too. He's such a tool.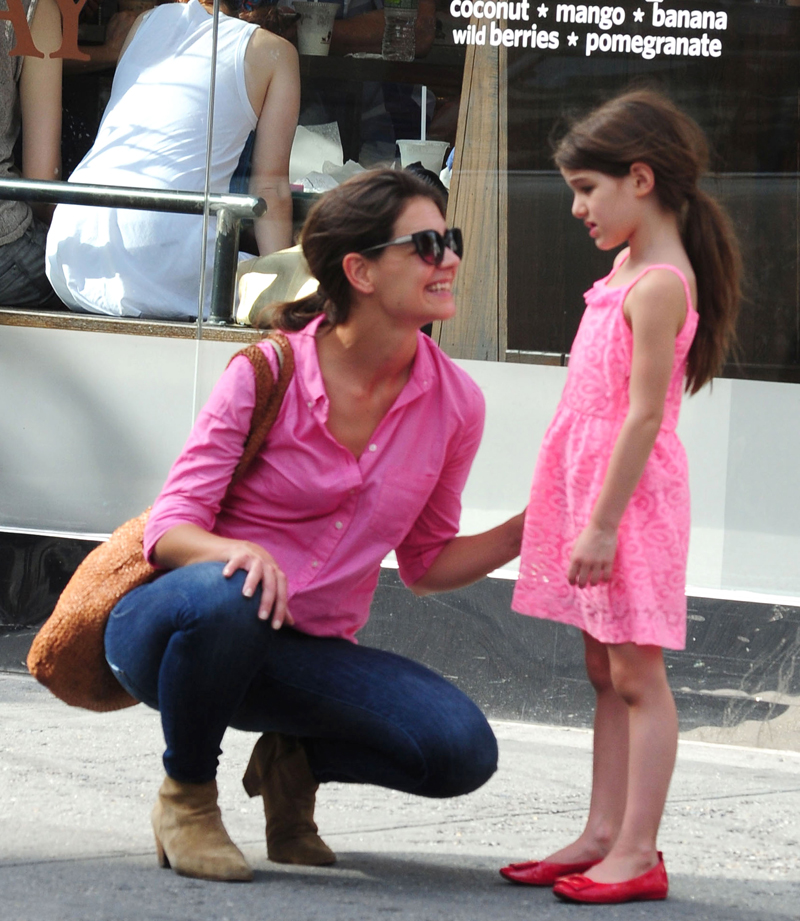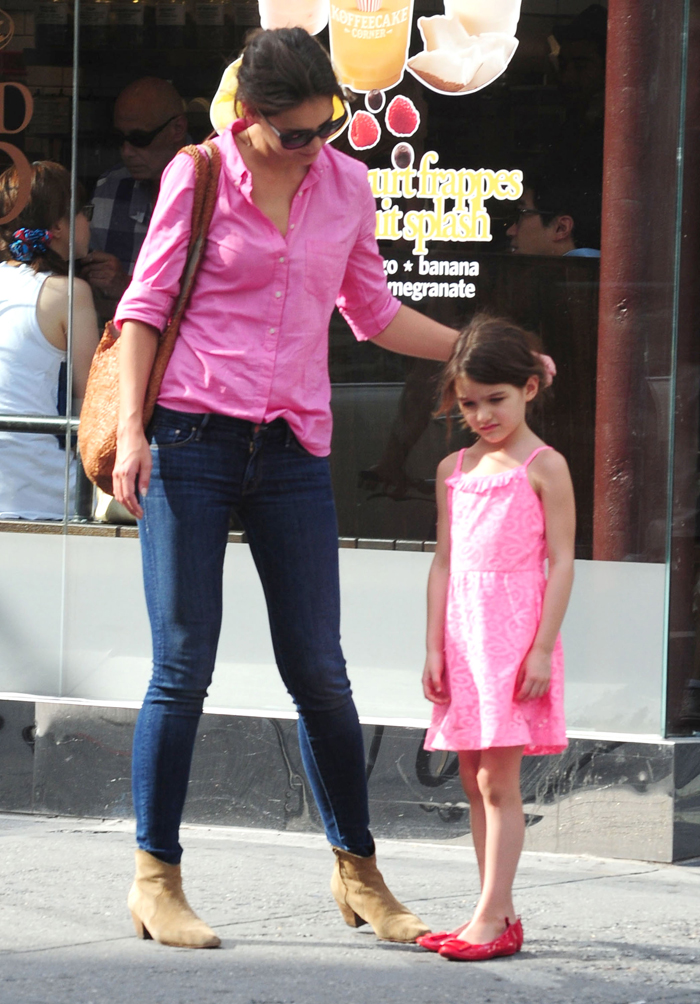 Photos courtesy of Fame/Flynet and Pacific Coast News