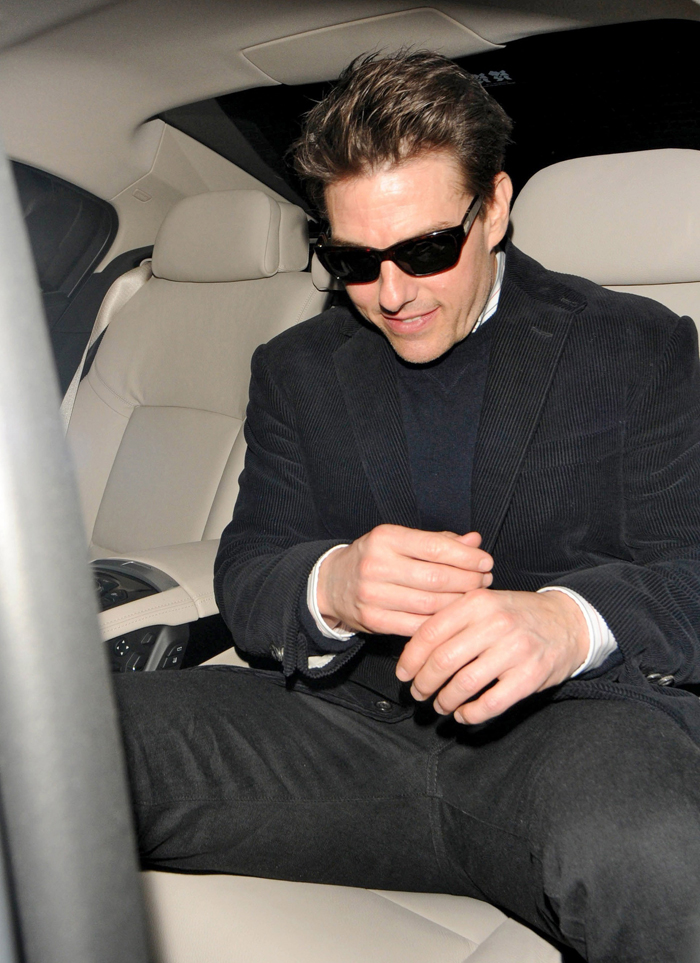 What would be a sufficient mid-life crisis for someone like Tom Cruise? The dude already has a private jet and plenty of cars and motorcyles with which to tool around and feel "manly." He's also already done the "younger babe" thing and the mail order wife thing, and even though Tom has now been married and divorced three times (cue Ross Gellar), the man cannot stand to be alone (after all, he is so lonely and miserable) and is at a loss to figure out how to do it again. Obviously, he cannot go and order himself a new wife after every one already found out about his embarrassing wife audition disaster. And it's not like Tom Cruise can join a dating site, right? So for his mid-life crisis, Tom is doing the only thing he can think of right now, which is to basically party every weekend night in London like a total dork. That's right, Tom is "hitting the club scene" for the first time just as he turned 50 years old. What a disaster. Here's a detailed account of Tom's "weird" antics from In Touch: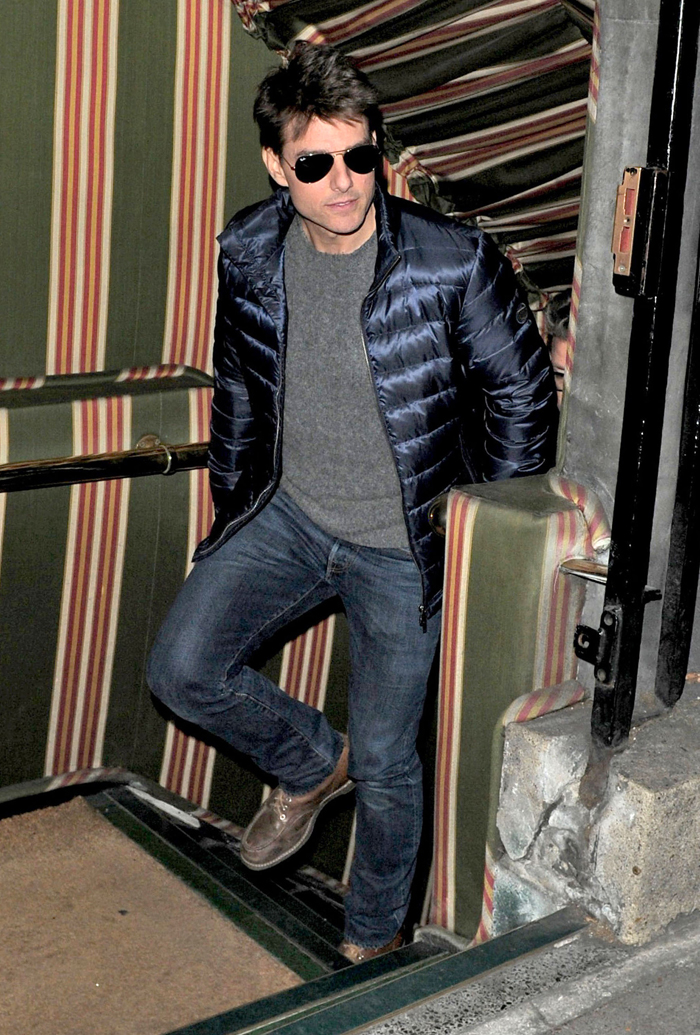 Spotting one of the most famous movie stars on the planet is cause for excitement, so it's no surprise that when a young clubgoer ran into Tom Cruise at exclusive London hotspot The Box, she took to Twitter. But her reaction wasn't what the Mission: Impossible star might have hoped for. "Tom Cruise grosses me out," she tweeted on Oct. 6. "He's so weird!"

That pronouncement would no doubt pain the star, who is "obsessed with his image," according to an industry insider who has known Tom for years. "Tom's trying to look cool and go out and be hip," says the insider, "But he just looks silly and icky." At the root of the star's odd behavior? "He's going through a midlife crisis."

Tom found himself very much alone after his sudden divorce in August from Katie Holmes, 33, who got primary custody of their daughter Suri, 6. In a move that has left Hollywood stunned and confused, he hasn't visited Suri in more than two months. Instead, he's stayed in London to work on the film All You Need Is Kill. So on Oct. 14, while his ex tended to Suri, Tom was out celebrating R&B star Usher's 34th birthday. "He's lost his place," says the insider, "As a husband and father."

His shattered family isn't the megastar's only issue. "Tom is very nervous about being eased out of big action-star roles," says the insider. Another source confirms that Tom (whose most recent project, Rock of Ages, was a box-office flop) is "super worried."

At loose ends, Tom — who in the past has rarely gone without a romantic partner for any ral amount of time — is hanging in clubs but finding it hard to connect with others. "I don't think he knows how to be single," says someone who saw him in September at Annabel's in London. "He looked awkward and uncomfortable." As rich and famous as he is, says the insider, "Tom just doesn't know how to fit in.
[From In Touch, print edition, October 29, 2012]
Of course, Tom's doing all of this at the expense of his relationship with daughter Suri, who hasn't seen her dad in person for ten bloody weeks at this point. The Mail has been all over this countdown, and they received a a fresh statement from his lawyer Bert Fields yesterday: "Tom is a loving, caring father. Suri is a vital part of his life and always will be. Of course he'll be seeing her soon. He's in England finishing one picture and preparing another." So Tom is merely busy with work even though he's been awkwardly dancing in clubs every weekend. Does he truly think that Suri is now a degraded being, or does he just not want to spare the private jet fuel to hop over the pond and see her for a few days? Whatever the case, he's been awfully busy partying with Usher, hiding his moobs, and enjoying "mystery ladies" in London as well as yachting in Croatia. And he isn't even filming All You Need Is Kill yet.
You know what would help a guy who is "obsessed with his image" instead of vainly trying to hold onto his action star past with an ill-advised turn as Jack Reacher? Leaving the cult that so damages his image on a continuing basis. Yeah, that'll never happen.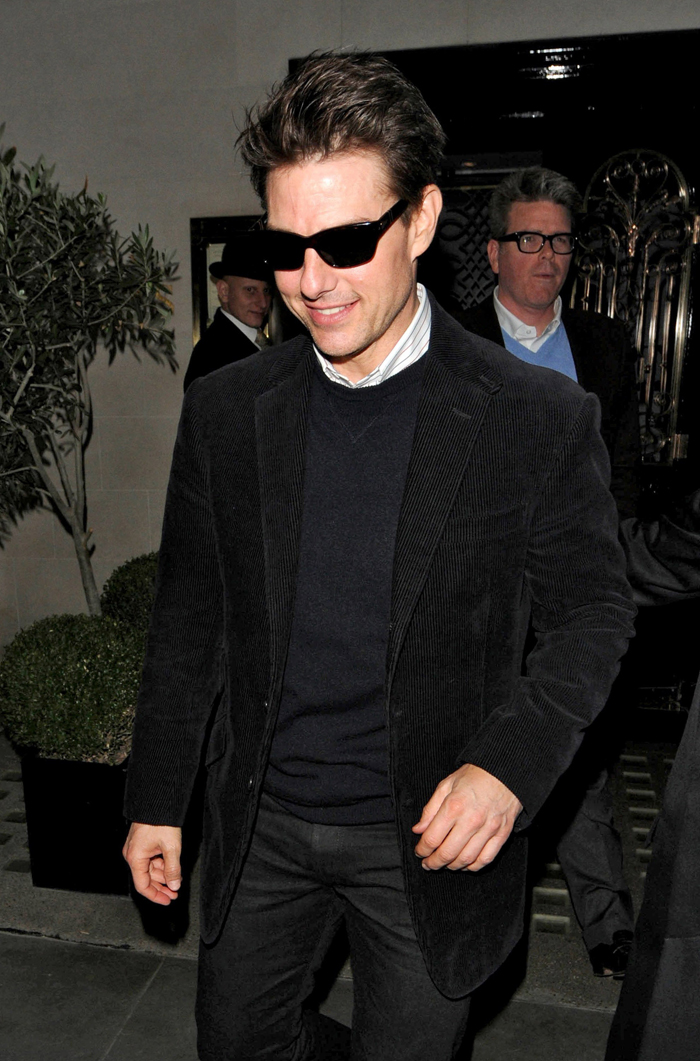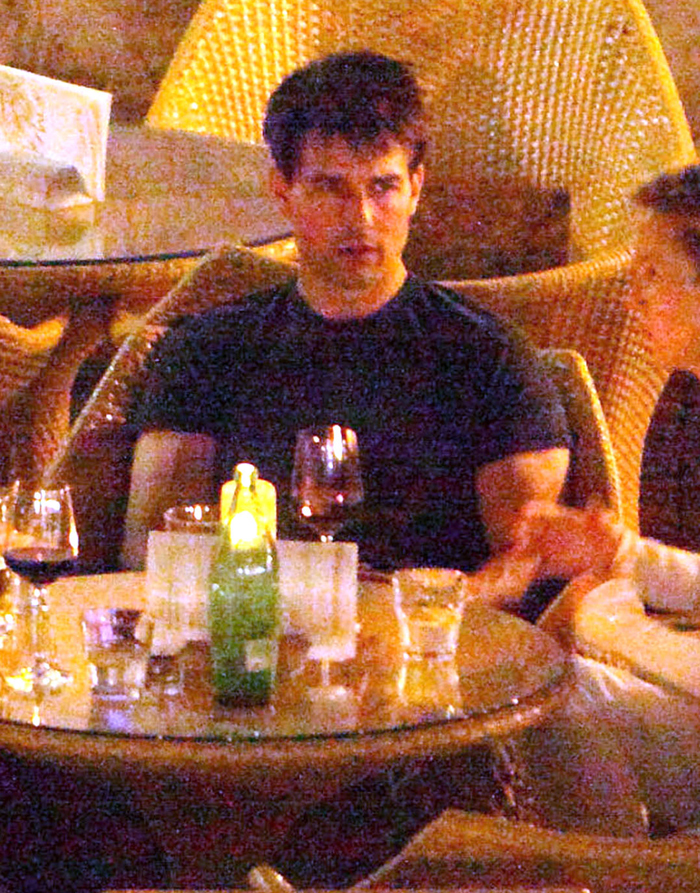 Photos courtesy of Fame/Flynet