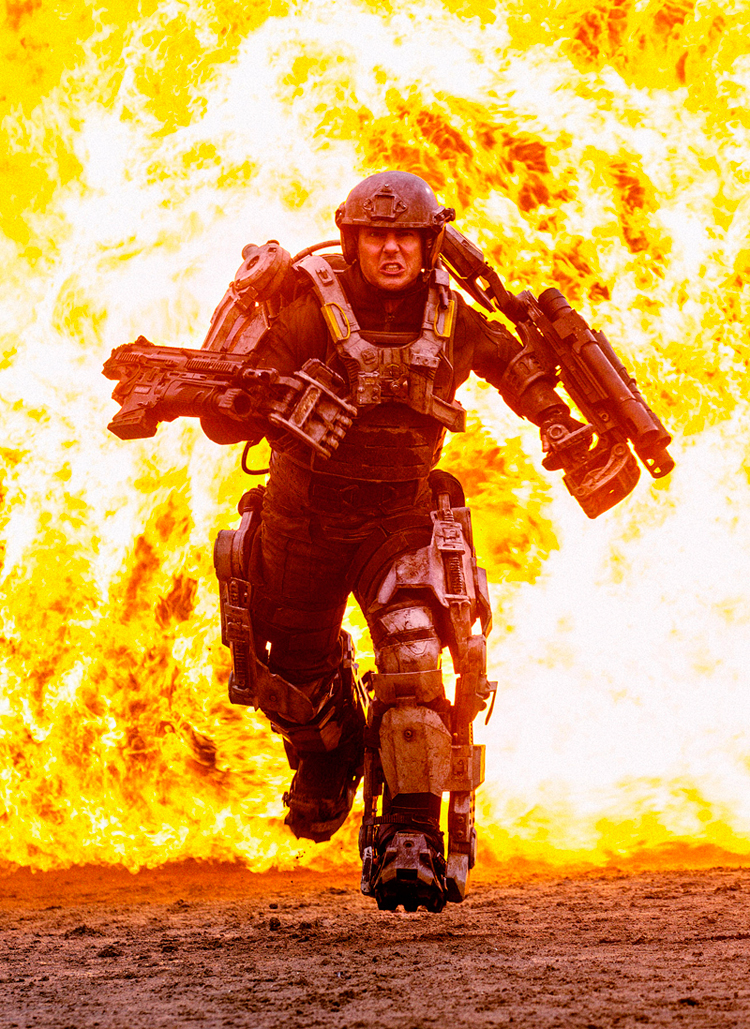 OMG! Words simply cannot explain how much happiness I have derived from Tom Cruise since Friday night when Kaiser, CB, and myself were laughing our asses off about this new still from the set of All You Need Is Kill. This just might be my new desktop wallpaper. Look at his FACE. That face is amazing. That face says, "Look at what a BIG being I am while I'm running from this wall of fire!" The movie is supposed to be some version of Groundhog Day combined with an alien invasion; that is, Tom plays an inept military officer in charge of fighting off an alien race, and his character dies in battle only to wake up the next day and be forced to do it all over again. Xenu is probably behind the plot, right? In theory, it would probably make a decent popcorn movie, but the problem is that Tom looks like a total freak here. He really looks like he's about to crap his pants, and the effect is a strange mixture of the 1996 fire-jumping ballerina VF cover and Heidi Klum's 2010 robot-on-lifts Halloween costume (thanks to commenter Az for that last allusion). Seriously, Tom looks utterly ridiculous, and (to make matters worse) this project is the "official" excuse for him not spending time with Suri for several consecutive months.
By the way, we're coming up on 16 weeks since Tom has last seen his youngest daughter. I'll admit that it feels a little morbid to be keeping tabs on such a thing, but sure enough, it was July 30 when Tom was last photographed with Suri during a trip to Disneyworld where it was later revealed that he pulled enough strings to lodge Suri in Cinderella's castle suite. Now before you say, "What if Tom visited her in secret?" — bitch, please. If Tom was with Suri, he'd want us to know. Tom sees himself as the perfect father (and perfect everything), and he simply cannot stop himself from playing the media by smiling at the paps and rubbing nips with tabloid reporters whenever he's with Suri. He'd be showing it off, but since there's been nothing to show off, we haven't seen pictures of anything but Tom stumbling out of London nightclubs. For whatever reason though, OK! magazine has published a bit of Tom fan fiction that alleges Tom will not only sweep Suri off to his Telluride home for Thanksgiving but Katie too! Here are the details:
Tom Cruise and Katie Holmes are spending Thanksgiving together — for the sake of their daughter Suri! The trio will jet to Telluride Colo., later this month for a relaxing three- or four-day getaway, reveals an insider.

"Tom and katie are determined to show Suri that they're still friends and devoted parents," says the source. "They know it will mean so much fo rher, and both are happy to swallow their pride to make sure she has a fun holiday.

"Tom misses spending time as a family," says the source. "And even though things have obviously changed dramatically, he loves the idea that they can still be toegether for Thanksgiving." The source says that Tom "hates to see Suri Suffer. He knows that not being together with both of her parents for the holidays would be hard on her. That's why he came up with this plan."

And Katie seems to be equally focuses on Suri's well-being. "Katie knows that the divorce has been immensely hard on Suri, and she wants to do whatever it takes to make things a bit easier," confides the source. "Thanksgiving has always been a really big deal for them, Katie loves to cook the whole meal from scratch, and Suri loves to be her little helper. Tom and Katie both want Suri to have special memories as a family, even though they're not together anymore.

Katie even has a favorite Thanksgiving treat that her mom taught her to make — pumpkin bars. "They're like pumpkin cake with cream cheese frosting," Katie says. "They're really gooey and moist."
[From OK!, print edition, November 19, 2012]
I'm not buying this story for a even second, are you? Nope. This is merely an addendum to OK!'s story from last week that Tom was planning to be in NYC on November 18 for a special family-type day and, further, that Katie really missed Tom and was considering a reconciliation because "the grass isn't always greener" or some such nonsense.
First off, there's no way that Katie would ever get back with the screamer, and even if she agreed to some "family time" with both her and Tom present at the same time with Suri, there's no way in hell that Katie would agree to do so on Tom's Telluride turf. Katie has learned her lesson, and she's never letting Tom have control over her comings and goings again, and that is exactly what would happen in Telluride.
Further there's another good reason that will easily disprove this silly report of Katie jetting off for a holiday with Tom and Suri. Broadway plays usually keep running throughout Thanksgiving weekend, and Dead Accounts is no exception. Katie will get Thanksgiving Day off, but she'll be working the rest of the week and weekend. So yeah, OK! strikes out here. If Tom wants to see Suri on Thanksgiving, he'll have to make a visit to NYC, but I doubt that will happen. Prove me wrong, Tom!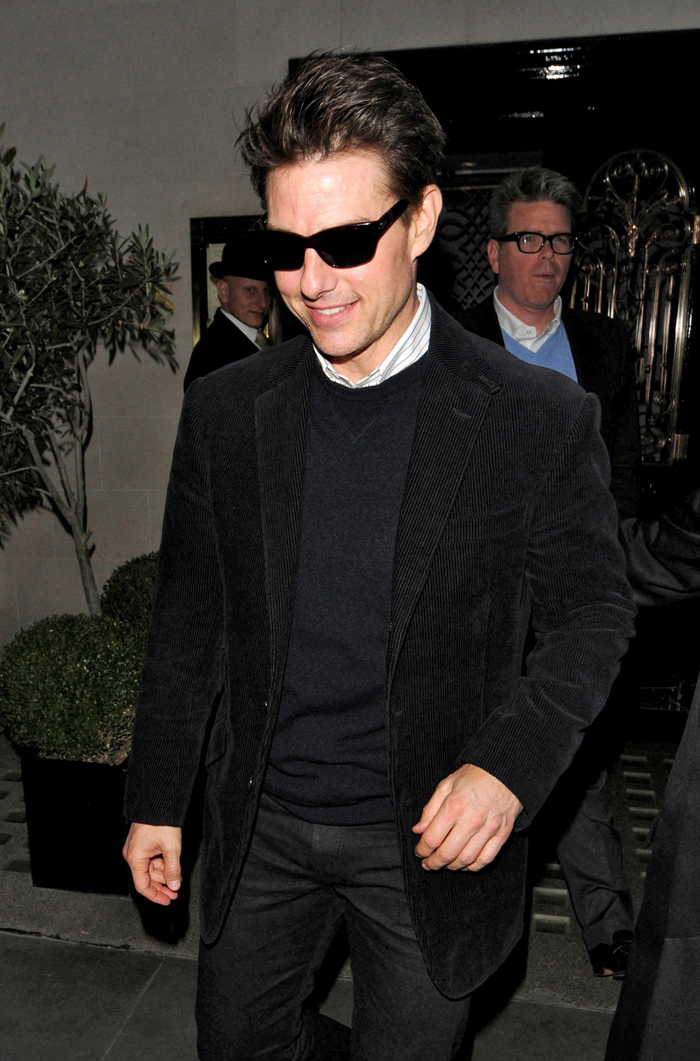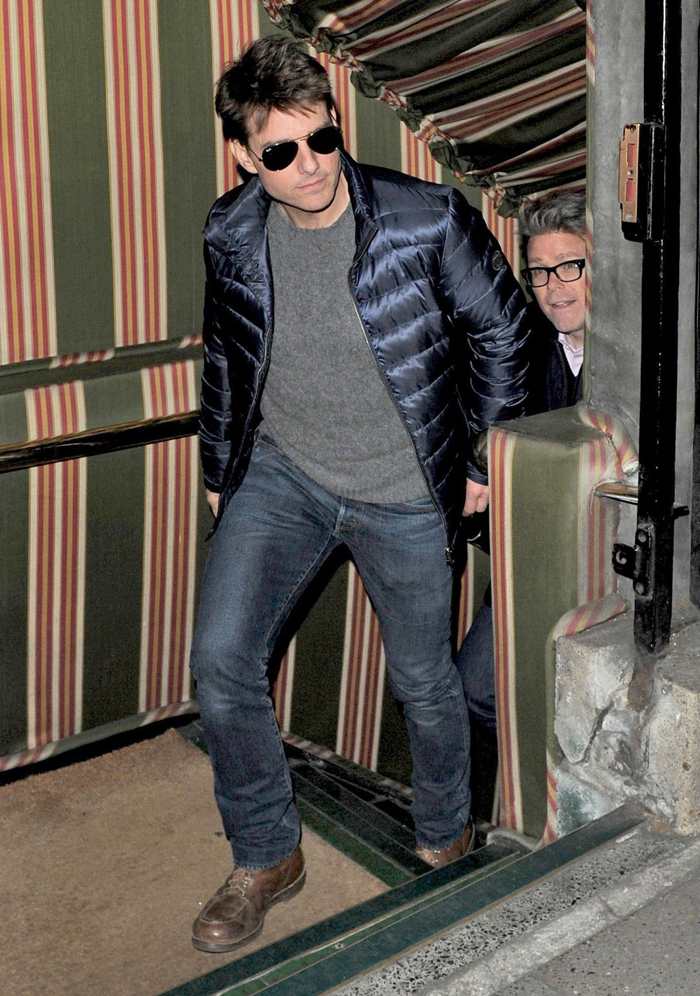 Photos courtesy of Fame/Flynet and TomCruise.com