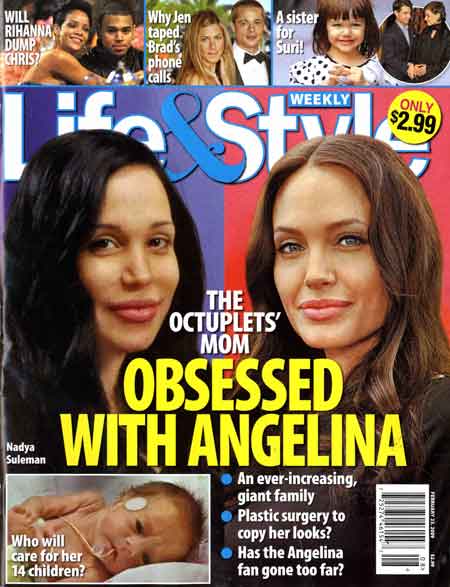 The full interview between Ann Curry and octuplet mom Nadya Suleman aired on NBC's Dateline last night. To her credit Curry did broach the subject of plastic surgery and a certain superficial, caricature-like resemblance that Suleman bears to Angelina Jolie. Many people speculated that Suleman was obsessed with the actress, who also has a houseful of young children, except she also has a partner, paid help, and the means to take care of them. Suleman denied knowing much about Jolie, although that doesn't mean much considering that she denied receiving government assistance while she relies on food stamps and SSI payments for three of her older kids. She also said she hadn't augmented her giant, puffy fish lips. It's clear this lady has a slippery relationship with the truth.
NBC insists that it hasn't paid Suleman at all, despite rumors that she received $300,000 for the interview. Suleman was pretty vague when asked how she planned to support her huge family, and admitted that she's fifty thousand dollars in debt, doesn't have a job, and has been living on student loans and "temporary" government assistance:
We did not pay Nadya nor make any deals for this interview, which has already sparked Internet chatter even about her appearence.

More than a few also commented on her appearance. One viewer asked, "Have you noticed that this mother looks like she's had plastic surgery and looks and acts like Angelina Jolie?"

Nadya Suleman: I have never thought of Angelina Jolie except the last time I saw one of her movies. I think that was years ago. It is so far away from the place I'm in right now to think of think of any celebrity.

Ann Curry: Have you had your lips done?

Nadya Suleman: No. No.

Ann Curry: I want to give you a chance to answer the criticism on Main Street. Why is it responsible for a single woman without a job with six kids to bring eight more children into this world?

Nadya Suleman: I am responsible. I've chosen never to go on welfare. I feel as though it is my responsibility to do what I can to provide for my children.

Nadya points out repeatedly that she's never taken welfare. But today she confrimed that she's receiving $490 a month in food stamps.

Nadya Suleman: I'm not living off of any taxpayer money. If I am – if it's food stamps, it's a temporary resource. And – we – my family received maybe about a year and a half ago. And during school – and it's only for food. And I am so reluctant. I – I so look forward to the day when I'm not getting any kind of help with food stamps, which, I believe, will end right when I graduate. Right about a year, a year and a half.

During the time she gave birth to her first six children she went to college and graduate school and stayed home from work and collected disability payments that totaled about $165,000.

Ann Curry: So your only income are your disability payments? Is that where your – what your income is now?

Nadya Suleman: Um. No. My disability stopped.

Ann Curry: Okay.

Nadya Suleman: So it stopped when I was pregnant.

Ann Curry: So do you have any income at all?

Nadya Suleman: At this time, it was just student loans.

Ann Curry: You're saying that you're going to use student loans to help raise your children.

Nadya Suleman: Temporarily. Temporarily.

Ann Curry: Do you have any way of paying back these loans?

Nadya Suleman: Yes, when I work, when I'm working.

Ann Curry: How much -

Nadya Suleman: – as a counselor.

Ann Curry: – in debt do you have now?

Nadya Suleman: Probably 50. Close to 50.

Ann Curry: Thousand dollars.

Nadya Suleman: Mmm-hmm.

Ann Curry: How is that not like welfare?

Nadya Suleman: Oh no. These are student loans. You consolidate the loans, you pay it back. We don't pay back welfare.
[From MSNBC]
Suleman's older children were also shown on the program. Three out of six of them are receiving disability. One boy, Aidan, 3, is autistic, another child has ADHD and a third has "mild speech delay" and "maybe tiny characteristics of autism," according to Suleman. Still, she doesn't think she's "living off of any taxpayer money." She admits some of her octuplet newborns are at risk for cerebral palsy, and you can bet she'll be trying to get some monthly checks for them too.
If this woman didn't have a record setting eight babies at once and all the media opportunities that go along with that she'd probably be in much deeper sh*t now with all that debt and so many children at home. She's a media lightning rod, and while she'll get paid for something it's not like companies are going to be clamoring to be associated with her.
Thanks to CoverAwards for the Life & Style cover.