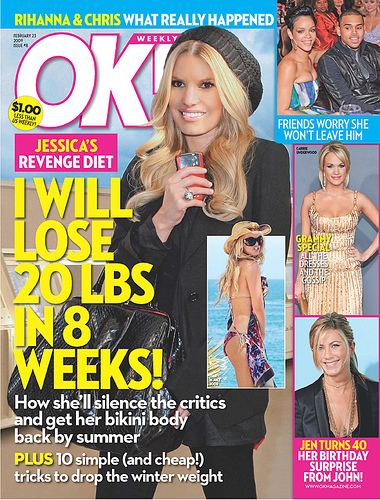 When Jessica Simpson got all that attention – and all those magazine covers – after her minor weight gain there were rumors that it was all an elaborate scheme by her dad, Joe Simpson, to get some sympathetic PR for his daughter. It all sounded a little too cynical to me, and it just looked like a case of someone who understandably gained a little weight. It happens to most of us at some point, we just don't have people speculating about it in the media. Jessica looks great and not overweight by any means, but people are used to seeing her look tiny and are going to notice the difference, especially when she wears unflattering clothing.
Now Simpson has landed herself another magazine cover, which is no small feat given the state of her singing career crossover. She is featured on OK! Magazine with the details of her planned "revenge diet." The controversy probably wasn't some big plan by her dad, but it still got her plenty of publicity:
During the hubbub over Jessica's figure, Tony has been unstintingly supportive of his diminutive sweetheart.

"She's gone up a size in jeans, and Tony could care less," a friend tells OK!. "He isn't interested in some idiot Hollywood bimbo with an eating disorder."

After Jess makes it through the stress of the tour, which ends March 14, friends say the extra weight will disappear too.

"She eats her feelings — it's hard having people criticizing your every move and ridiculing you on blogs," one close friend tells OK!. "Once Jessica stops touring [next month], she'll calm her nerves and the weight will hopefully fall off."

In addition, Jess will need to cut back on her favorite finger foods like chips and guacamole and make a few substitutions, as well as falling back into a fitness routine.

"She'd much rather gossip with her girlfriends than hit the treadmill, so I know she needs to get a workout buddy to run with her," her friend reveals.

Now who might that be? Says the friend, "Tony would do it in a heartbeat!"
[From OK! Magazine]
From the way OK! words this, it doesn't sound like Simpson had any input into this story and they might be trying to run another one of those "diet" covers. It's pretty funny that they call it a "revenge" diet and include a photo of Simpson's rival, Carrie Underwood, right next to her. OK!'s last cover, Angelina's "Baby Diet," didn't sell that well according to MSNBC's The Scoop. It supposedly wasn't clear to readers if Angelina or the babies were going on a diet. Maybe OK! should steer clear of these diet covers for a little while.
Interestingly enough, Cover Awards predicated earlier this week that someone would run a "Jessica Simpson Diet" cover.
Simpson isn't letting this incident get her down. She's expanding her bag and shoe line to include clothing. (link has automatic video.) She tells In Style, "I want to create clothes that flatter every figure."