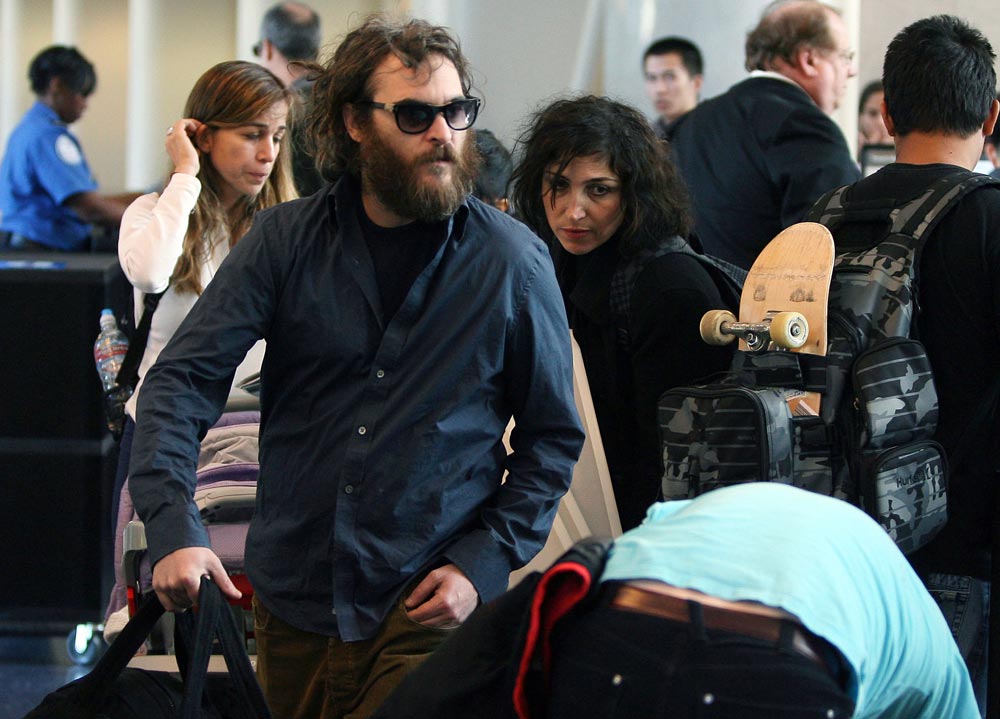 Joaquin Phoenix and his brother in law, Casey Affleck, were spotted at the airport in LA yesterday. It is thought that they're still working on a documentary together that will detail Joaquin's transition into a rap career, something he says he's serious about despite public skepticism and a general lack of ability. Joaquin has built a home recording studio to help him realize his dream, and says he's not about to go back to acting for a living:
Hollywood star Joaquin Phoenix is so serious about pursuing a career as a rapper that he has had a high-tech recording studio installed in his house.

The Oscar-winner shocked fans last year when he announced his plans to step away from the cameras and pick up a microphone.

Director James Gray, who worked with Phoenix on his latest film, "Two Lovers," insists Phoenix is doing everything possible to ensure he gets the best shot at his new music career, and has been laying down tracks in the comfort of his own home studio.

Gray tells the Associated Press, "If he's not serious about it, then he really went to ridiculous lengths."

Phoenix admits he has no desire to return to the big screen anytime soon, because he wants to focus on his new musical direction.

He reveals, "I'm not one of those people, like, when I break up with my girlfriend, I don't ever see her again. I see her as friends, but do I ever think about getting back together? No, when I do something, I do it. So I have no intention (to return to acting)."
[From SFGate Daily Dish]
Phoenix is also quoted as explaining why he so rapidly changed his appearance from an attractive Hollywood star to a disheveled, unshaven guy with bed head. He said he wanted to step away from fame as quickly as possible and his unkempt appearance has helped him cut ties with the past:
"People have called me a sex symbol in the past, but it's very much an effort," Phoenix tells Britain's The Sun.

The Oscar nominated actor went on to say, "It's been important for me to just do something that's extreme – that really separates me from that public Joaquin Phoenix persona, whatever the f— that is."
[From The NY Daily News]
Pheonix's last film Two Lovers is getting mixed reviews and is being trashed by some critics. Maybe his dissatisfaction with the film was part of his motivation for leaving a lucrative acting career. Whatever happened, he seems to be completely serious about the change. He's lucky that Casey is hanging around and helping him out or else we'd be even more worried about what's going on with him. I'm really interested in seeing this film they're making and if Casey is half as talented a filmmaker as his brother, Ben, it could be a very good documentary.
Photo credit: Bauergriffin and SplashNews