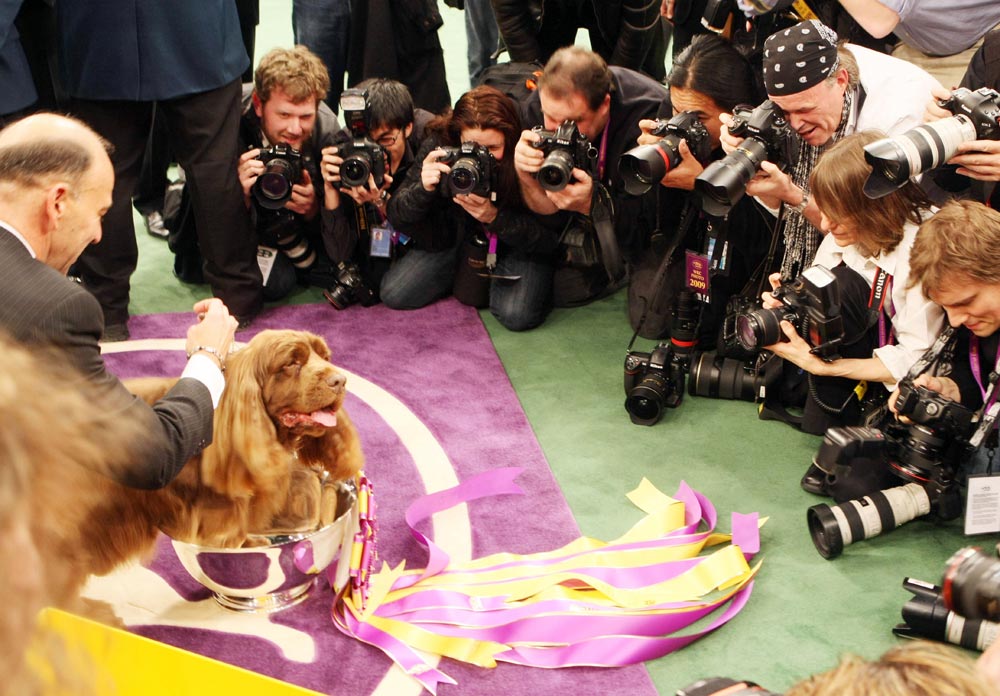 I am a Stump-loonie. When I saw that beautiful, shining, chestnut-brown coat, the little legs and the sad, intelligent face, I was lost. Stump is a lovely little 10-year-old Sussex spaniel, and he won! It was victory for Team Stump at Westminster!
Not to criticize, but the competition just wasn't there. The Afghan hound? Ah, no. An ugly black poodle? You're kidding me. Some dread-locked mop? Absolutely not. The only dogs I was worried about were the giant Schnauzer, who was charming, and the Scottish terrier. Alas, the Scottish terrier had to take a pee half-way through his Best In Show presentation. Haha!
Stump has a pretty inspirational story, too. Stump almost died five years ago, and had to be saved by a team of vets at Texas A&M University. People magazine has more details:
Stump, a Sussex spaniel who nearly died in 2004, won Best in Show at the 133rd Annual Westminster Kennel Club Dog Show in New York City on Tuesday night – the oldest dog ever to receive the title.

The crowd cheered when judge Sari Brewster Tietjen pointed to the 10-year-old dog, who beat out a Scottish deerhound, a Scottish terrier, a standard poodle, a puli, a Brussels griffon and a giant Schnauzer.

According to Westminster Kennel Club spokesman David Frei, a team of vets at Texas A&M University saved Stump five years ago. "His whole body completely quit, they did [some] miracle, because here he is now, looking great and just won Westminster," said Stump's co-owner, Scott Sommer.

Formally known as Ch Clussexx Three D Grinchy Glee, Stump was selected from some 2,522 dogs from 48 states, the District of Columbia and at least seven foreign countries. Sommer told reporters that he officially decided to enter the dog in the show last Wednesday.

"He loves the crowd, he loves people, that's what he does," Sommer said.

The Sussex spaniel gets its name from the county in England where the breed originated. A member of the Sporting Group, the Sussex is generally cheerful and affectionate in nature – with a life expectancy of about 15 years, said Sommer, adding, "It would great if we got to 15 or 20."

Established in 1877, the Westminster Dog Show is the second longest continuously held sporting event in the U.S., just a year behind the Kentucky Derby, the club says. This year, the Dogue de Bordeaux, aka the French Mastiff, was eligible for competition for the first time and competed in the Working Group.

The dog show, which aired live on USA Network and CNBC, has been televised since 1948. Entries were down by about 100 dogs this year, which show organizers chalked up to the tough economy.
FromPeople
Last year's Best In Show winner was a gorgeous little Beagle named Uno. Uno got endorsement deals, he got to tour the world and he got Beagles some respect in the dog-breeding world. Let's hope Stump does the same, because this dog has absolutely stolen America's heart. When I saw how crowded it was at Madison Square Garden, my only thought was, "My Lord, we are a nation of animal-lovers." I also hope the new first family was watching – there were some lovely short-haired dogs that would make a nice addition to the White House.
Photo credit: WENN