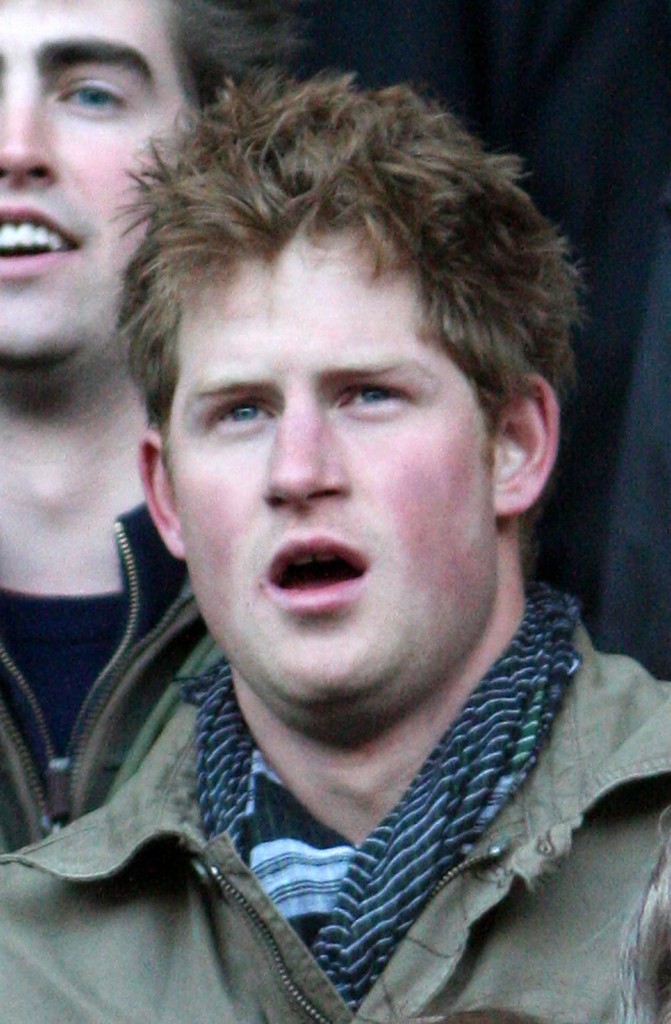 Prince Harry is trouble for racially insensitive comments again. After tapes were released of conversations Prince Harry had with some of his friends in the military in 2005-6, Harry had to apologize. He used the words "Paki" and "raghead", and it became such a big deal, major British politicians like Tory leader David Cameron were weighing in.
The current scandal happened much more recently. It was back in November, at a birthday party for Prince Charles (Harry's father), and Harry was speaking to British comedian Stephen K. Amos, who is black. Harry said to Amos, "You don't sound like a black chap." Critics are calling it "racist stereotyping". Good Lord, why even let Prince Harry speak any more? People magazine has more details:
After putting his foot in his mouth with comments about a Pakistani army officer, Prince Harry is now unwittingly back in the spotlight with another racially insensitive remark – having apparently told a comic, "You don't sound like a black chap."

Harry, allegedly attempting to be funny, delivered the line in November, when black comedian Stephen K. Amos performed at the 60th birthday of Harry's father, Prince Charles, according to Amos, who appeared Tuesday on the U.K. chat show The Wright Stuff.

At the time, recalled Amos, "I wanted to say, 'How is I supposed to sound?' "

Reaction to the exchange has been strong. "Many young people will be disgusted by his remark," said Naomi Byron, national secretary of Youth Against Racism in Europe, reports the U.K.'s Daily Mirror.

"But it is not just Prince Harry that is at fault," she is further quoted as saying. "The aristocratic, rich circles he moves in obviously don't have a problem with this kind of racist stereotyping."

Added former Commission for Racial Equality chairman Lord Herman Ouseley: "It is very sad that Prince Harry thinks black people all talk in the same way. It just goes to show how ill-educated members of the upper classes can be."

A spokeswoman for Harry tells PEOPLE, "We don't comment on allegations about private conversations involving the prince, and we are unable to confirm whether it did or did not take place."

Contacted by PEOPLE, Amos's agent also had no comment, as the office has not been able to talk to the comedian.
From People Magazine
Was it racist stereotyping? Yes, probably. Was it offensive? Mildly. But I think it's probably more about the cloistered, aristocratic, all-white world that William and Harry have been raised in. They literally don't know what to say to people who don't have a similar background. Or, could it be, that people are simply over-reacting to something that was taken the wrong way? It's a tough call.
The whole "sounding like a black chap" thing reminds me of this interesting column I read in Time magazine a few weeks ago. The article was about Hollywood's use of the "Voice of God", the all-seeing narrator, the voice of Bible and all that is knowledge and suffering. The article traces the transition from the British "VOG" in Hollywood to the African-American "VOG". The article was making a political point – that we actually have a president who has a genuine "Voice of God". Here's a little bit from the article:
The therapeutic notion that suffering confers dignity and authority has spread just as the suffering of African Americans over generations has become universally acknowledged. Above all, black American ministers have replaced British politicians, at least in perception, as the world's most eloquent public users of the English language. Our homegrown Martin Luther King Jr. has knocked Winston Churchill off his perch as the ideal.

What's most inspiring about this development is that it can't be faked. There is no element of affirmative action here. Sidney Poitier won't do. The point is not to be black but to sound black. And unlike the integration and near domination of African Americans in professional sports, this is not even a matter of genuine talent breaking down the floodgates. Plenty of white or white-sounding actors could say "THIS [pause] is CNN" as well as [James Earl] Jones. Most people who have heard that phrase a hundred times don't know whose voice it is and — unless the question is raised specifically — they aren't even consciously aware that the person is black. They relate to the voice on a subconscious level, and they associate it with power and authority.
From Time Magazine
Of course, this is directed as a specific American experience – when we Americans think of God's voice, we imagine Morgan Freeman, Martin Luther King or maybe Denzel Washington. Apparently it's different for the British.
Prince Harry is shown with Former England Rugby International Will Greenwood "at Twickenham for the England v Italy Six Nations rugby match" in London on 2/7/09. Credit: WENN