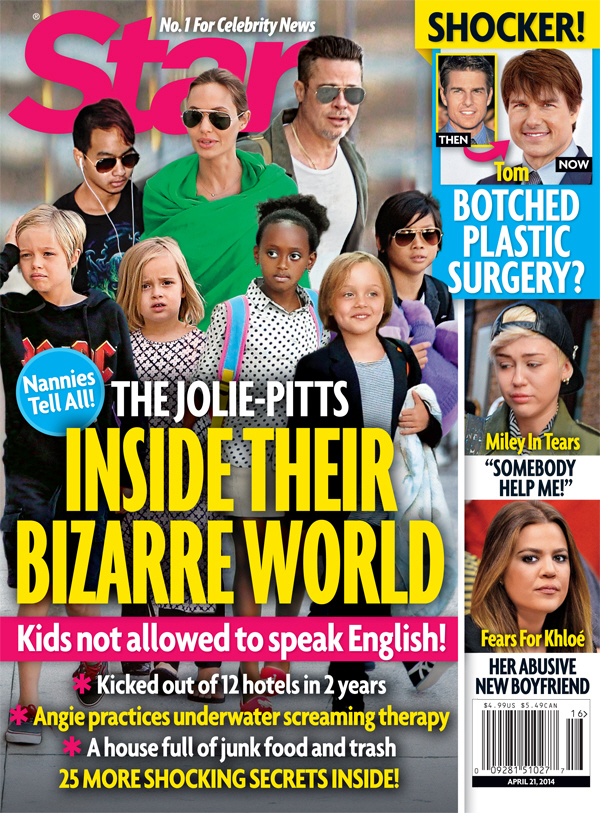 The Leg is displeased with Star Magazine this week. You wouldn't want to see The Leg when it's angry. Star Magazine's cover story is all about Brad Pitt and Angelina Jolie's "unconventional" household and what they're really like as parents, and how all Brad does is smoke pot (and cry, presumably) while The Leg barks orders at myriad assistants, nannies, bodyguards and children.
Due to their famously unconventional lifestyle, Angelina Jolie and Brad Pitt have crafted a unique and mysterious world for themselves that few people have ever been allowed to peek inside — until now! In this week's issue, Star uncovers the strange lives of Hollywood's most famous family.

The public sees Angelina as compassionate and caring, trotting the globe to bring attention to international issues, but things are much different behind closed doors. "She can be a bitch. She's super vindictive. She hates Jennifer Aniston still and is really competitive with her," a source close to the family tells Star. "She likes to project this kind of hippie, Audrey Hepburn thing where she flies around this world doing all this selfless stuff, but it's all orchestrated."

Her fiance is also putting on a show for the press. "He still likes to smoke cigarettes and marijuana," the insider explains. "He's a huge stoner. He tells Angie that he quit pot, but he's still the same guy he was before they met."

Still, the most controversial aspect of the couple's unorthodox lifestyle is the free rein they give their six children. "The kids run the house," a source admits. "Those children are wild. There's constant screaming at all times of the day and night. And they are extremely messy."

According to a source, there are empty candy wrappers, piles of toys and clothes in their house "and a housekeeper is expected to clean it all up." Another insider adds that the kids have been kicked out of 12 hotels in just two years for trashing rooms!
[From Star Magazine and Jezebel]
Apparently, Brad also helped "zombie-proof" the Chateau Miraval by building a bunker for the kids, which… I mean, that's so Maddox, right? Star also claims that the Jolie-Pitts employ three full-time tutors, six day nannies, two night nannies and a team of bodyguards. Do you believe that? I do not. It's not my Brangeloonie freak flag flying either – I just don't believe that Angelina and Brad would spend THAT MUCH money on staff.
Star also claims that the children are not allowed to speak English at home, which I also don't believe. Oh, and apparently Angelina does "scream therapy." An insider says: "She runs a bath and screams under the water, drives to the ocean and screams or just sticks her head in a sink full of water. It seems to be doing her a lot of good." She screams IN the ocean? But Aniston screams AT the ocean!!! The ocean is all, "What the hell did I do to these bitches?"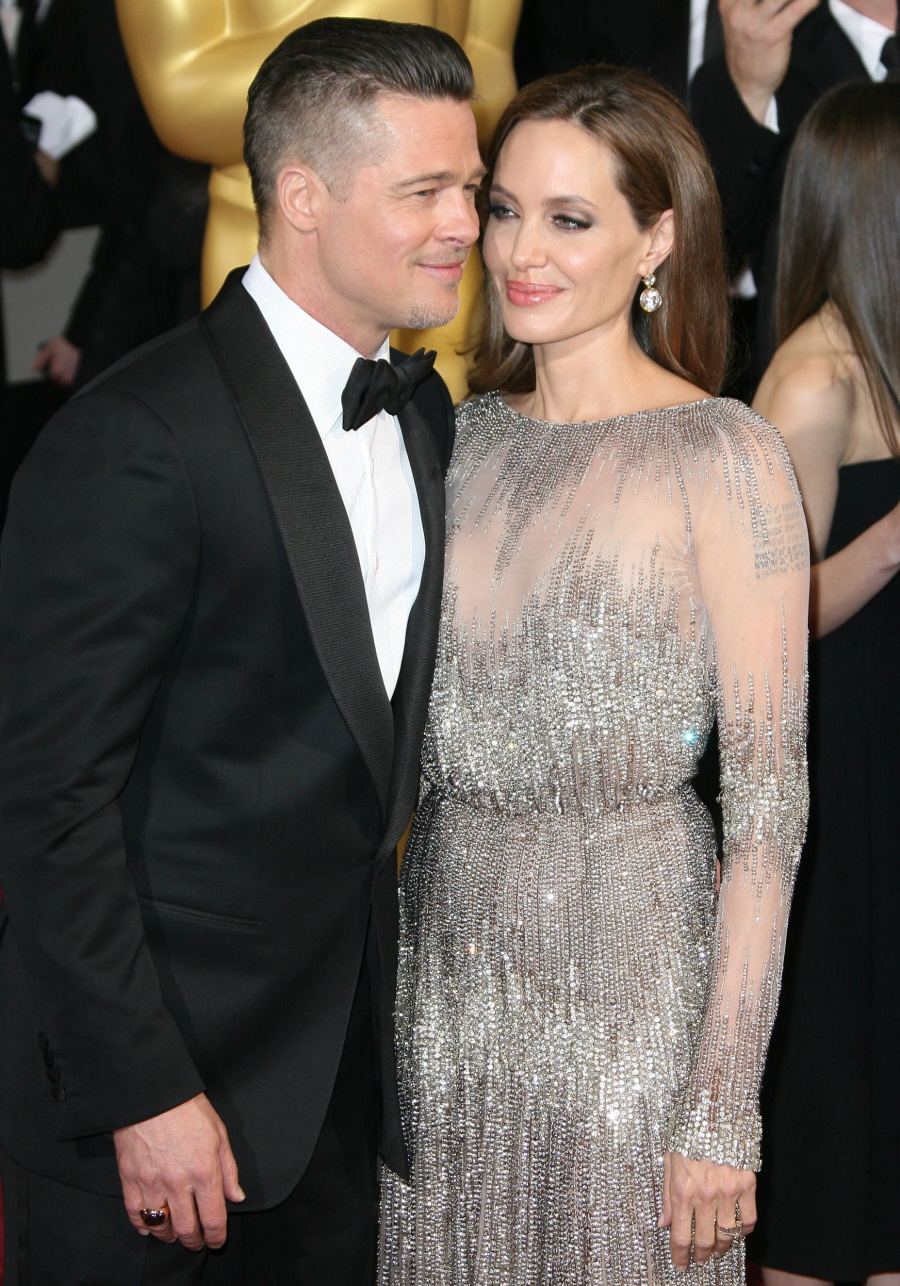 Photos courtesy of WENN.