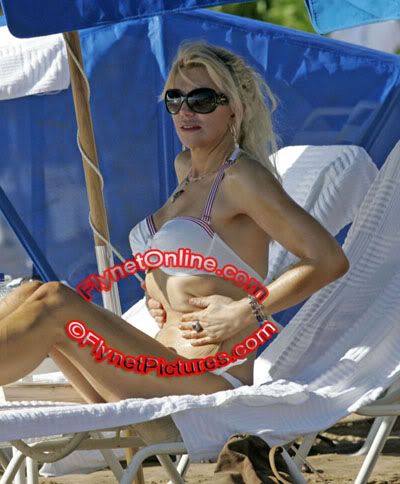 Courtney Love sure enjoyed showing off her new figure in various self-tanner stained bikinis while on vacation in Hawaii recently. She must have sent engraved invitations to all the paparazzi to come document her weight loss. Her rep claimed that chain-smoking Courtney was on a macrobiotic diet and that she did yoga and ate lots of vegetables and fish. That might have been all she could have kept down, because word is that she had that gastric band surgery that isn't as drastic as gastric bypass but still is mighty uncomfortable and helps you lose weight quickly.
Love insists her fabulous new figure is due to diet and exercise, but a friend said, "She's telling people she got the gastric band surgery. She even said she had to sleep with a towel by her because the surgery makes her [vomit] all the time and is worried she won't be able to make out with anyone because of her breath." But a rep for Love, who says she's dragged him to healthy macrobiotic restaurants, insists, "Not true. She says she never got surgery." Either way, she looks great.
That's just gross. She could have done it the way average people do and worked her butt off, but she took a shortcut. It doesn't seem right that people who don't need it get a gastric band as some kind of quick fix solution.
She's such an attention whore though and wanted to surprise everyone with her storebought new body. She surely got some lipo too.
Thanks to FlynetOnline for these pics.