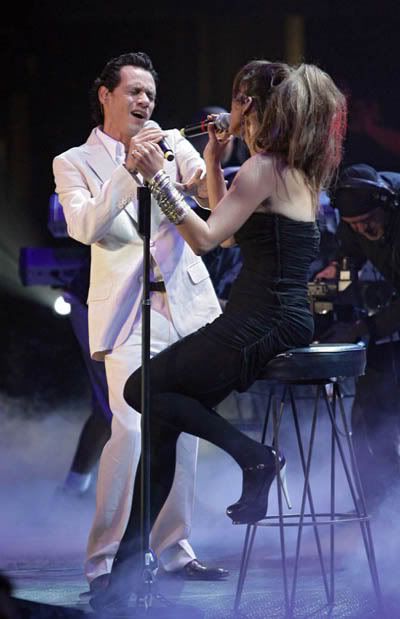 J-Lo and her hubby Marc Anthony are having a bad week. First they have to deny OK! Magazine's report that they are splitting up, which means that back into the cupboard goes my J-Lo Marriage Break Up Clock (I thought surely I would have used it by the end of year one of this marriage).
Now Marc finds out he owes $2.5 million in back taxes to New York. Pocket change to them, really. I'm sure Jenny can give the city one of her engagement rings to pay it off.
Marc Anthony has agreed to pay about $2.5 million in back taxes, interest and penalties because of his failure to file returns for five years, prosecutors said Wednesday.

Manhattan District Attorney Robert Morgenthau said that Anthony, who was not prosecuted on tax charges, failed to file returns for 2000 through 2004 on $15.5 million in income. He said the singer, who is married to Jennifer Lopez, filed tax returns for 2005.

Morgenthau's chief of investigations, Assistant District Attorney Daniel Castleman, said Anthony and Lopez, 37, do not file jointly so she was not implicated in the investigation.

Morgenthau said his office did not prosecute Anthony, 38, because a professional accountant prepared his tax returns and the entertainer apparently thought the returns had been filed and any due taxes had been paid.

"We have to be able to show intent" to cheat on taxes, Morgenthau said.
How could you hire someone who forgets to file FOUR years worth of taxes? That man is going to walk into work and find a pink slip the size of his head on his desk if he's still employed by Anthony.
At least he was honest to New York state and owned up to the mistake, which saved him from extra penalties and jail time. Not like that dumbass Joe Francis who sent $15 million dollars to the Cayman Islands and expected the IRS not to notice.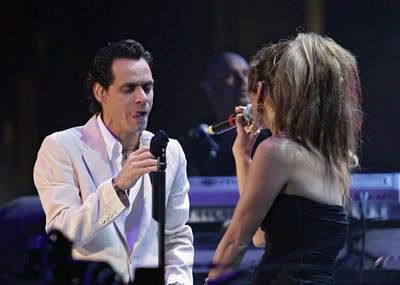 Pictures are from Marc Anthony and J.Lo's early March performance together in Miami.