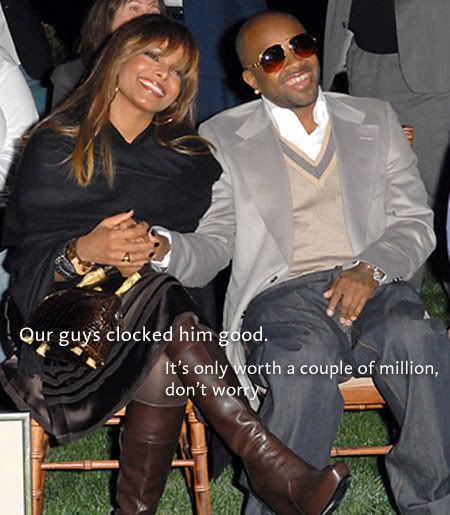 Janet Jackson and her boyfriend–music producer Jermaine Dupri–are being sued by a man who alleges that two of Jackson's bodyguards clocked him when he tried to pass a note to the singer. That is an obscene amount of money to ask for, considering his medical bills could have probably been no more than 1% of the amount he is requesting:
From SOHH.com:
Lawyers for pop singer Janet Jackson were unsuccessful in their bid to have a lawsuit against her thrown out.

In a ruling made public yesterday, Manhattan Supreme Court Justice Rolando Acosta decided that a $120 million assault suit against Jackson can move forward, requiring the singer to give a deposition under oath.

According to New York Post reports, 41-year-old Leonard Salati alleges that two of Jackson's bodyguards grabbed him and choked him when he attempted to pass the singer a note at Club Marquee, February 2004.

Lawyers for Jackson hoped to have the case dismissed by arguing that Jackson and her boyfriend, co-defendant Jermaine Dupri, were accompanied by only one bodyguard that evening, who they described as a 5-foot-8 Caucasian man, weighing only 180 pounds. A copy of the guard's driver's license was submitted to support their claim. Salati had previously described his assailants as two African-American men, one weighing around 300 pounds.

Judge Acosta ruled to allow the case to move forward, and remarked that despite Jackson's claims, representatives for Club Marquee (which is also being sued) said that at least three bodyguards were present with Jackson on the evening in question, two of whom were African-American. The judge also added that the bodyguard's license "did not show that he is Caucasian. Indeed, to this court's untrained eye, he appears to be a medium dark Latino, [who] could pass as being African American."
I think it is unfair that Salati is able to sue Jackson and Dupri for such a ridiculous amount. I would understand if he was permanently incapacitated after his encounter with such a behemoth, but he was feeling fine enough to walk to a lawyer's office and file a lawsuit for an obviously opportunistic amount. Besides, after Dupri produced Jackson's distastrous last album, 20 Y.O., I doubt they have $120 million to give the guy.