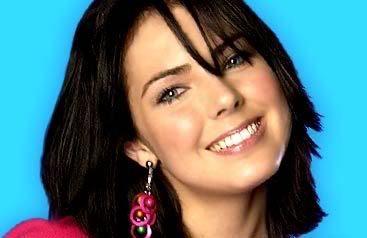 The inevitable has happened and there's now a sex tape by an American Idol contestant. It's just a top 24 contestant from season two, and you're not likely to remember her. Olivia Mojica made an "explicit" and "nasty" sex tape with an old boyfriend who must have gotten the idea from Ray J to sell it to adult video giant Vivid.
We're told the tape is "very explicit" and features 40 minutes of "smoking hot sex." One source who says he has seen the tape put it this way — "It's the nastiest tape I've ever seen."

We're told the tape was shot with her boyfriend, but we don't know when. A website featuring a preview of the tape will launch soon, similar to the site created specifically for Kim Kardashian's sex tape.

We're told Vivid Entertainment is the front-runner to distribute the tape. Steven Hirsch, co-chairman of the company, said he cannot comment at this time.
Mojica joined an Idols tour of Texas last Fall with season two Idol winner Ruben Studdard and season one runner-up, Justin Guarini. Other idol favorites in the "Superstar Idols Live!" tour were Anthony Federov and Lindsey Cardinale from season four.
While TMZ says that Olivia is in the band "The Watchdogs," I can't find any evidence of that on their website and I could find only one mention online of her involvement with the band. I did a google image search of her name, though, and it comes up with a picture of her from that band's website with the caption: Olivia Mojica, Vocals. On the page of bandmember bios where it's supposed to be, she's been cut out and just the other band members are listed. The guys in the band must not want the publicity they're getting since this news came out.
People were annoyed that so much hoopla was made over Kim Kardashian's sex tape and she has much more starpower than this random Idol contestant who didn't even make it to the top ten. It sounds like she sure could use the notoriety.