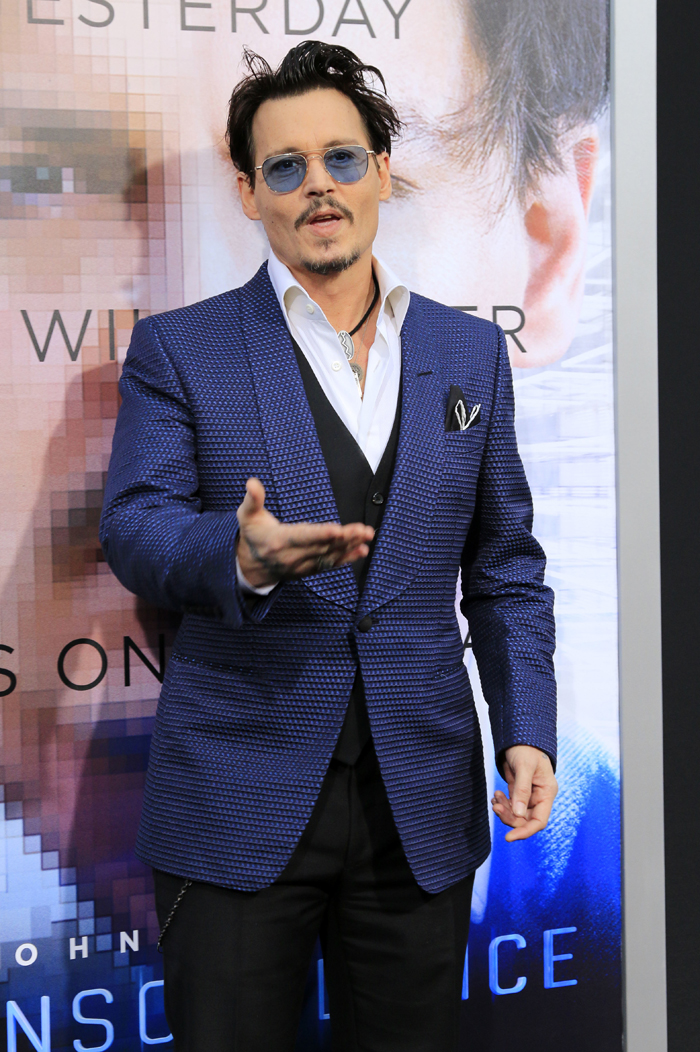 These are photos of Johnny Depp at the LA premiere of Transcendence. He is dateless — except for Marilyn Manson, who made farty faces on the red carpet. Outlets are noting how Amber Heard doesn't show up to support Johnny when he makes a huge point of attending her premieres. Relax, it's fine. Amber couldn't get out of work. She's currently filming a movie where she wears a pink ombre wig and looks like a grunge princess.
As I was writing this story, TMZ broke a weird piece of news about how Johnny was served on the red carpet. He's been subpoenaed in a criminal case where a limo driver, Nancy Lekon, allegedly ran over a pedestrian in Skid Row. Lekon claimed she was in route to visit her "lover," Johnny. The PD wants Johnny's testimony to prove the woman is insane. Strange.
Johnny's given a new interview to the Mirror. He is still madly in love with his girl, Amber. Johnny's not couch jumping yet, but he's close. What he has to say won't stop those pregnancy rumors anytime soon:
He wants babies: "As far as having more kids, it's easy for me, and Amber should have the opportunity to have kids if she wants. Let's face it, practicing for it is fun and it's all wonderful. I love kids. I have two and they're perfect. Man, I'd make a hundred."

On aging: Every day, every year that you get a little bit older, you get a little bit wiser. You realise at a certain point in your life that you are able to dedicate your life to one person. To love that person as you do your children."

Gushing about Amber: "In many ways I am everything she wouldn't want to be with and in a lot of ways she's everything I wouldn't want to be with, because actors and actresses… it's not an easy deal. But she has a good perspective on her career and one of the first times I sat down with her I was astonished at how smart she is. There's a really strong, brilliant woman in there who has a lot to say. She also has the ability to bring up the names of obscure old blues guys like Slim Harpo or Tampa Red and she has a great knowledge of that and country music. She's a wonderful girl and I am very lucky."

He & Vanessa are fine: "Vanessa and I get along wonderfully. There's no weirdness at all, no hostility. Life happens and we spent 14 great years together and raised a couple of kids who we are both incredibly proud of. We see each other all the time and giggle and hang out, just like we always did. She's a wonderful woman. I love her and she loves me and she's a great mommy. I have nothing bad to say, ever."

Amber is "super close" to the kids: "They're like pals and it's great. Every day I am more and more proud of my kids. They have turned out so well and are good kids and polite and caring. Jack has always been a very talented draughtsman. He draws really well and also has a good feel for music, but aside from school plays he hasn't shown any desire to become an actor. Whew! My daughter on the other hand is just a genius. Lily-Rose is interested in the arts and in acting, entertaining and singing as well. And she's got the goods. She can deliver."

He can't text: "It's such a foreign kind of thing, criss-crossing thumbs and whatnot. I feel ridiculous doing it. I travel with an acoustic guitar and a portable typewriter from about 1940 and that's how I prefer to write. With that or in longhand and maybe on a sketch pad."
[From Mirror]
He's so quirky with the typewriter thing. I wonder if he uses white-out or just mows right through the typos. The not-texting thing is understandable. If your phone does email, I don't see the point in texting. But Johnny probably considers texting and email to be equivalent.
Johnny also popped in to visit The Ellen Show on Friday. He says aging his made him "Calmer. You know, more calm. Less…well, not less weirdness, but less rage, maybe. Far less drama." Less drama, but more scarves.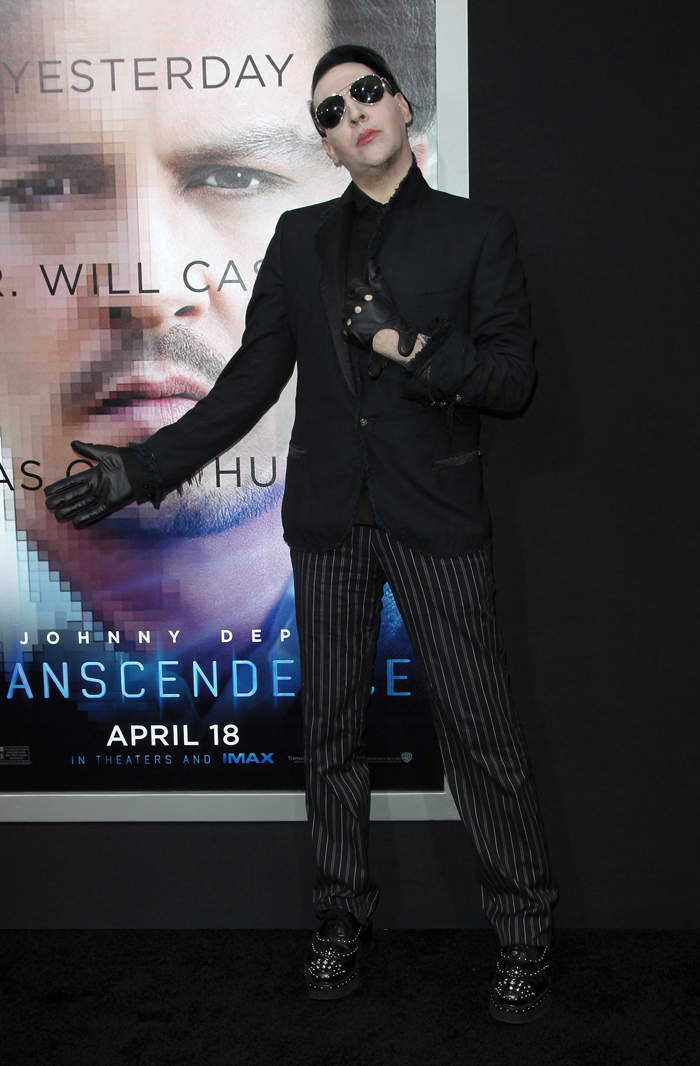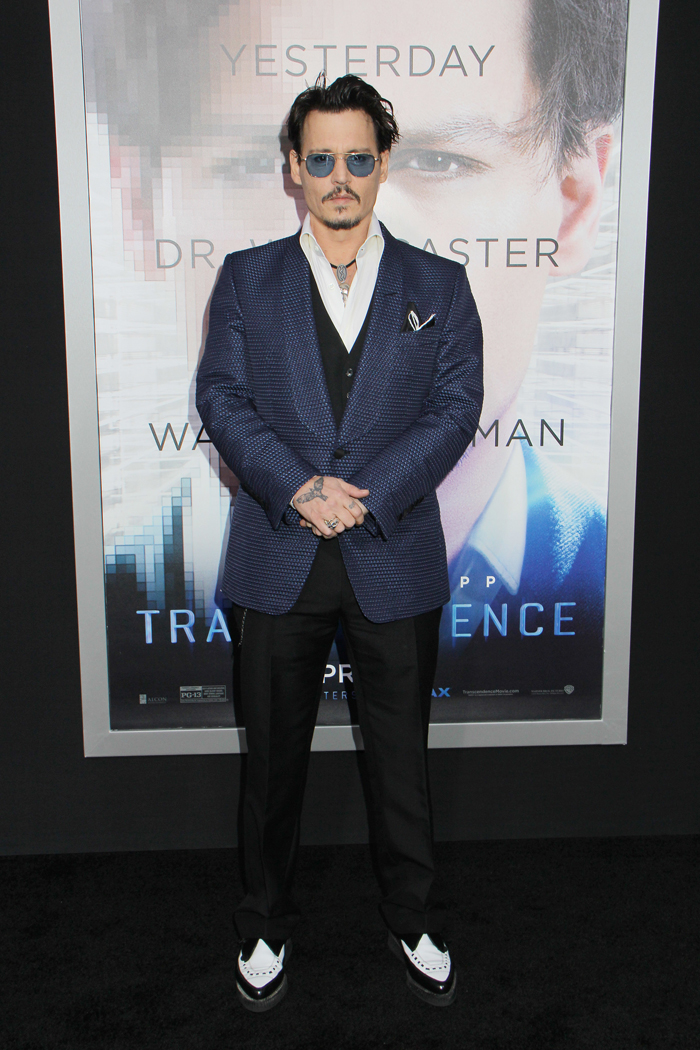 Photos courtesy of WENN