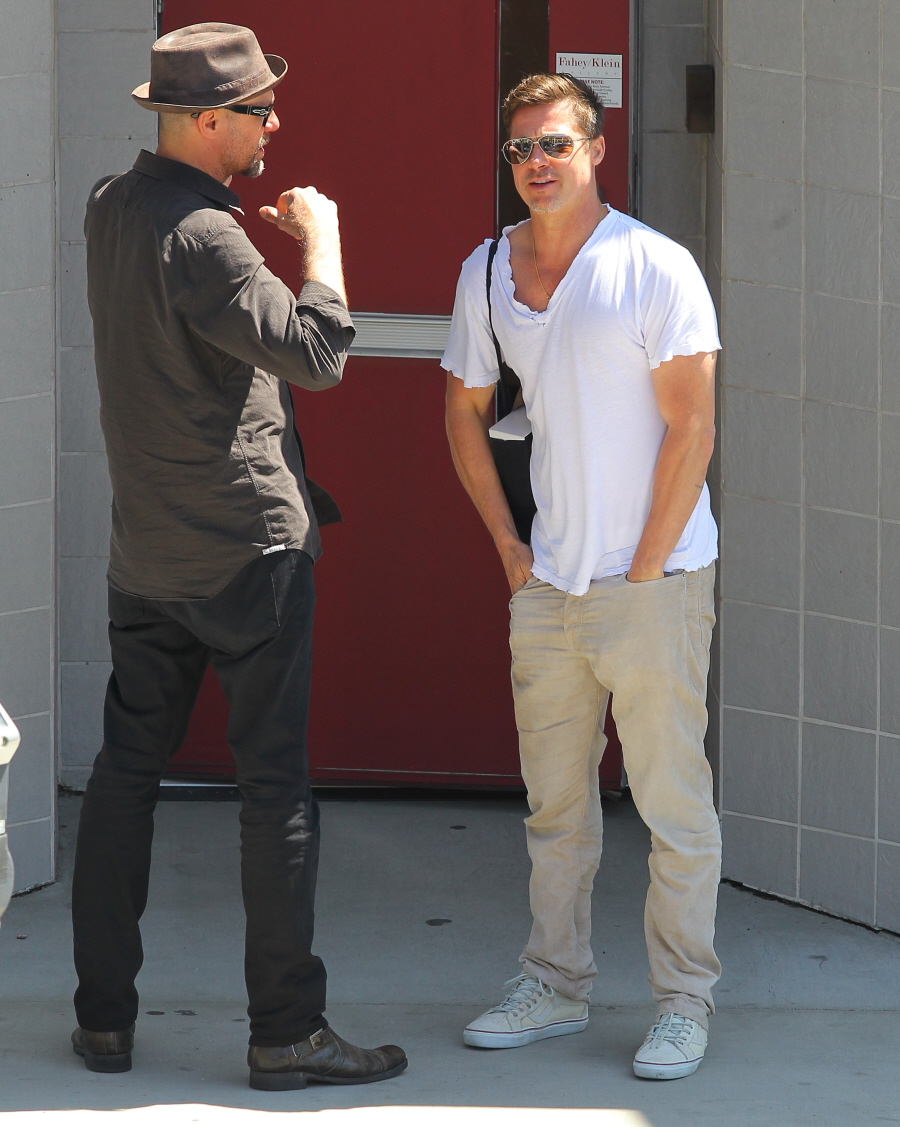 Good God, Brad Pitt is looking really good these days. He stepped out last month looking "refreshed" and then he was out and about on Friday in LA, looking like this. Only Brad Pitt could really pull off a ratty t-shirt and chinos and still look like Tom Ford personally dressed him. I really like his shades too. Brad was photographed as he left the Fahey/Klein Gallery, which apparently has some photography exhibitions. According to Us Weekly, Brad was checking out a Peter Lindbergh exhibit. Lindbergh has photographed Brad several times throughout his career, so there's a chance Brad was looking at photos of himself.
After checking out the photos, Brad got a parking ticket. Allegedly. I mean, a cop left some kind of paper on Brad's windshield, but the paper looks too flimsy to be a ticket. I kind of wonder if a cop left his digits for Brad. "Hey, man, you look awesome! Give me a call XXX, Officer HotBody."
Oh, and here's just a little bit more from Star Magazine's cover story last week:
"The biggest point of contention [between Brad and Angelina] has always been the kids and how to raise such an unruly bunch," the insider said. "And both of them are insecure about the relationship: she worries that he cheats, and he think she'll cheat because she's 12 years younger than he is."

Despite the family's issues, Jolie, 38, remains "insanely devoted" to the Moneyball hunk.

"She fell for him the minute they met, and he loves the way she is into him," the source told Star.

One area in which the Mr. & Mrs. Smith stars don't have any problem is the bedroom, as an insider says "they go at it like rabbits."

"They are very kinky and will spontaneously hook up any chance they get," the insider said. A woman who once cleaned the A-listers' jet told she was "shocked" to find an arsenal of "like, a dozen" sex toys — including vibrators and butt plugs — under the comforter.

"Brad and Angie are much more mellow than they used to be," the insider concluded. "Three or four years ago they were fighting all the time, but now they seem very comfortable together and put up with each other's foibles. They're perfect for each other."
Vibrators? I would think that their sex toy drawer (closet?) involves a lot of handcuffs, whips, chains, ball gags and maybe even a leather hood (for him) and a leather catsuit (her). And why the hell would they need sex toys IN THEIR JET?!? How kinky do they get on a plane? For goodness sake.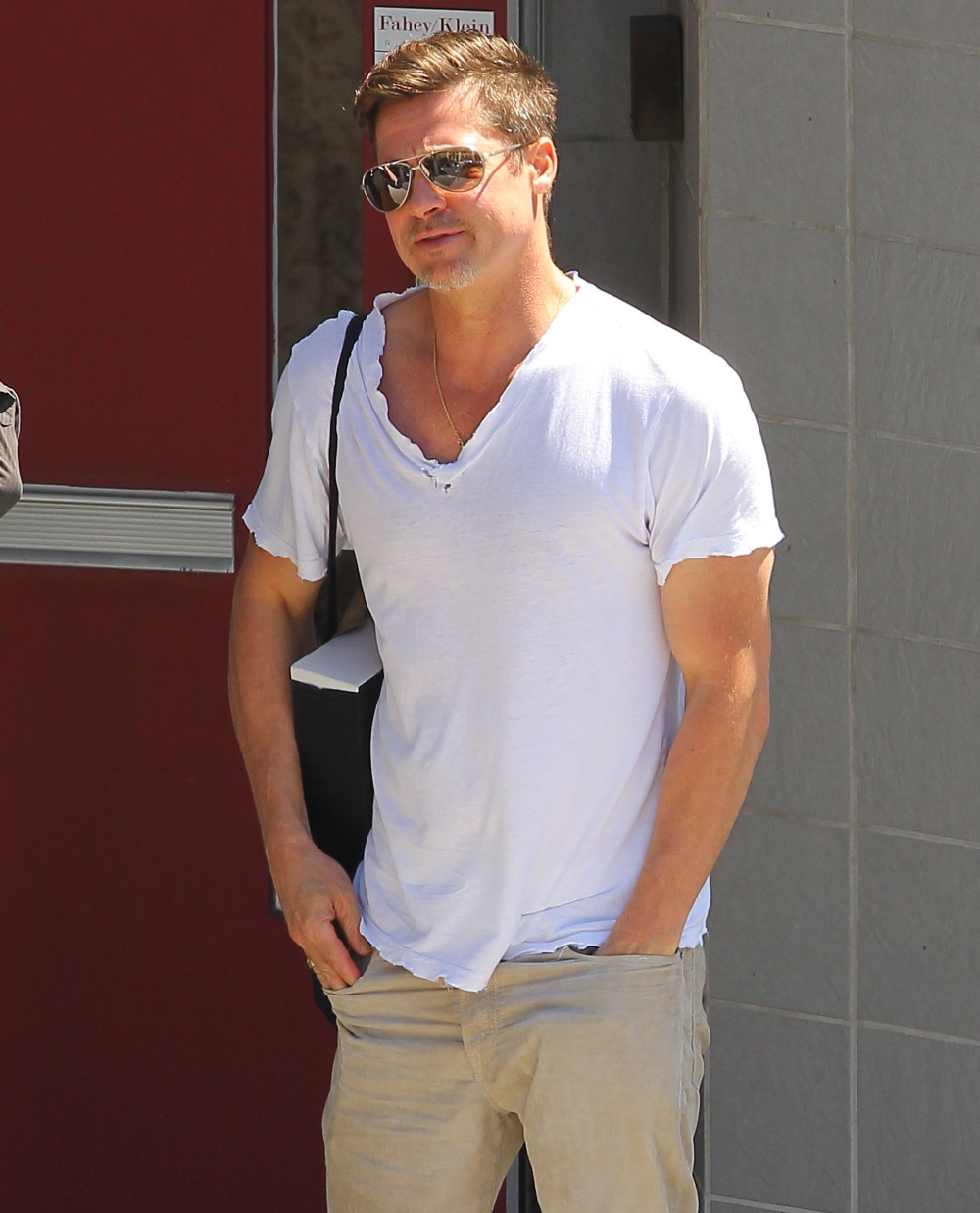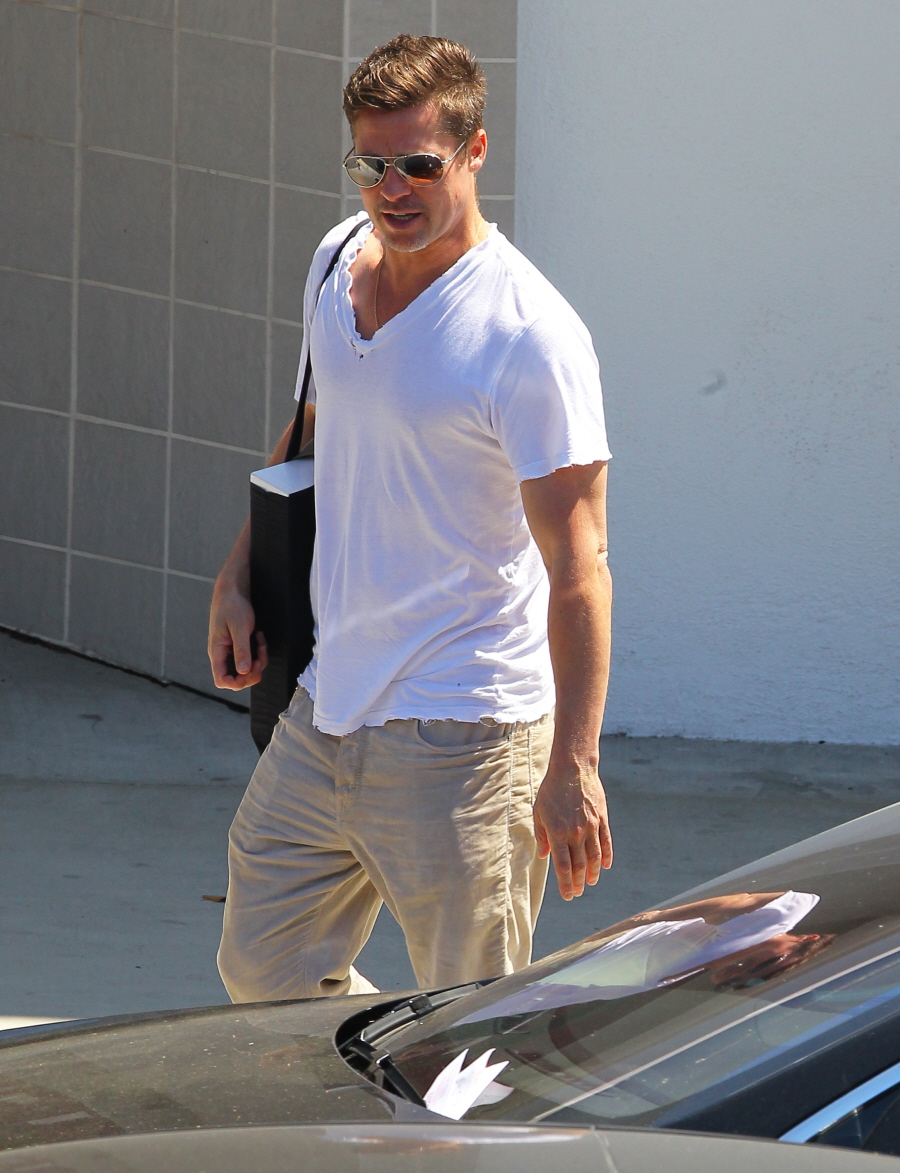 Photos courtesy of Fame/Flynet.