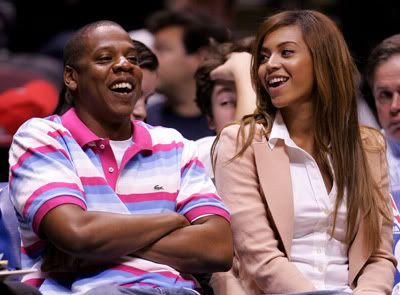 The NY Post reported this weekend that Beyonce had a fight with her long term boyfriend, Def Jam president Jay-Z, while at Monday's Net-Heat playoff game, and left to fly back home:
May 13, 2006 — THE tension wasn't only on the court at Monday's Net-Heat game. Sources say Beyoncé had a roiling blowup with Jay-Z as New Jersey dribbled over Miami, 100-88. "She stormed off and flew back home," one tipster said. Beyoncé's East and West Coast publicists were blissfully unaware of any fireworks. "I don't know if she had a fight," sniffed Columbia Records' Yvette Noel-Schure, who declined to contact her Grammy-winning client to find out for sure.
[via]
It seems like the report was overblown and the power couple patched things up quickly. They were snapped enjoying game three of the Net-Heat playoffs on Friday. Heat won 103 to 92, and is ahead in the series three to one. Game five is tomorrow.