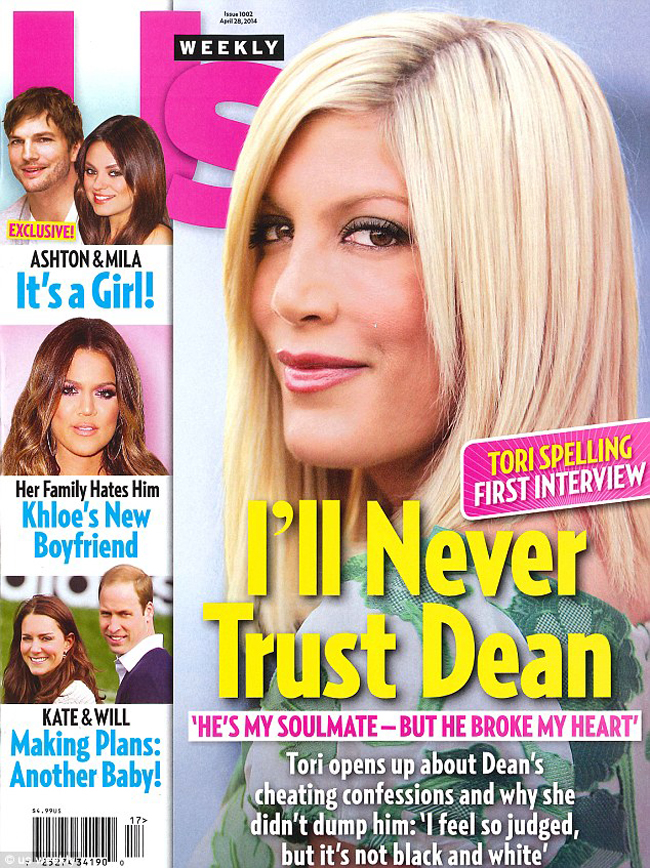 Tori Spelling and Dean McDermott's cheating story broke last December. We've covered a steady supply of updates since then. Someone in Tori's camp must have been leaking details to the tabloids every single week. Tori must sell well if the tabs were publishing this stuff. She was even the subject of several cover stories. That doesn't happen just because information is handed to the tabloids. Lots of celebrities feed details to the tabs. Only a select few move enough copy to score regular covers.
I believe that Tori and Dean did set up this cheating story so they could score a new show. They live a lavish lifestyle and spend way too much money even though they're chronically broke. They very badly need/want the cash. By the time the new True Tori Lifetime trailer arrived, everyone was already tired of hearing how playboy Dean was scoring with all da ladies (and da men). Tori stories used to rustle up a bit of sympathy here, but now no one cares.
This what I don't get — Tori's husband headed to rehab, and she immediately brokered a deal for this new show. She started filming within a week! It's so obvious Dean and Tori have been faking it. Tori has still managed to score the latest Us Weekly cover story. She's finally "breaking her silence" (even though she hasn't really been silent, she's been talking to the tabs all along). I've edited Tori's quotes down to bulletpoints:
Cheating changes everything: "He was my soulmate, but he completely broke my heart. It makes you not trust anything that's happened in your relationship. There are children involved. I need to try to figure this out. You don't stop loving someone because they do something really bad to you. But until I figure that out, I don't want the kids to know any different."

Why she didn't leave Dean: "I feel so judged, but it's not black and white. If I can't ever let my guard down again, then there can't always be a relationship. I always said "If he ever cheated on me I would be out of there! Whether I can ever trust him again. That's the big question."

How she confronted Dean about cheating: "He was very nervous – I saw it in his face. He said that they had kissed but that was it. I knew in that moment the worst had happened. I said 'I don't believe you for one second. I don't believe that's all."'

Then Dean told her everything: "[Dean] talked me through the entire weekend with Emily. He didn't want to get graphic. I didn't want him to. We kept it to the facts. It wasn't about feelings. I listened and made sure I didn't show emotion. I didn't cry. He didn't cry. He sounded remorseful. He sounded like a husband who had gotten caught."

No real reconcilation yet? "We haven't had sex since December."
[From Us Weekly]
E! has a new clip from True Tori where Tori talks about finding out about Dean's affair. She sounds really "off." Not upset at all. Almost happy? (She reminds me of my daughter trying to tell a lie when she was five years old and giggling behind her hands.) Tori's doing this show because "I wanted people to get me, to see the real me, so that's why I wanted to do this." Uh-huh.
This week's issue of People will also have a Tori & Dean feature. People spoke with a Tori source that says she is punishing Dean with this new show: "The decision to do this show is not coming from someone who is in a solid, good place. Tori is very, very upset and angry. A part of her wants to completely humiliate him and make him suffer in front of millions of people. She wants to have some sort of justice. She wants him to truly feel the pain of what he did to her." And it has nothing to do with making bank? Riiiiight.
Dean was papped on Tuesday visiting a 12 Step Store. He bought stickers, books, "and meditation stuff." Can I laugh at this obvious display for the reality show? What a waste of a shopping trip. I guess he can at least deduct it on his taxes next year as a work-related expense.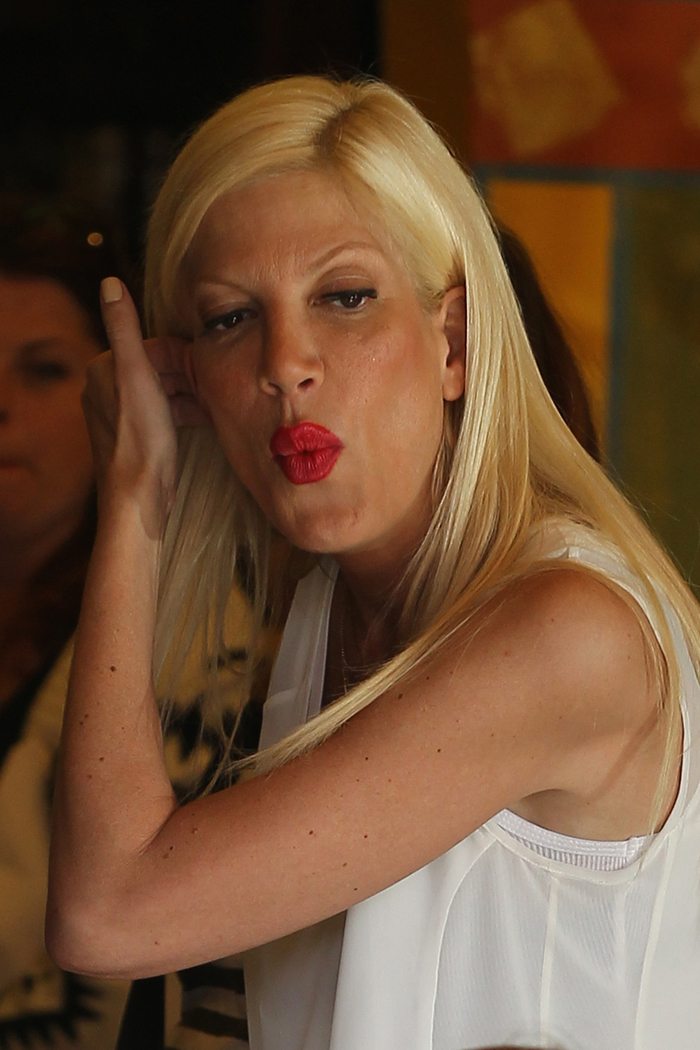 Photos courtesy of Us Weekly, Fame/Flynet & Pacific Coast News