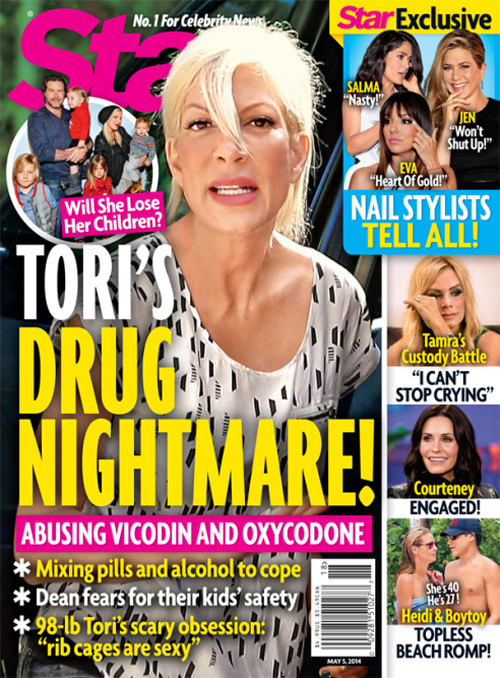 A week ago, I wondered aloud how Tori Spelling could still be scoring magazine covers when she covered Us Weekly. Well here is Tori gracing the cover of Star, but the tide has turned. We have endured many months of sympathetic Tori stories from every tabloid, and most people who liked her eventually burnt out on "poor Tori." She cheated with Dean, so it's hard to feel bad if he cheated on her. Which may or may not have happened. I think the whole cheating story is made up. Other outlets are starting to come to the same conclusion. Jezebel has a detailed breakdown of Tori's inconsistencies including a fudged timeline.
Here's the thing — Tori completely played all her cards in the tabloids before her new show's uncomfortable trailer surfaced. Anyone who had an ounce of goodwill for Tori's hustle is tired of her. Many of us had a good chuckle over Tori dragging Dean through the mud, but interest has waned. Enter a new strategy.
This week's issue of Star shows an exasperated cover photo of Tori. The tabloid labels her as "Hollywood's Worst Mom." Does this mean that Team Dean is finally fighting back? Or is this yet another planned twist in the narrative? Let's do some bullet points because there are SO many new mini-stories:
* The Star story says Tori Spelling is the fakiest of the fakes and that True Tori is anything but real. A source says, "Tori paints herself as the perfect mom, but her version of reality is nothing but distortion. If Dean left, she'd have to learn to cook, read stories, and be a good mom. She'd lose her worst employee." Tori copes by chugging Vicodin and Oxy plus alcohol to deal with her mess of a marriage. The source also says, "Her image is more important to her than being a loving wife and mother. It's all for show." Huh.
* Dean and Tori have filmed more scenes for their show that show them on the therapy couch. "Insatiable" Dean whined about sex: "We have four kids, so in the sex department there were ebbs and flows. Is that safe to say?" Tori insisted, "We had a great relationship, and we had a great sex life." Dean responded, "We had sex once every two weeks. It wasn't fantastic." Tori grew angry, and Dean asks, "What? What did I say?"
* Radar Online says Dean has had enough of this new reality show. He thinks Tori is simply out to humilate him, and "he is tired of Tori playing the victim." He's very upset that "their four children are going to be able to watch the show when they are older and that really distresses him." Soooo … he is threatening to divorce Tori now because "this has gone too far." It would be interesting if Dean really filed for divorce, right? I think these two will stick together and make each other miserable forever. That is, if any cheating actually happened.
* Tori gave an exclusive statement to Us about their amazing sex life: "For having four children and very chaotic schedules, I thought we had a very, very good sex life." Tori also admits that she's tried to Google for pictures of Dean's mistress — a totally made up woman named Emily Goodhand — but Tori can't press the "return" button on her keyboard. (Note: The Examiner claims to have located an Emily Goodhand in Toronto, but that doesn't mean this person banged Dean McDermott.)
* Tori and Dean's therapist says Dean is full of crap. The therapist believes Dean has been "lying his whole life." Tori still wants to make it work: "I'm so scared we won't grow old together. That's my biggest fear." Girlfriend should be more fearful about Dean divorcing her and receiving a ton of alimony and child support. He could do that. Tori's the one who's been earning the cash with her book sales over the past few years. She'd have to pay him.
* Dean was papped yesterday chatting up some ladies outside a Starbucks. LOL.
Here's a picture of Tori filming this bloody reality show two weeks ago. She sees this Lifetime show as her golden ticket, but she'll spend the money right away. Then she'll be broke again and have to cook up a new moneymaking scheme.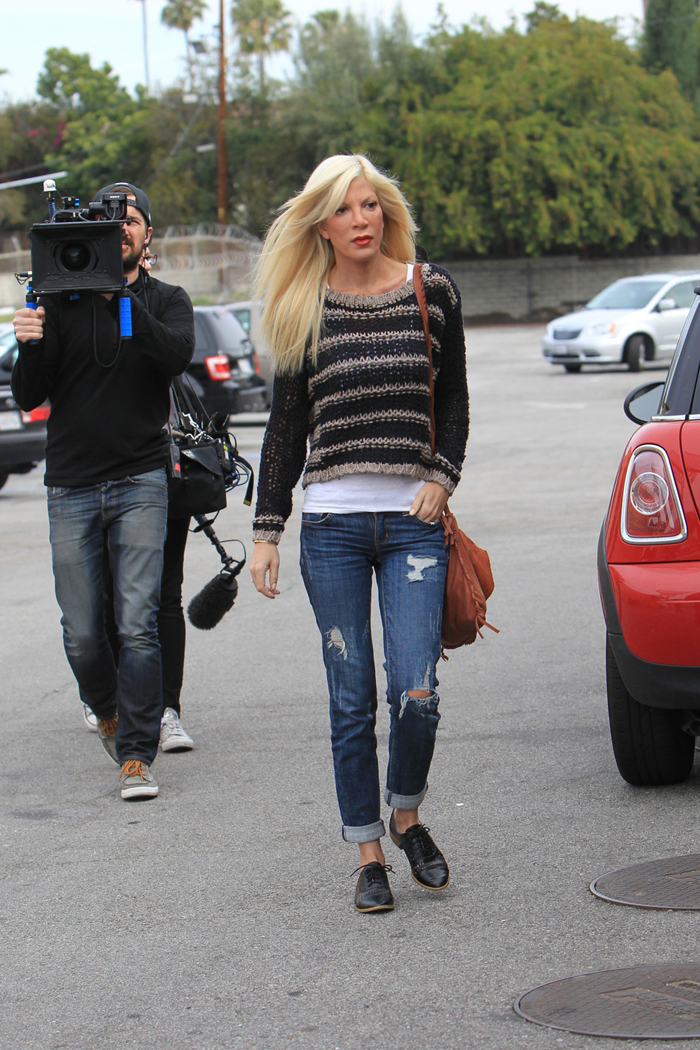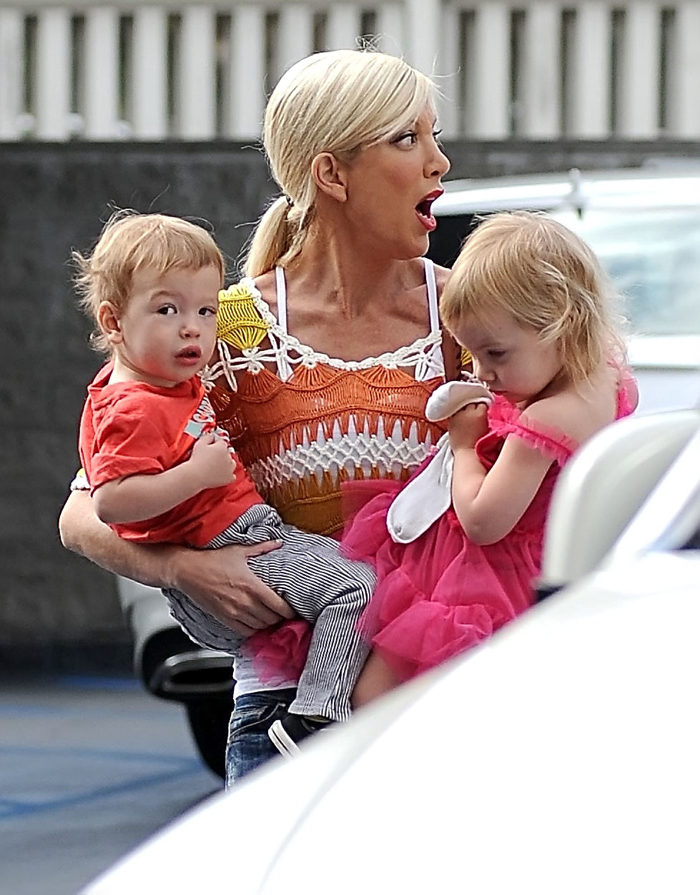 Photos courtesy of Star, Pacific Coast News & WENN