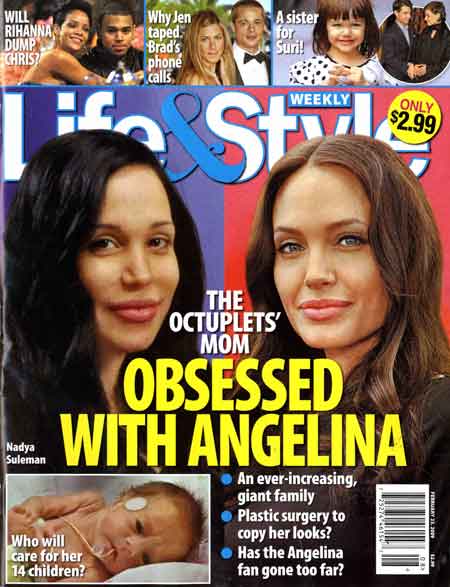 Nadya Suleman claimed she didn't have an obsession with Angelina Jolie, despite clearly having cosmetic surgery (which she denies) that makes her look more like Jolie (which she also denies). She told Ann Curry, "I have never thought of Angelina Jolie except the last time I saw one of her movies." However according to the Chicago Sun-Times, that's far from the truth. Suleman has sent Angelina letters over the past year, which, according to sources in the Jolie camp, complete creeped her out. Not surprising, considering how dishonest Suleman was about so many other things in her NBC interview.
Along with many Americans, Angelina Jolie herself is said to be "totally creeped out" by Nadya Suleman, the now-infamous mother of six who just gave birth to octuplets — all thanks to artificial insemination. Though Suleman categorically denies she's undergone any plastic surgery to make her look like Jolie, neighbors, friends and family members of the unemployed single mom of 14 challenge those denials — as do earlier photographs of Suleman clearly indicating thinner lips and a different-looking nose.

Furthermore, a source close to Jolie — herself the mother of six children — tells me it's not just reading about Suleman in the press that fuels the Oscar winner's irritation.

Apparently, over the past year or so, Suleman has made attempts to reach out the the actress — sending her admiring letters and extolling her talent and humanitarian efforts on behalf of children's issues around the world.

"At least she wasn't a total crazy … like the stalkers who try to actually meet Angelina and follow along with the paparazzi," added the source, who also said, "It is clear this woman needs psychological help. It's one thing to clip out a celebrity's photo from a magazine and ask your [hair] stylist to copy that cut. Who hasn't done that? But to have a nose job, have collagen injections in your lips and start talking like Angelina — that's over the top."
[From the Chicago Sun-Times]
Nadya Suleman just keeps digging herself into a deeper and deeper PR nightmare. She's claimed she doesn't receive welfare, but admits she does get all sorts of government payments, including food stamps and child disability payments for three of her oldest six kids. She's also claimed she hasn't been paid for any interviews – a statement which NBC has echoed – though it's now seeming very likely that's untrue as well.
DID the NBC network pay Octomom Nadya Suleman close to $1 million for coverage of the maniacal mother and her eight preemie babies? NBC vehemently denies it. But an insider told us, "Everything was filmed. The birth, everything. Then [Suleman's people] said negotiations would start at $1.2 million for the video and pictures, which is when producers from Oprah Winfrey, ABC and CBS left the room. NBC stayed." Our source suspects that NBC made a "donation" through an intermediary. Suleman gave Ann Curry the interview, in which she said a lonely childhood made her want to birth 14 kids with a sperm donor. An NBC rep said, "NBC News does not pay for interviews. We did not pay Nadya Suleman, or anyone who represents her, for our interview. We didn't license a single photo or video from her or anyone who represents her. Not a dime. There is no deal with anyone at NBC Universal or NBC News."
[From Page Six]
What's more, Nadya and her family have been getting death threats. Even her publicist has gotten them – forcing everyone to relocate last week. Can you imagine trying to pack up that whole family and hide?
Nadya Suleman, the now-infamous mother of octuplets, has received death threats, her publicist, Joann Killeen, claims. Killeen says the threats got so bad that Suleman, 33, and her other six children recently moved into a rented house and out of the home she was sharing with her parents in southern California.

"Because of the death threats to Nadya and her family, as well as the death threats to me and my agency, we were in a secure location last week," Killeen says on Thursday's Dr. Phil show. "When the risk was determined, it was no longer a high threat, we were able to leave that location."

Suleman and her children are now back with her parents… On Wednesday, blogs were abuzz after Suleman launched a Web site, asking people for donations.

Dr. Phil says people need to focus on the children's well being. "There are 14 children here," he said. "We always say we don't want to throw out the baby with the bath water. Well, we don't want to throw out the babies with the mother here. We've got to focus on these kids."
[From Us Weekly]
Obviously the octuplets didn't pack up and move with Suleman since they're still in the hospital, but that must have been quite the ordeal, nonetheless. I certainly understand why people are upset about this situation and upset with this woman, but threatening her life and/or the safety of her children is absolutely uncalled for. There should be all kinds of investigations into how this was allowed to happen. Whatever doctor implanted her embryos is incredibly unethical at best.
But in the long run, let's hope Nadya finds a decent way to support her children financially and give them what they need. Rarely do I agree with Dr. Phil – and I haven't seen the entire show yet, so I'm only referring to his quote from Us Weekly about supporting the kids – but in this case, it seems he's right.
Thanks to Radar for these before and after cosmetic surgery pictures of Suleman. Thanks to CoverAwards for the Life & Style cover.