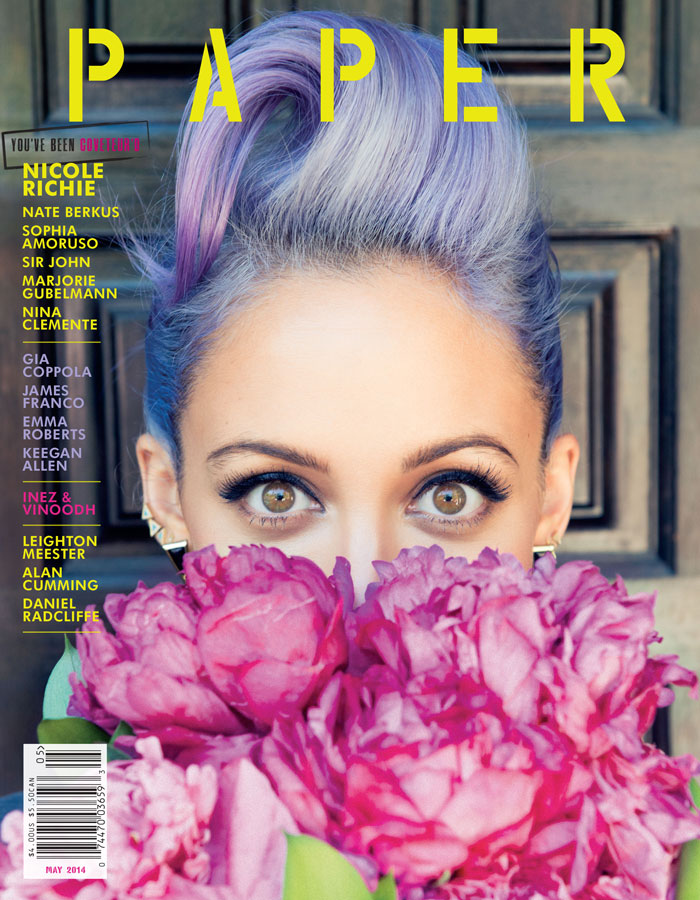 Nicole Richie covers the May issue of Paper magazine, and she looks fantastic. She is seriously working that lavender hair of hers. I know she originally adopted the shade after a dare from Kelly Osbourne, but Nicole owns it now. Sorry Kelly, but Nicole is the purple-haired princess of the year. It is so declared.
This cover feature promotes Nicole's upcoming #CandidlyNicole reality show. I think. Nicole doesn't talk about it much. The main attraction here is the gorgeous shoot that was done in Nicole's backyard. The clothing choices are sumptuous. She's wearing Valentino, Marchesa (the lone bad choice — you'll know that one when you see it), Alberto Ferreri, and a stunning gold Oscar de la Renta dress. In several shots, she's wearing jewelry by her own House of Harlow label. Nicole talks about gardening in her own backyard, and I can't believe she's growing all this stuff. No wonder the interview is called "success keeps sprouting." I'm gonna raid Nicole Richie's backyard for blueberries. Come with me:
She has a hot German Shepherd: "Look!" screams Nicole Richie. "Look how hot Iro is! I just look at him sometimes and think he is so manly and strong. He's everything a woman could ask for, so you know, I understand if Joel gets jealous."

Her morning routine: "I wake up around 5:30, before the rest of my family, and that's my time alone. Then I spend some time tending to my garden. We have apple trees, blueberry trees, lemon trees, strawberries, butter lettuce, arugula, sugar snap peas, tomatoes, carrots, broccoli, cauliflower, kale, spinach, mint, thyme, oregano and sage." Nicole clarifies that her dad is "more of a landscaping type of guy, and I'm more of an edible garden person."

Raising Hollywood kids: "The best part about raising kids here is that I was never told that being gay or mixed race was different at all. It's such a big melting pot, and everybody is so open-minded and welcoming here, I don't know where else I would raise them. [Joel & I've] obviously gone back and forth because we did grow up so differently, and there are aspects about the way he was raised that I wish I'd had and vice versa. We just apply both of those ideas to our family."

Who she likes on Twitter: "Kelly Oxford, Jenny Johnson, Patton Oswalt, Sarah Silverman…I'm always looking to laugh, so anyone who can make me do that, I'm down."

Expanding House of Harlow 1960 with clothing: "I love L.A. style because seasons don't really play a role. I'm able to wear whatever I want, whenever I want. It gives me the opportunity to experiment and try new looks."

She has fancy turtles too: "Sparrow wanted turtles for his birthday, so I got them for him, and he has not looked at them since. I hated these turtles. I wanted nothing to do with them. They don't even have names. They were just pointless pets sitting in this cage." That is, until Nicole started going down a Pinterest black hole where she was inspired to build the reptiles a new home. "I legit invented the 'turtle coop,' and then I built them the most beautiful outside lagoon that you have ever seen. Now they're mine. No one takes care of them but me."

Being a grown up can be fun: "My idea of being a grown-up was living behind a white picket fence and changing who you were–getting a bob and wearing beige, but I found freedom through my brand and being myself and being able to do it my way." Which is really the essence of House of Harlow 1960. "I really just want to empower people to feel like they're strong enough to make their own decisions."

What is she most proud of? "My family, my work and my turtle coop."
[From Paper Mag]
Nicole has talked before about being a morning person, but she never revealed that she tends garden after her coffee. It sounds peaceful, and she must enjoy the "me" time before the kiddos wake up. I still marvel at how Nicole has transformed her life. She's waking up to pick blueberries at the same time that Paris Hilton is probably dropping off to sleep. Nicole built a freaking turtle lagoon for her child's discarded pets, and Paris is alway shopping for her latest boutique puppy. They're so different now. How were they ever friends?
Imagining Paris in this photoshoot is impossible too. Nicole is working these clothes. This backyard! I'm so jealous.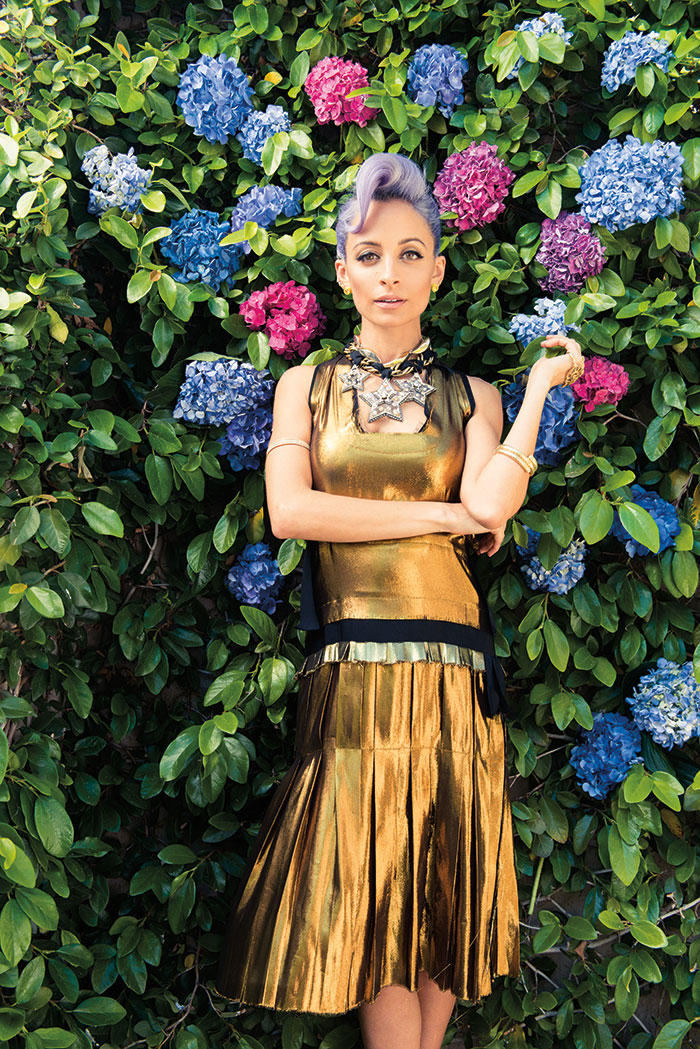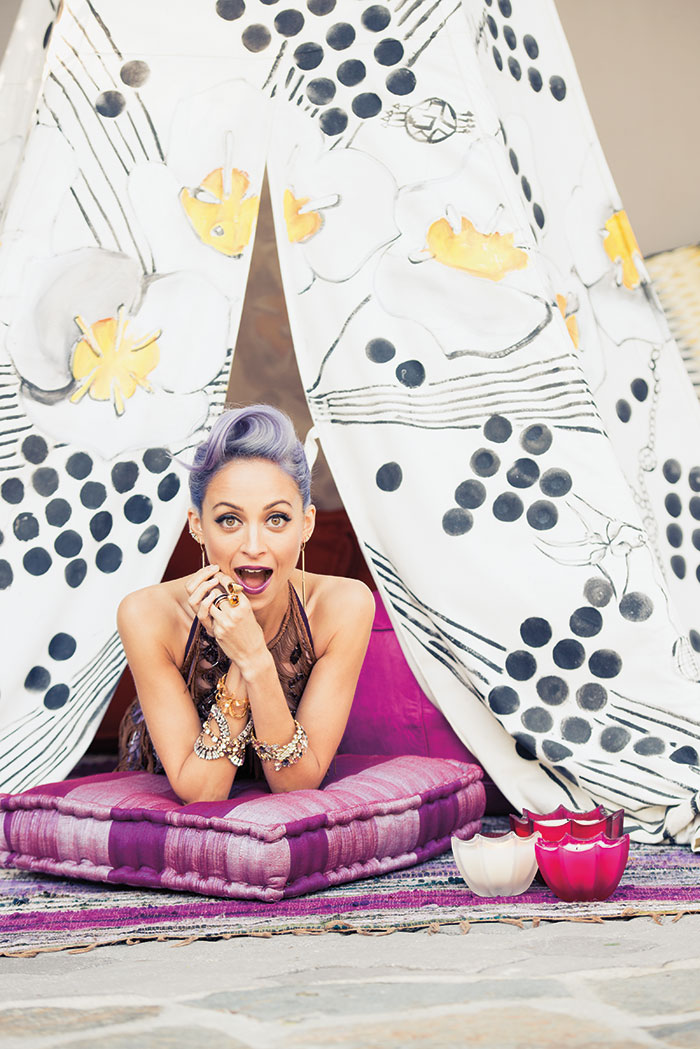 Photos courtesy of Paper magazine