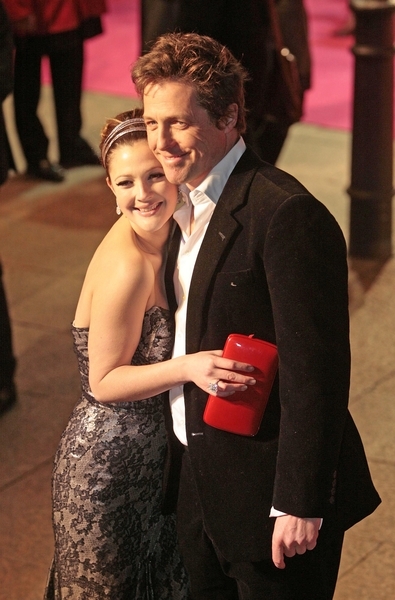 Drew Barrymore and Hugh Grant starred in the 2007 romcom Music and Lyrics. I don't remember hearing rumors of a potential romance between them at the time, although critics praised their on screen chemistry. There may have been more going on between them then we're aware of, because the two were recently seen making out at a restaurant in New York, if the NY Post is to believed:
DREW Barrymore is loving being single – and available. The "He's Just Not That Into You" star has been linked with several men recently, but had her eye on her "Music and Lyrics" co-star, Hugh Grant, Monday night. According to spies, Barrymore got very excited when the Brit walked into the Waverly Inn. "She squealed and jumped in his arms," a spy said. The two then "made out," but Barrymore showed up to the Beatrice Inn by herself later to hang with Clive Owen. Maybe Hugh's just not that into her.
[From The NY Post]
Page Six is reporting this, so it's possible these two shared a lingering hello kiss which turned into a makeout session in the retelling. Grant seems to have reconciled with his longterm girlfriend, Jemima Khan, as he's been spotted out with her recently and is even said to have booked her favorite restaurant for Valentine's day as a surprise.
If Hugh and Drew really did make out for a while, it seems they didn't go farther with it that night as Drew was seen out somewhere else without Hugh later. Clive Owen is happily married with children so the fact that he was hanging out with Drew doesn't mean much. I would have liked to have heard that Hugh and Drew are an item, though. They're both single and cute and their names even rhyme. It's not going to happen though, they're too different for a relationship to translate off screen.
Hugh Grant and Drew Barrymore are shown at the Music and Lyrics premiere on 2/5/07. Credit: PRPhotos