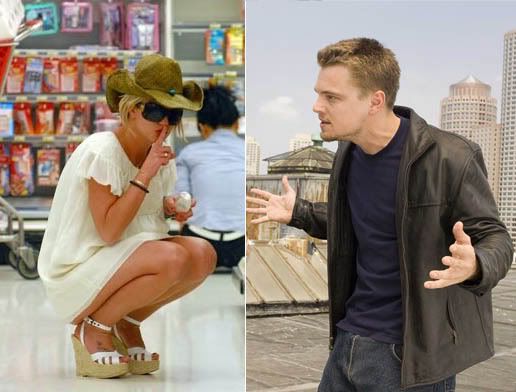 Leonardo DiCaprio is trying to save his money like he's trying to save the environment. Despite campaigning for environmental causes and ensuring that he helps get the word out about the need to reduce our global footprint, DiCaprio gave away less than $50,000 from his fortune in 2005. Britney Spears, on the other hand, gave over 12 times that amount that year:
In total, Britney gave away $590,000 in 2005, including $350,000 to relief programs related to Hurricane Katrina. Spears donated $175,000 alone to Habitat for Humanity.

On the other hand — and just by comparison for a celebrity of her generation and income — actor Leonardo DiCaprio only gave away $48,025 in 2005 to a handful of groups from his own registered tax-exempt foundation.

DiCaprio commands between $12 million and $15 million per film, at least, and famously made $10 million from "Titanic" in 1997.

Spears, on other hand, hasn't worked in a long time and is certainly cash-depleted, thanks to the Federline situation.

Spears is also the target of the worst publicity in the world. But thanks to Nina Biggar, who runs the Britney Spears Foundation from her home in Cambridge, Mass., the pop star can count her charitable giving as a bright spot in her sketchy world.
Britney gave a foolish $30,000 to a Kabbalah education group, Spirituality for Kids, but her other donations to Hurricane Katrina and Habitat for Humanity were certainly well-spent.
It's kind of surprising to hear how little DiCaprio gave in 2005 and maybe he'll step it up once he realizes the news is out. His mother moved from Germany as a child and he mostly lived with her after his parents divorced when he was one. His father was around and re-married, while his mother worked several jobs. He also spent time in Germany with his mother's family and speaks German fluently. [Information from Wikipedia]
I know my German in-laws are pretty conservative about money. He probably learned frugality from his mother, who must have struggled to make ends meet. It makes sense that he would work hard for environmental causes, and that same drive to conserve has probably led him to be careful with his money.
I'm surprised Britney is so charitable in comparison and that gives me a better impression of her.
Thanks to WeSmirch for linking this.
Update: a lot of people are calling bullshit on this story, and saying that just because DiCaprio only declared 50k in donations it doesn't mean he didn't give much more. He was said to have given an "undisclosed" amount to the tsunami relief effort in 2005 (thanks Diva) and it's possible he gives anonymously to other charities, as many commentors have mentioned. Sorry for relying on this one story for the information.