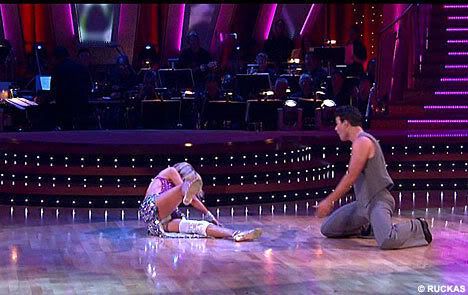 Haughty Heather Mills fell on her butt last night on "Dancing with the Stars." At the end of her samba routine to "Heaven Must be Missing an Angel," the hated estranged wife of Paul McCartney put her right leg up on her partner, who was kneeling on the floor, and lost balance.
Her left leg was amputated below the knee after a 1993 accident when a police motocycle hit her, causing multiple injuries. She has a prosthetic leg and was unable to balance on it at the moment before she fell.
Mills handled it well and laughed it off. She did well in the ratings from the judges and since she completed her routine without incident it didn't seem to affect her.
The fall looked natural but I wouldn't be surprised if it was staged to garner votes. Although she should be commended for helping raise awareness of amputee causes, her appearance on "Dancing with the Stars" is questionable so soon after the announcement of her divorce. Some amputees have also expressed dismay that she is making it seem simple to be active and have warned that all disabilities are different and that having a leg amputed above the knee is much more limiting to mobility.
Update: Commentor Annie is an above-the-knee amputee and feels that Heather Mills is not doing the amputee community any favors by making it seem easy to be active. She agrees that there's a huge difference in mobility between above and below-knee amputees, and says that Mills can also afford multiple state-of-the-art prosthetic devices while most people are lucky to get one adequate one.
Thanks to ONTD for linking the video. Pictures from The Daily Mail.