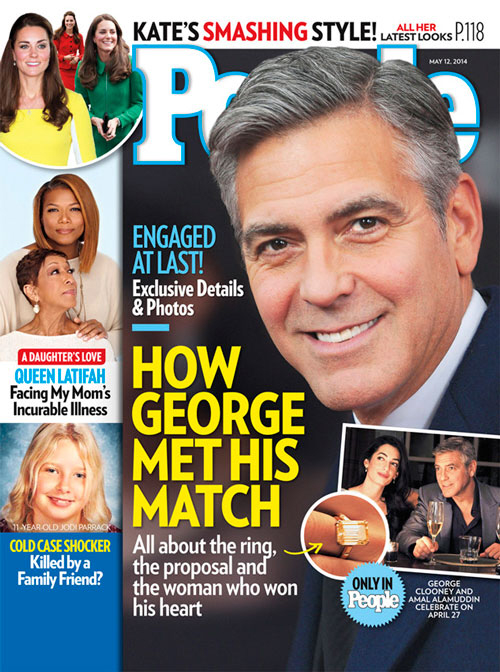 Wouldn't it be funny if George Clooney's engagement was just the most elaborate prank he ever pulled? I kind of wondered if he was ever going to get back at Amy Poehler and Tina Fey, but this engagement might be his way at getting back at EVERYBODY. Anyway, more details have come out of People Magazine's cover story about the engagement, and it's sort of funny just how many details these unnamed sources have. Here's some additional information we now know:
*George visited Amal's family in Dubai in March. They took a "yacht excursion with her siblings" and I guess George asked Amal's father for his blessing.
*George helped design the engagement ring. The diamond is "an ethically mined emerald-cut diamond estimated at seven-plus carats and two tapered baguettes set in platinum." The cost of the ring? About $650,000, apparently.
*He proposed to Amal in LA, at his home. He cooked for her (alright, that's sweet) and sources say he proposed in the traditional way, on bended knee. Wow, and he has a really bad back, so that must have really hurt. A source told Page Six: "George cooked a meal himself for Amal at home on April 22, then he surprised her by getting down on bended knee and presenting her with the ring. He was so happy she accepted, he was calling friends with the news later that night."
*George wants to marry her sooner rather than later. He hopes to get this marriage thing nailed down by September, and he'd really like to get it done by the end of the summer. A source says: "It's only four months away but they want to get married at the end of the summer, in early September, before Amal returns to work." Wait, is she on holiday right now? But who is helping Julian Assange?!
*Will they marry at Lake Como? A source says: "Lake Como would be a beautiful wedding location, but it may not give them any privacy. It is very easy for the public and paparazzi to see into the property."
Here it is….the ring George Clooney gave his his new fiance http://t.co/BWYMnRAfYW pic.twitter.com/tLwYLkISlc

— David Caplan (@DavidCaplanNYC) April 30, 2014
Photos courtesy of WENN, Getty, People.