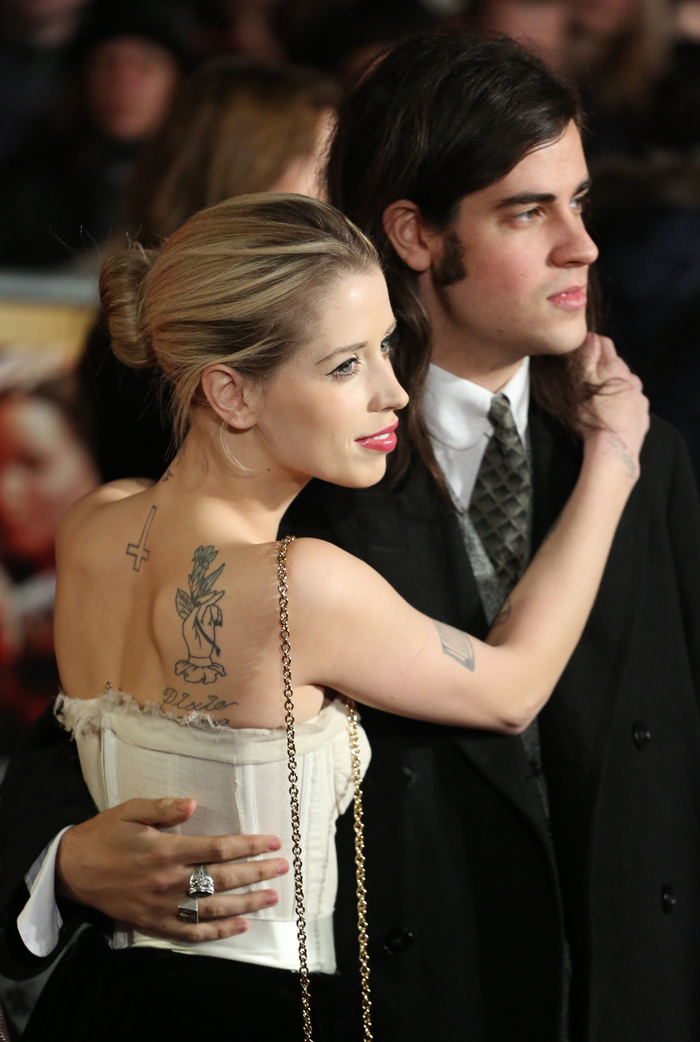 It's been about three weeks since we reported the surprising death of Peaches Geldof. She was only 25 years old but passed away at her home near London. Peaches left behind a burgeoning young family, which included her husband, Tom Cohen, and their two sons, Astala (23 months) and Phaedra (11 months). Tom is now tasked with raising these two young boys on his own. He issued a brief statement: "My beloved wife Peaches was adored by myself and her two sons Astala and Phaedra and I shall bring them up with their mother in their hearts everyday. We shall love her forever."
There's been plenty of speculation surrounding Peaches' passing, but here are some facts. A few hours before her death, Peaches posted a photo of herself with Paula Yates. Tom tried unsuccessfully to reach Peaches by phone. He called a family friend, who found Peaches' body with Phaedra by her side. Tom, Astala, Phaedra have all moved out of the family home and are staying with Tom's dad. Peaches' dad, Bob Geldof, regularly visits his grandchildren. Tom has put the family home up for sale because he finds it too painful to live there.
Peaches' funeral was held at the same church that Paula Yates was laid to rest. Celebrities like Kate Moss and Sarah Ferguson attended the proceedings. Peaches was cremated, but a coffin was created with a painting of herself, Tom, their sons, and their two dogs. I've included some photos of the coffin, which is heartbreaking.
Peaches' cause of death has finally been revealed. Her autopsy was "inconclusive," so lengthy toxicology tests were ordered. The Times has now published results that were returned to the coroner. Peaches died of a heroin overdose. The cause of death will be announced today at a brief inquest, which is a formality. What we know now is what many people originally suspected — Peaches left this earth in the same way as her mother:
Peaches Geldof died of a heroin overdose, it is expected to be announced today.

It has been claimed that results of a toxicology report will be announced by detectives in the morning, as an inquest into the mother-of-two's death is opened and immediately adjourned.

The 25-year-old daughter of Sir Bob Geldof was found dead at her country home earlier this month in what was described by police as a 'non-suspicious' and 'sudden unexplained' death.

The Times reports that police discovered no evidence of drugs paraphernalia in the house, triggering suspicions that the house may have been searched and items removed prior to their arrival.

In a tragic case of history repeating itself, Peaches' own mother Paula Yates died from an accidental heroin overdose in 2000, aged 41. She too was alone with young daughter by Michael Hutchence, Tiger Lily, then aged four.

A post mortem carried out by a Home Office Pathologist days after Peaches died proved inconclusive and samples of her blood and tissue were sent off to a laboratory to be tested for any possible toxins.

Police officers attend the home of Peaches Geldof in Wrotham, Kent, shortly after she was found dead earlier this month It is understood those results have now been returned to North West Kent Coroner Roger Hatch who will open an inquest into Peaches' death later today. The hearing is only expected to last around 10 minutes.

A spokesman for Mr Hatch had earlier said a statement from a senior police officer will be heard and the coroner will release the cause of death. A date for a full inquest into the model and TV presenter's death is due to be set some time in late July, the spokesman added.
[From Daily Mail]
This is terribly tragic. I had really hoped that Peaches had pulled herself together for the sake of her boys. She seemed determined to not repeat history. She even gave a final interview where she stated, "I am not about to let my sons down, not for anyone or anything." Peaches spoke of her mom a lot, and it was clear that she was haunted by Paula's death. Now Astala and Phaedra will grow up in the tragic shadow of their own mother. I can't even imagine how much pain Tom and Bob Geldof are feeling right now.
Peaches' Instagram, which was filled with photos of her children, has been deleted. Her Twitter account still exists (with gut-wrenching wallpaper) but has been locked.
Update: The Mail has an updated timeline of events that were detailed at today's inquest. The timeline is confusing and (at first) makes it sound like Peaches was alone when she died. If you keep reading, the timeline continues to the point where Tom's dad dropped off Phaedra and left the baby alone with Peaches. Sir Bob was confirmed as the person who identified Peaches' body.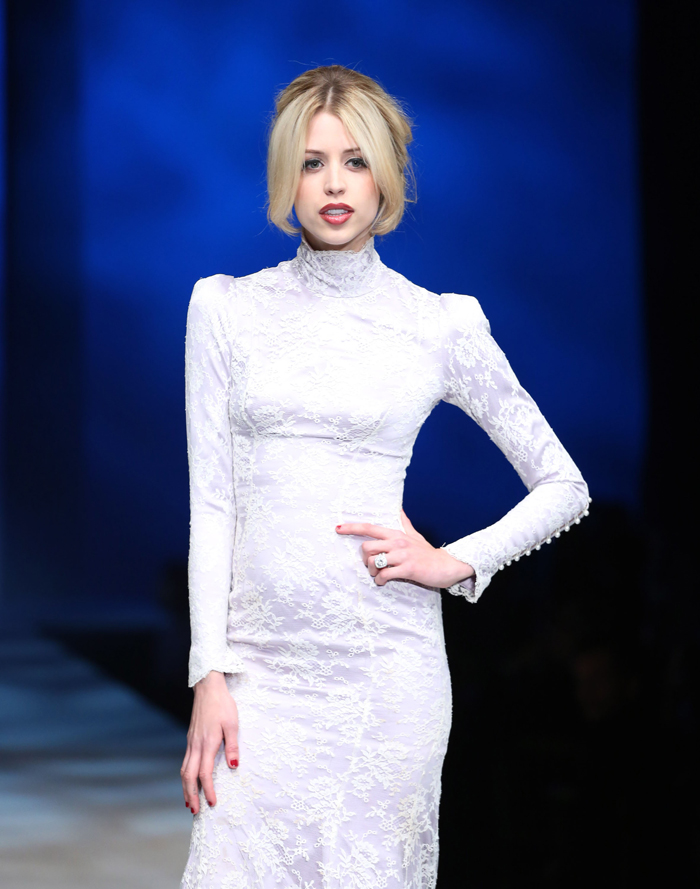 Photos courtesy of Peaches Geldof on Instagram & WENN