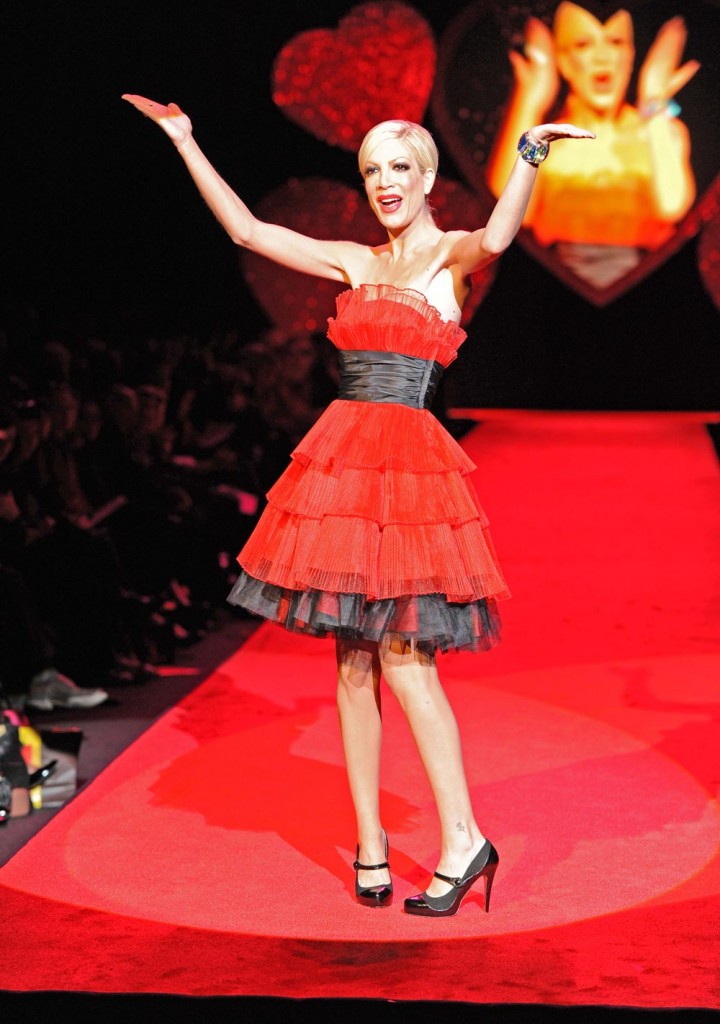 Celebrities walked the runway at fashion week in New York today for the annual Heart Truth Red Dress Collection, sponsored by the National Heart, Lung and Blood Institute. Working it for a good cause were Patricia Arquette, Susan Lucci, Amanda Bynes, Jennie Garth, Hilary Duff, and Katie Couric. 90210′s Tori Spelling looked the most like an actual, underfed model. Her arms are like toothpicks. Tori has admitted that she feels pressure to be thin, and is quoted as saying "They scrutinize you so much. You try to be the person who says, 'Oh, I don't care,' but I feel the pressure."
Compare Tori's diminutive look to the other celebrities who look comfortable and normal-sized. I have a friend who is tiny like that and she says she's hurt when people point it out, so maybe I should listen to her and be more compassionate toward Spelling. I'm not a fan of Spelling, though, and generally find her to be a self-absorbed twit.
Patricia Arquette is gorgeous and I love how cute Katie Couric is, she's almost shy out there. Amanda Bynes looks incredible in that short dress.
Newsday has more details on the event as well as the designers responsible. Many of the dresses modeled will be auctioned off starting February 27 on Clothes Off Our Backs. The proceeds will go to the Foundation For National Institutes of Health.
Thanks to Splash News for these photos