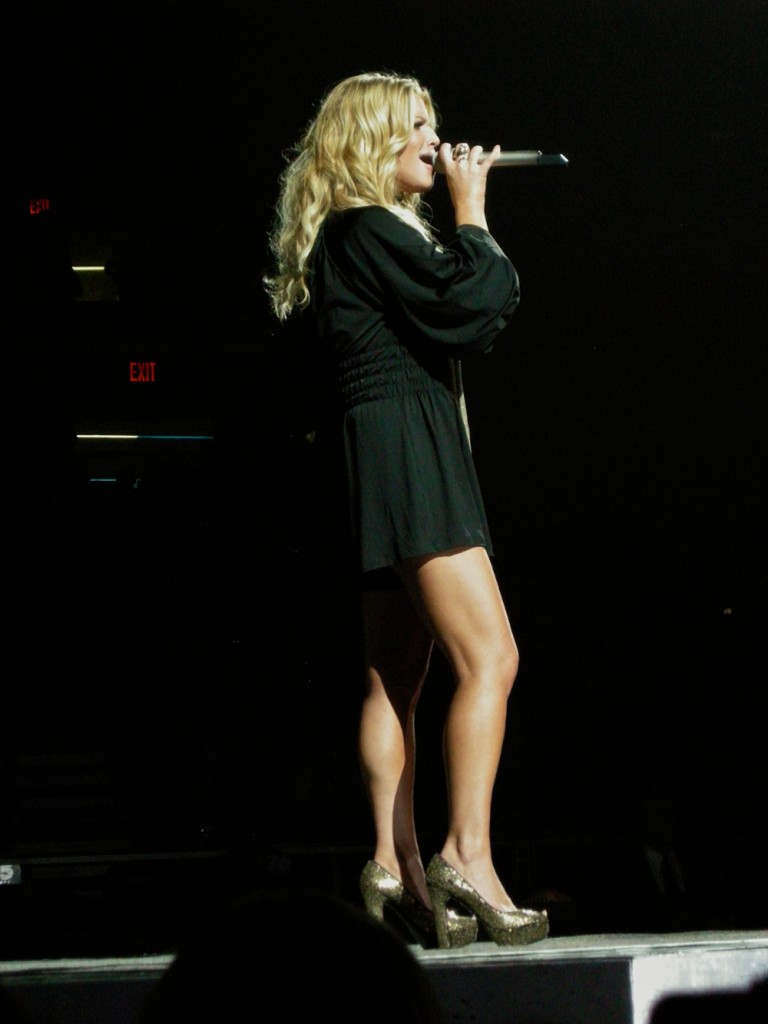 Jessica Simpson has handled her whole "weight gain" controversy very gracefully. Though she has seemed to suffer from some performance anxiety (and who can blame her when she's being scrutinized like this?), she's never fired off with any snotty comments or even directly addressed the issue. And she doesn't need to – it's not like she owes anyone an explanation for her body. In fact Jess actually joked about it in a vague way while performing at Madison Square Garden last night. She mentioned that her pants have split more than once while onstage – which seems to have affected her wardrobe choices.
Jessica Simpson's biggest concern about her performance Thursday at NYC's Madison Square Garden? Her outfit.

"I've had times when my pants split right down the middle when I bent down to reach a note," the singer told fans, laughing. "That's why I'm wearing a skort – not a skirt, not a short – just so they wouldn't split."

Although Simpson has struggled at some shows on her current tour, she seemed to be in good spirits, as she performed a 35-minute set before Rascal Flatts got on stage, New York's Newsday reports. The paper reports she "confidently rolled out her new single 'Pray Out Loud' and her self-esteem anthem 'Remember That.'"

Simpson made her first live TV appearance since her much-scrutinized weight gain on Wednesday, performing her song "Pray Out Loud" on CBS' The Early Show. She danced around the weight issue. "Honestly, I am right where I'm supposed to be. I am so happy," Simpson said. "Everything's really great."
[From Us Weekly]
Maybe the possibility of splitting pants explains Simpsons' unfortunate denim choice in those infamous photographs? If nothing else, they sure look sturdy in the crotch. It'd take a whole lot to split them. I can imagine few things as mortifying as your pants ripping apart in front of a whole audience of people. But I'd probably be more likely to alter my movements than to change my wardrobe if I were in Jessica's position.
All this publicity – which could very easily be seen as negative – may actually be a positive for Simpson. Not only because she's handled it with aplomb, but simply because everyone's talking about her, and she's about to release a new clothing line that will "flatter every figure," according to Simpson.
The only expanding Jessica Simpson is doing these days is to her resume.

Two weeks after enduring scrutiny for her weight gain, the singer announced she has designed a fashion line to clothe women of all shapes and sizes. "I want to create clothes that flatter every figure," Simpson told the March issue of In Style. "I know how a dress can make you feel so frumpy. I promise mine won't."

The as-yet-untitled collection is the latest venture for Simpson, who's also launched a successful shoe line. With the range in styles, the 28-year-old hopes every woman will be able to find something to her liking. "I know what flatters a woman, and trust me, I've been judged a lot in my life. By now I know what works if you're curvy," she said. "If my clothing and accessories make you feel great and let you walk proud and tall — in big, big platform shoes — then I'm happy."

Simpson has not publicly responded to the criticism, but did thank fans for their support. "I feel like in our world today we focus on so many things that are completely pointless… Stay positive, and pray out loud! I love you guys," she said at a recent concert.
[From the Seattle P.I.]
Some of her comments are a little ironic, given how unattractive her recent clothing options have been. But she has gotten a ton of press and people are paying more attention to her than ever, so it may likely end up working to her advantage.
I've been pleasantly surprised by Simpson's boot collection. A lot of them are really nice looking. I find most of her bags to be a bit too big and chunky, but they're still much more stylish than anything I'd hoped for from her.
I wonder what sizes her new clothing line will cover? It'd be nice if she had a full line of regular and plus sizes, since she made that statement about flattering "every figure." Considering all the crap she gets, I think Jessica has shown a lot of maturity and class in rising above all the negativity.
Here's Jessica performing at Madison Square Garden last night. Images thanks to Splash.