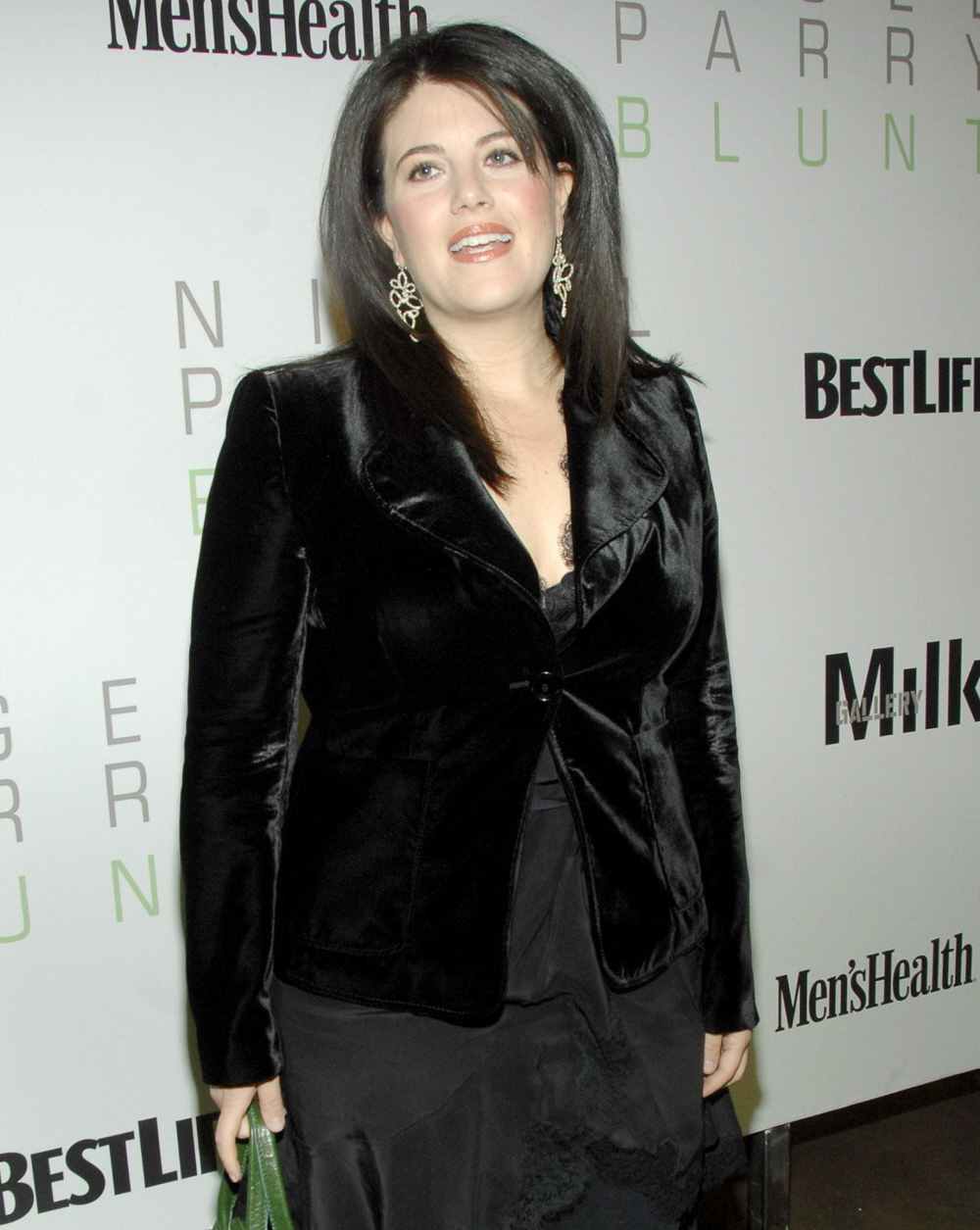 Poor Monica Lewinsky. I know that's the incorrect reaction to have, especially in the face of Monica's new Vanity Fair interview, but still. Poor Monica. I always thought she got a raw deal, and I always felt sorry for her. She was only 22 years old when she first began fooling around with President Clinton. While 22 is an adult, can we just say that most 22 year olds are still figuring things out and you're still not "formed" as an adult completely? And how would you like it if something you did at 22 becomes a huge, international punchline and that's what defines your entire life? Such is the fate of Monica Lewinsky.
Monica gave Vanity Fair an exclusive essay (?), and I'm startled to realize that it's been 16 years since we first learned of Monica. Incidentally, many media outlets are calling this Monica's "first interview" or whatever, but it's not. Monica gave a handful of interviews back when everything went down (late 1990s) and she collaborated with Andrew Morton on a book too. Check out her Wiki if you want to see just how often she really has spoken out. Here are the VF excerpts:
Monica Lewinsky writes in Vanity Fair for the first time about her affair with President Clinton: "It's time to burn the beret and bury the blue dress." She also says: "I, myself, deeply regret what happened between me and President Clinton. Let me say it again: I. Myself. Deeply. Regret. What. Happened."

After 10 years of virtual silence ("So silent, in fact," she writes, "that the buzz in some circles has been that the Clintons must have paid me off; why else would I have refrained from speaking out? I can assure you that nothing could be further from the truth"), Lewinsky, 40, says it is time to stop "tiptoeing around my past—and other people's futures. I am determined to have a different ending to my story. I've decided, finally, to stick my head above the parapet so that I can take back my narrative and give a purpose to my past. (What this will cost me, I will soon find out.)"

Clearing the Air
Maintaining that her affair with Clinton was one between two consenting adults, Lewinsky writes that it was the public humiliation she suffered in the wake of the scandal that permanently altered the direction of her life: "Sure, my boss took advantage of me, but I will always remain firm on this point: it was a consensual relationship. Any 'abuse' came in the aftermath, when I was made a scapegoat in order to protect his powerful position. . . . The Clinton administration, the special prosecutor's minions, the political operatives on both sides of the aisle, and the media were able to brand me. And that brand stuck, in part because it was imbued with power."

Job Hunting
After the scandal, writes Lewinsky, "I turned down offers that would have earned me more than $10 million, because they didn't feel like the right thing to do." After moving between London (where she got her master's degree in social psychology at the London School of Economics), Los Angeles, New York, and Portland, Oregon, she interviewed for numerous jobs in communications and branding with an emphasis on charity campaigns, but, "because of what potential employers so tactfully referred to as my 'history,'" she writes, "I was never 'quite right' for the position. In some cases, I was right for all the wrong reasons, as in 'Of course, your job would require you to attend our events.' And, of course, these would be events at which press would be in attendance."

Beyonce's "Partition" lyric, "He Monica Lewinsky'd all over my gown."
Writes Lewinsky to the R&B pop superstar "Thanks, Beyoncé, but if we're verbing, I think you meant 'Bill Clinton'd all on my gown,' not 'Monica Lewinsky'd.'"

Hillary Clinton
"Recently I've found myself gun-shy yet again, fearful of 'becoming an issue' should [Hillary] decide to ramp up her campaign. But should I put my life on hold for another 8 to 10 years?" She also acknowledges a surfaced correspondence in which Hillary, writing to a friend, called Lewinsky a "narcissistic loony toon." "My first thought [was] if that's the worst thing she said, I should be so lucky," she writes. (Clinton was also said to have blamed herself in part for her husband's affair.) Upon further thought, however, "I find her impulse to blame the Woman—not only me, but herself—troubling . . . Courageous or foolish, maybe, but narcissistic and loony?"
[From Vanity Fair and Us Weekly]
She also writes about bullying and the idea of "literally being humiliated to death." After glancing through Monica's Wiki page in preparation to write this up, I'm caught up on just how many crappy gigs Monica did, especially in the early 2000s, mostly to pay her legal bills. So I do have to wonder… why not just take the money? If someone is offering you $10 million for whatever (as long as it's not p0rn, then all bets are off), why not take it?
As for how she maintains that it was a "consensual" relationship… I believe that. I would even go so far as to say that Monica was not taken advantage of sexually – I remember the Starr Report. I remember her descriptions of what went down with Bubba, and I've always believed she was a young woman with a crush who wanted the President of the United States to be her boyfriend, and she actively pursued him (or her fantasy of him). Now, all that being said, she was badly mistreated by EVERYONE after that. She was mistreated by Ken Starr, by the Clintons, by the legal system, by the media and on and on. She made a series of stupid mistakes when she was 22-24, and those mistakes have defined her (in the public eye) ever since. So, again, poor Monica.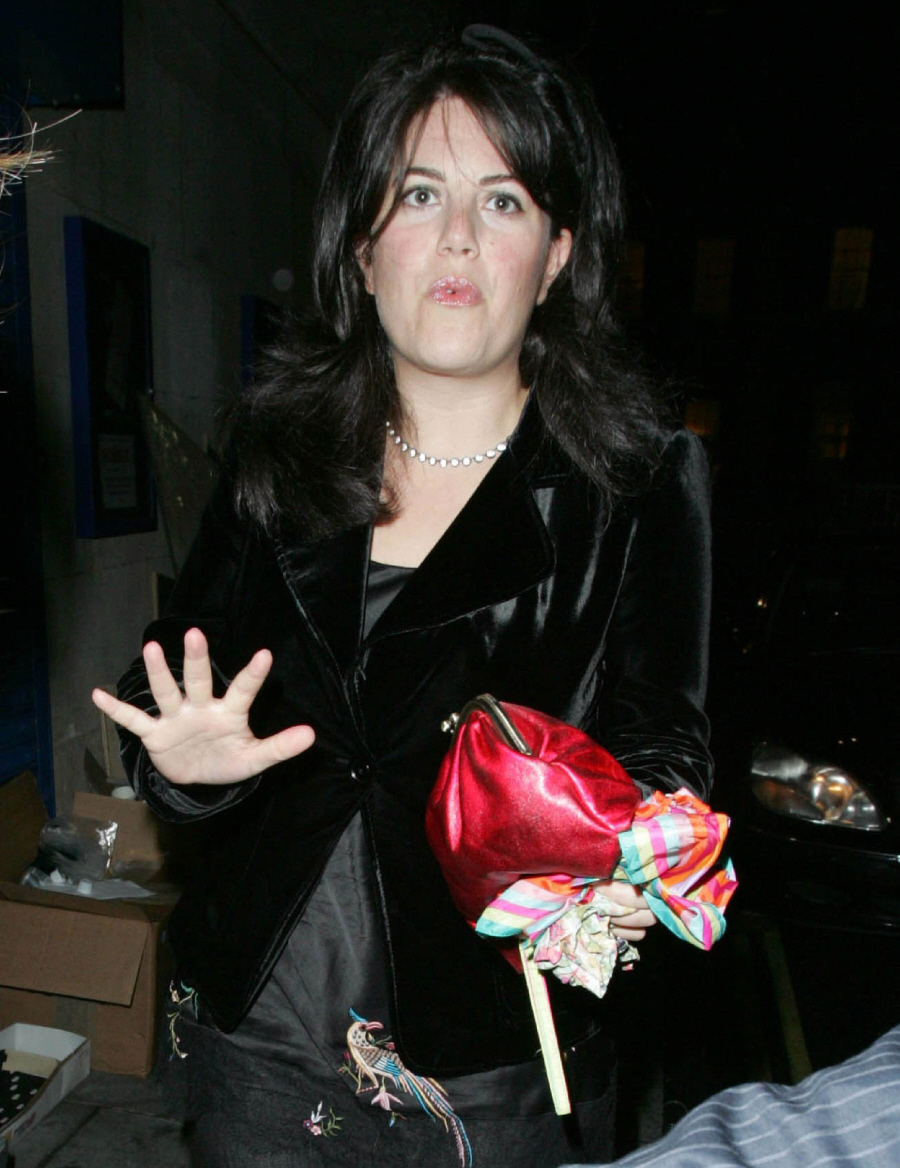 Photos courtesy of WENN.