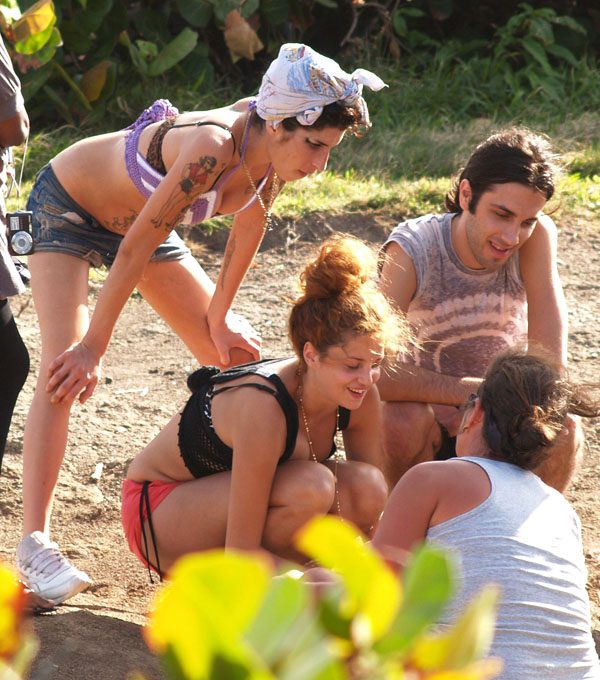 Just yesterday I was thinking about Amy Winehouse and smiling to myself that she's doing so well. The talented spitfire has been getting into a moderate amount of trouble on her extended vacation on the Caribbean Island of St. Lucia, but I was struck with the thought that she's out of the woods. Given the stories I kind of assumed that she's been drinking and smoking pot when she can get it but is steering clear of the hard stuff and is mostly lazing around soaking up the sun. This is great news for Amy, because a lot of people were worried that she was headed for an overdose or worse before she took off for the Caribbean.
It turns out that all is not well for the 26 year-old singer. Amy was admitted to the hospital in St. Lucia yesterday after what her spokesperson describes as a withdrawal from the maintenance medication she was taking to help quit harder drugs:
Amy Winehouse was admitted to a hospital on Friday after collapsing while struggling with addiction on her never-ending vacation in St. Lucia, the singer's rep tells The Sun.

Sources described the 'Rehab' soulstress as in a "terrible state, a shaking mess" when she was taken to a facility on the Caribbean isle where she's been staying since December.

A spokesman for Winehouse has not revealed what caused her to collapse, but noted that the singer had recently run out of medication she'd been using to battle her crack and heroin demons.

She is recovering well from this latest setback, though, and is expected to be discharged from the hospital shortly. No word on if she plans to prolong her stay in St. Lucia, where she has been spotted in various stages of sobriety.
[From Popeater]
I hope this is true and that Amy hasn't relapsed. She seems to be doing so much better in the Caribbean and what's more is that she's decided on her own to stay there. This is an immensely talented woman with an incredibly troubled personal life. If she stays focused on her sobriety she can continue to produce incredible music for decades. I love Amy's music and I admire the way she's brought such soul to mainstream radio. She needs to stay sober and hang in there for the sake of her health, her music, and her fans.
Amy Winehouse is shown in the header visiting an archeological dig in the Caribbean with Blake Wood and friends on 2/1/09. She is also shown on 1/26/09. Thanks to Bauergriffin for these photos