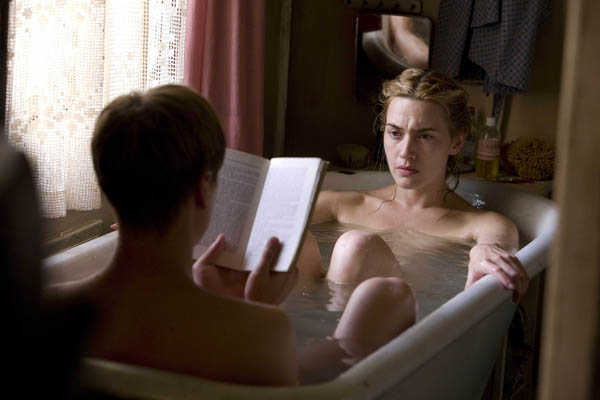 Perhaps the backlash against The Reader started months ago, and I simply wasn't paying attention. But in the past few weeks, The Reader backlash has reached a fever-pitch. The first major piece criticizing The Reader that I've seen came out last week on Slate.com. It was written by Ron Rosenbaum, a prominent scholar of such historical tombs as Explaining Hitler, a book about Adolf Hitler's propaganda machine and why it worked on the German people.
Just a sidenote: I love Slate, but Rosenbaum is one of my least favorite columnists on that site. He's very sanctimonious, he tends towards sweeping generalizations and factual discrepancies and at times he can seem like a raving wingnut. He's brilliant, but he needs a really good editor and fact-checker.
Rosenbaum's piece, called "Don't give an Oscar to The Reader" (a bit on the nose, Ron), is very long, so I'm just going to include some of the highlights. His basic argument is that The Reader glorifies the Nazis and the German people who stood by and did nothing, and that the character Kate Winslet plays never really repents for being a mass murderer. He sees the film as part of a new era of "Nazi porn" (his words) and that the film represents the new era of Holocaust denial. One of Rosenbaum's best points, in my opinion, is that the film tries too hard to create sympathy and empathy for Hanna (Winslet), and that the film should have stuck closer to the book in it's portrayal of the complicated morality and guilt at play. Here are some of the highlights:
A deeply depressing indication of how the film misreads the Holocaust can be found in a recent New York Times report on the state of the Oscar race. The paper gave disproportionate attention to The Reader by featuring a wistful-looking still of Kate Winslet above the headline "Films About Personal Triumphs Resonate With Viewers During Awards Season."

What, exactly, was the Kate Winslet character's "personal triumph"? While in prison for participation in an act of mass murder that was particularly gruesome and personal, given the generally impersonal extermination process—as a death camp guard, she helped ensure 300 Jewish women locked in a burning church would die in the fire—she taught herself to read! What a heartwarming fable about the wonders of literacy and its ability to improve the life of an Auschwitz mass murderer!

I've argued that most of the fictionalized efforts [of Holocaust films] either exhibit a false redemptiveness or an offensive sexual exploitiveness—what some critics have called "Nazi porn." But in recent years, a new mode of misconstrual has prevailed—the desire to exculpate the German people of guilt for the crimes of the Hitler era. I spoke recently with Mark Weitzman, the head of the Simon Wiesenthal Center's New York office, who went so far as to say that The Reader was a symptom of a kind of "Holocaust revisionism," which used to be the euphemistic term for Holocaust denial.

In this repellent form of revisionism, most Germans (you know, the ones who helped bring Hitler to power, who enthusiastically joined in his hysterical Jew-hatred and his pogroms, who supported his mass deportations "to the East") were somehow ignorant of the extermination of the Jews going on "in the East." They presumably noticed the disappearance of the Jews from their midst (since they eagerly stole their apartments and everything valuable the Jews were forced to leave behind). I once confronted a spokesman for the German Consulate on a panel in New York who was pushing a version of this line; he'd referred to a recent poll that purported to show that the majority of Germans alive at the time of the extermination had—surprise!—no knowledge of it.

"What did they think?" I asked him. "The Jews all decided to go on vacation and forgot to come home?"

[One] of the most damning documents I uncovered in researching my book Explaining Hitler was a revelation that appeared in a Munich anti-Hitler newspaper, the Münchener Post, on Dec. 9, 1931. It had been lost to history until I found it in the basement of a state archive. The courageous reporters of the social-democratic paper had gotten hold of a secret Nazi Party plan for the disposition of the Jews that first used what was to become the widespread euphemism for extermination: "Final Solution" (Endlössung), a word that left little doubt over the mass murder it euphemized. [It's] clear Germans could have known as early as 1931 (or 1926 if they'd bothered to read Mein Kampf).

They could have known if they'd read about the legal dehumanization of Jews in the Nuremberg laws of 1935 or the state-sponsored pogroms after Kristallnacht in 1938. And if they happened to be illiterate as in The Reader… they could have heard it from Hitler's mouth in his infamous 1939 radio broadcast to Germany and the world, threatening extermination of the Jews if war started. You had to be deaf, dumb, and blind, not merely illiterate, to miss what Kate Winslet's character seems to have missed (while serving as a guard at Auschwitz!). You'd have to be exceedingly stupid. As dumb as the Oscar voters who nominated The Reader because it was a "Holocaust film."

But that's what The Reader is about: the supposedly difficult struggle with this slowly dawning postwar awareness. As Cynthia Ozick put it in her essay: "After the war, when she is brought to trial, the narrator ['Michael Berg'] acknowledges that she is guilty of despicable crimes—but he also believes that her illiteracy must mitigate her guilt. Had she been able to read, she would have been a factory worker, not an agent of murder. Her crimes are illiteracy's accident. Illiteracy is her exculpation."

Lack of reading skills is more disgraceful than listening in bovine silence to the screams of 300 people as they are burned to death behind the locked doors of a church you're guarding to prevent them from escaping the flames. Which is what Hanna did, although, of course, it's not shown in the film. As I learned from the director at a screening of The Reader, the scene was omitted because it might have "unbalanced" our view of Hanna, given too much weight to the mass murder she committed, as opposed to her lack of reading skills. Made it more difficult to develop empathy for her, although it's never explained why it's important that we should.

That's the metaphoric thrust of the Kate Winslet character's "illiteracy": She's a stand-in for the German people and their supposed inability to "read" the signs that mass murder was being done in their name, by their fellow citizens. To which one can only say: What a crock! Or if Hollywood has its way: Here's your Oscar.

The nudity…gives new meaning to the word gratuitous. [It] was a manipulative tool used to create intimacy with and thus empathy for an unrepentant mass murderer.
From Slate – Ron Rosenbaum's "Don't give an Oscar to The Reader"
Even before this controversy, there was little chance that The Reader or director Stephen Daldry would win Oscars, but The Reader's executive producer, Harvey Weinstein, has been waging a tough and expensive campaign for Kate Winslet as Best Actress. Ron Rosenbaum's column is one piece of an organized backlash against the film, and the Rosenbaum piece is being distributed around Academy voters in the hopes of destroying Winslet's chance at an Oscar. The Sunday Telegraph has a piece out about the backlash, and how Academy voters are being encouraged to vote for Meryl Streep in Doubt.
I adore Kate Winslet, and I tend to think she's due an Oscar – this is her sixth nomination, with no wins. She's one of the best actresses working today, but I have to admit, this might not be her year, again. Meryl Streep's performance in Doubt was flawless and that film was much less controversial. Considering it's been 25 years since Meryl last won an Oscar, I have to say that she's due as well.