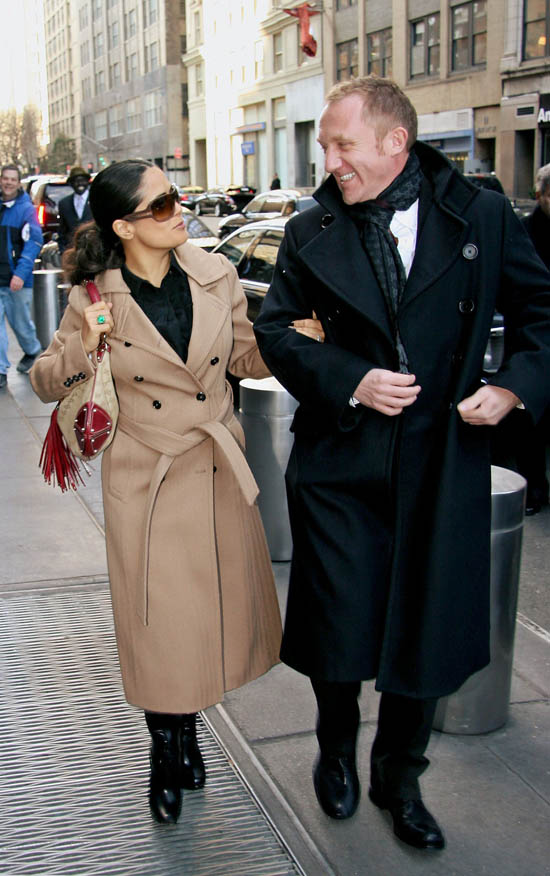 Salma Hayek and the father of her baby, billionaire François-Henri Pinault, announced last summer that they were ending their engagement. They've been seen out together since, but Pinault was also photographed making out with another woman late last summer and it was thought that they were remaining friendly for the sake of their daughter, Valentina Paloma, one and a half.
Salma told David Letterman during an appearance on the Late Show in mid January that she didn't know when she would marry Pinault, and was pretty vague about it. When asked "Is there going to be a wedding?" she answered "I don't know, maybe, but then again, maybe not."
After a whirlwind on-again romance, Pinault and Hayek have unexpectedly tied the knot. The two were married on Valentine's Day in Paris.
Salma Hayek has married French businessman Francois-Henri Pinault, Monday's online edition of the weekly French newsmagazine Le Point reports.

Hayek, 42, and Pinault, 46, were married on Saturday – St. Valentine's Day – in the City Hall of the Sixth Arrondissement in central Paris, according to the publication, which is owned by the Pinault family.

Sixth Arrondissement Mayor Jean-Pierre Lecoq subsequently confirmed the report to the French news agency Agence France-Presse.

There had been recent reports that the couple – whose daughter, Valentina Paloma Pinault, was born in Los Angeles in September 2007 – had reunited after they had called off their marital engagement in July 2008.

The two had originally announced their engagement in March 2007.

Friends of the couple tell PEOPLE that a Paris trip in September (when Hayek attended the Balenciaga fashion show) and another in November helped rekindle the pair's relationship. Adds a source, they were "very evidently in love with each other, very affectionate in public" together at the Dubai Film Festival in December.

Only last week, Hayek, who's been appearing on NBC's 30 Rock, told TV host Rachael Ray that when she kisses Alec Baldwin on the show, "I keep telling Francois, 'I imagine I was kissing you.' "

Pinault is CEO of the luxury giant PPR and the son of one of France's richest men, Francois Pinault, whose fortune last year was estimated to be $16.9 billion by Forbes magazine.
[From People]
It sounds a little hasty, but if they're happy good for them. Hopefully it will last for them.
Hayek and Pinault are shown out in NY City on 2/7/08. Credit: WENN