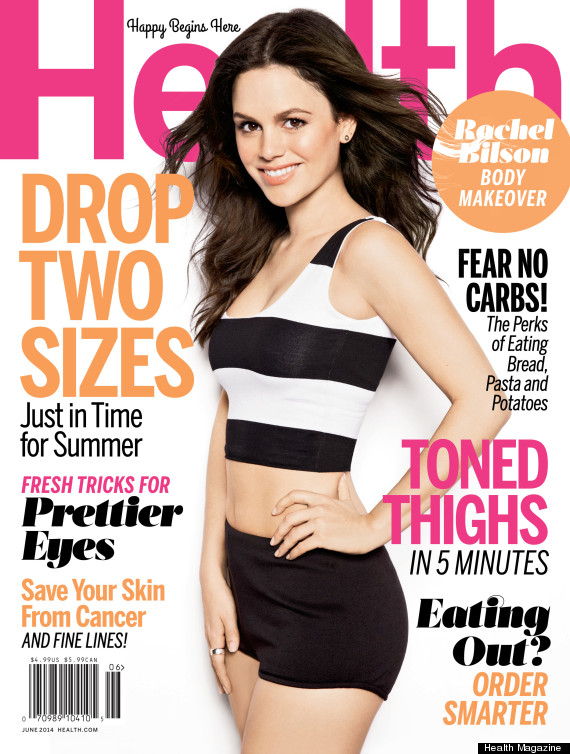 Rachel Bilson covers the June issue of Health Magazine, out later this week. They Photoshopped her face so much that she looks like a different person, like a very attractive girl who vaguely reminds you of Rachel Bilson. I wish that magazines would stop wrecking photos of already beautiful women, but it's not going to happen. As a former web designer, I imagine the Photoshop artist is somewhat blameless and that she has a harpy of an editor standing beside her, or an entire management team, saying things like "make her chin sharper, smooth the forehead, now make the eyes wider, even wider."
Health has released excerpts from Bilson's interview and you can read the whole piece on their website. I got a somewhat bad impression from just the pull quotes, but in the full article Bilson comes across much better. I have the feeling that she's a private person is trying to give interesting quotes while remaining guarded. She said that she wants a family with her partner of seven years, Hayden Christensen, which she said last year. So that makes me wonder somewhat why they're waiting. Rachel is 32 and Hayden is 33. She also gave TMI about her unhealthiest habit, eating Flamin Hot Cheetos. Here's some of what she said:
On when she feels her all-time unhealthiest…
"My unhealthiest is when I binge on Flamin' Hot Cheetos, because it happens. I binge. I can admit it. I've actually gotten better this year. It got to a point where I was eating them so much that, like, you poop red every day! You're like, 'OK, I don't know what's going through my body, but I probably should stop. There are problems.'"

On her relationship with actor, Hayden Christensen…
"He's so incredibly supportive and considerate. It's so basic—that should be there. Because these things are so much more important when you're older. I've been in my relationship for seven years, so we've grown up together in a way. This is my partner, my support, just there for me no matter what. And vice versa."

On starting a family…
"…To start a family would be good, any year in the next few years. I've always wanted to be a mom. I have always wanted kids. I can just see this little toddler waddling around the house."

On looking young…
"I've always looked young because I'm so short, and especially if I'm dressed down. When I have a baby, everybody's going to be like, 'Awww, poor teen mom. Poor girl.' And Teen Mom is my favorite show. That's what I download and watch on the plane. Like, don't talk to me, I'm watching Teen Mom. I know, pathetic. But it's true."

On how she avoided ending up a party kid…
"I grew up in L.A. and did all that when I was younger. I went to the clubs and did all the drugs and alcohol. I got it out of my system, so by the time I was on The O.C., I was like, 'Wow, I can just enjoy this.' Then I started dating a co-star [Adam Brody], so it was more of a domesticated thing; you're just home or with friends—and not out to party."

On why she can't wait to be 80 years old…
"I secretly wish I was 80… It would be amazing… You can do whatever you want, and no one is going to mess with you. You can go to sleep at 9 p.m. and not get reamed for it. Because I do that – I watch my shows in bed with my friends and go to bed at 9…I'm not afraid of the early bird special. I will eat dinner at 5, no problem."

On embracing her body in her 30s…
"You're so much more comfortable and don't give a crap about the stupid things that you cared about when you were in your 20s. I would never want to do my 20s again. I hate that our society is so focused on that body-image stuff. Girls growing up now are aware of their bodies instead of what's important. Live your life and be a kid and don't think, I wish I was skinnier. I wish my butt wasn't so fat."

On being sexy…
"…I'm pretty modest. It's just what I'm drawn to. It's OK to be sexy everyone once in a while, but you don't have to show everything to be sexy…It's all about subtleties. Keep 'em guessing!"
The stuff about wanting to be 80 made me roll my eyes, but in the context of the interview it sounded like a natural progression. The journalist asked Bilson what she had "too much of in your closet" and she said "granny nightgowns…. Like, full-on long-sleeve, long nightgowns. They're super comfortable." Then she talked about how she has old lady habits like eating early and going to bed at 9. I do that. I seriously eat around 5, sometimes earlier, with the exception if I'm eating with friends. I go to bed at 9 every night and get up at 5 am. In no way do I want to be 80 though. I want to live longer than that, but I bet that I'll have aches and pains and health problems that will make me want to feel younger.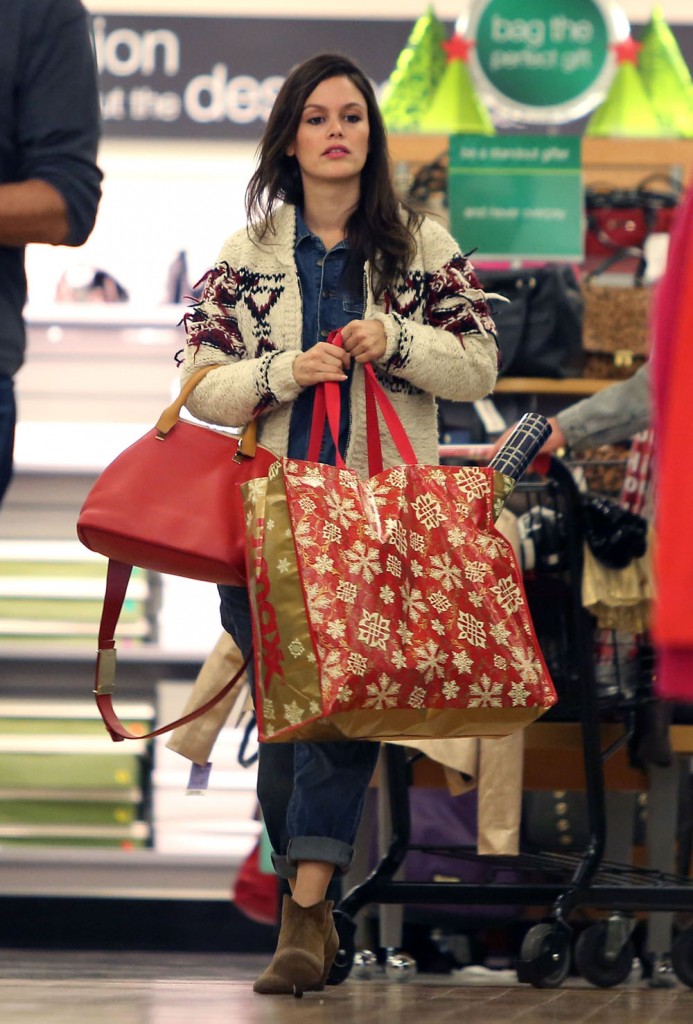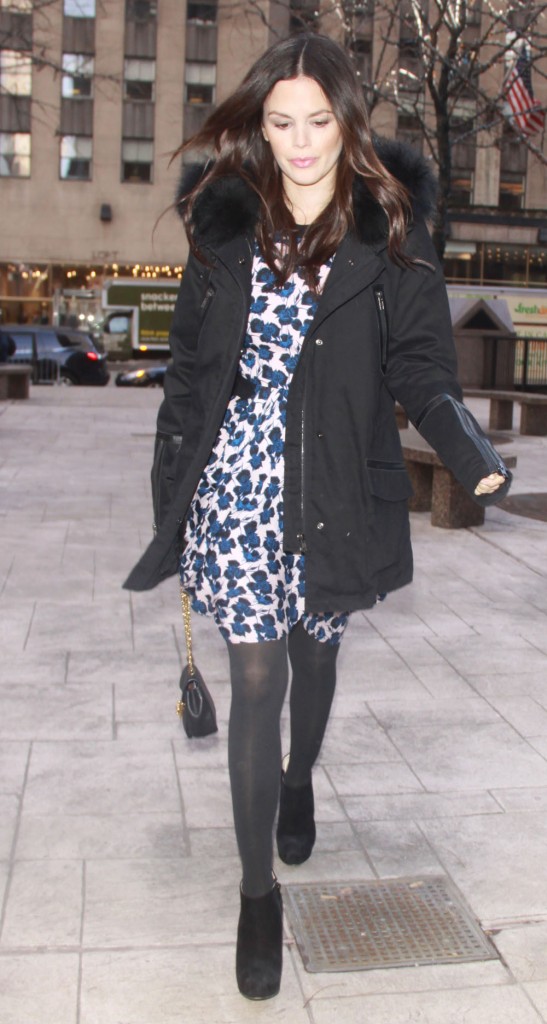 Rachel is shown out with Hayden Christensen in January and shopping at TJ Maxx in December, 2013. She's also shown at a Sirius XM appearance in January. Credit: WENN.com and FameFlynet