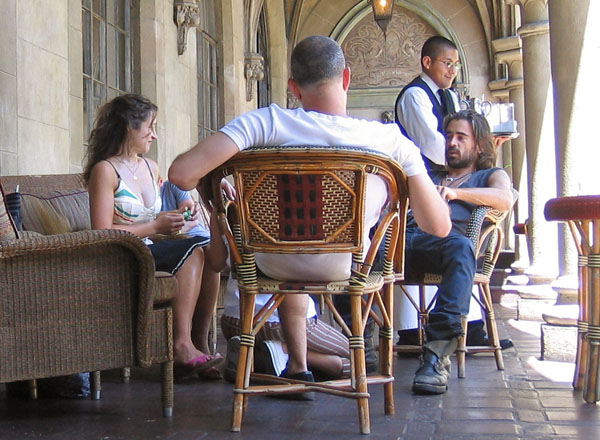 Colin Farrell and Emma Forrest have broken up! At least, according to British tabloid The Daily Mail and an alleged "confirmation" by now ex-girlfriend Emma to the American rag In Touch. So maybe, maybe not, but let's celebrate for just a moment! Woohoo! Another cute Irishman is back on the market!
Farrell and Forrest had been dating for about a year, and had a seemingly low-key relationship. They had never walked a red carpet together, and her career (journalist) meant that she probably wasn't down with a lot Hollywood industry stuff. The Daily Mail claims that Emma was very hurt that Colin didn't thank her when he won the Golden Globe last month, but I don't know. After getting cleaned up and sober, it seemed like a very nice, healthy relationship for Colin. I'm just so happy he's back on the market. Woohoo! The Daily Mail has more:
Colin Farrell is single and free to hell-raise once more again after finishing his latest relationship. The Hollywood star, who picked up a Golden Globe last month, ended his romance to English writer Emma Forrest after a whole impressive year.

The couple had begun dating after they were introduced by Martin McDonaugh, who directed In Bruges, the film which earned the Irishman his gong.

But London-born Emma confirmed the split to American magazine InTouch. An insider told the publication that Emma felt slighted by her famous boyfriend when he failed to thank her during his Golden Globes speech last month.

A source said: 'He would not introduce her to his family. She was also upset that he didn't thank her at the Golden Globe Awards.'

Novelist and journalist Emma was credited with being a stabilising influence in the actor's life. Reports last year at one point even claimed the couple were planning to start a family and Colin was planning to convert to Judaism, Emma's religion.

During the early days of the couple's romance, a friend of the actor said: 'Colin is a changed man. Emma has been a steadying influence and they have hit it off big time. They have spent months trying to keep the relationship under wraps because they are falling madly in love.'

Farrell's image of lothario came into serious question as he dated Irish university student Muireann McDonnell for two years before Emma. The Phone Booth actor was previously married to English actress Amelia Warner for four months and has a five-year-old son James from his brief romance to Canadian model Kim Bordenave.
From The Daily Mail
On the recommendation of several Celebitches, I recently rented In Bruges, and I just loved it. I really think it was the finest, most nuance-filled, hilarious, tragic, amazing performance of Colin career thus far. When Colin exclaims, "A bottle!" I exploded into a fit of giggles that didn't end for five minutes. I really hope Colin gets the chance to do more films like In Bruges, and that he finds some glamorous beauty to help him through this time (either me or Freida Pinto will make me happy).
Colin Farrell and Emma Forrest are shown out at lunch on 7/5/08. Credit: Bauergriffin