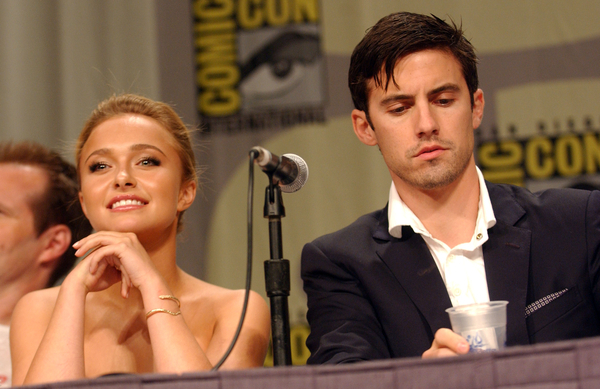 The age difference between Heroes co-stars Hayden Panettiere, 19, and Milo Ventimiglia, 31, has caught up with them. Hayden was reportedly seen kissing Jessie McCartney earlier this month, and it now seems the couple have split. This could make things awkward on the set of their TV show.
Heroes costars Hayden Panettiere and Milo Ventimiglia have called it quits, Usmagazine.com has learned.

"It was a lifestyle conflict," a source close to the couple tells Us, adding that the split happened within the last week. "They were in very different places."

Adds the insider, "They are still on friendly terms. There are no hard feelings."

The source tells Us that Panettiere, 19, "is young. She likes to go out in the Hollywood scene and that's not his style."

Ventimiglia, 31, "has been concentrating on work on his production company [Divide Pictures]," the source adds.
'Different places' is usually a line in break up talk, but this time I believe it. There's no way a 31 year old man could be in the same mental place as a teenager.
There has been a consistent rumor that Milo wants to marry Hayden (they have been dating for a year, that's practically a lifetime in Hollywood) but that she says she isn't ready. Hayden presents herself as a mature, classy young actress, and hasn't been pictured stumbling drunkenly out of clubs. Her image didn't sustain any kind of damage even during her parents domestic altercation.
Milo in the past has dated Alexia Bledel, he played her romantic interest on Gilmore Girls, then left the show and they broke up at the same time, after 3 years of dating. The last outing I can find of Milo and Hayden is in early December where they were pictured together on the Heroes set.
Milo and Hayden are shown at Comicon on 7/26/08. Credit: PRPhotos