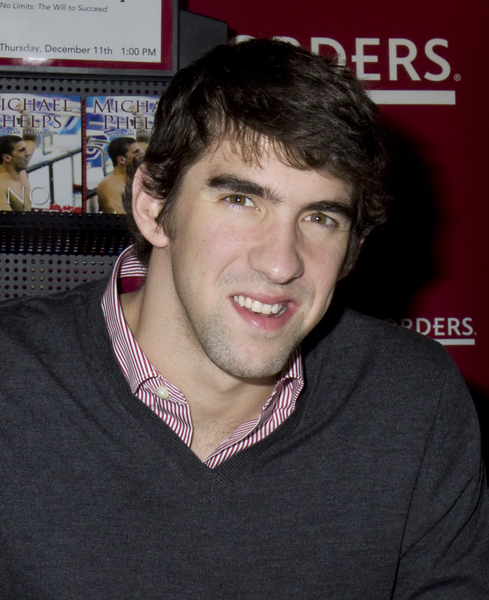 Just two weeks after the photos of Michael Phelps smoking a bong were released publicly, the South Carolina sheriff who vowed to investigate the crime claimed that there wasn't enough evidence to prosecute Phelps. So it looks like Phelps has gotten away with it (for now).
Or has he? Phelps either lost several of his contracts, or the contracts are not being renewed, like his Kelloggs contract. All because the Olympic golden boy smoked a little weed. After the sheriff's announcement that there would be no prosecution, Phelps issued yet another apology. People has more:
Less than an hour after a South Carolina sheriff said he would not file drug charges against Michael Phelps, Olympic star – who was photographed last fall smoking a marijuana pipe – issued another mea culpa and pledged to "dive back into the pool."

"I'm glad this matter is put to rest. But there are also some important lessons that I've learned," Phelps, 23, said in a statement Monday.

"For me, it's all about recognizing that I used bad judgment and it's a mistake I won't make again. For young people especially – be careful about the decisions you make. One bad decision can really hurt you and the people you care about."

Richland County sheriff Leon Lott announced earlier Monday that a nearly two-week investigation had failed to produce enough evidence to prosecute anyone present at a November party at the University of South Carolina, where the photo was taken.
From People Magazine
Bill Maher was recently interviewed on Larry King Live, and Maher claimed that Phelps shouldn't have to apologize, because, in Maher's words "pot never killed anybody". It's an interesting view, but it's a view that won't win over all of the moms and kids who adore Phelps and his Olympic achievements.
I'm glad Phelps isn't going to be prosecuted, though. I tend to think that his apology and the pulling of his contracts and endorsement deals should be enough "punishment". It's not like he was abusing dogs or anything – he was just smoking a little weed.
Michael Phelps is shown signing copies of his biography on 12/11/08. Credit: PRPhotos