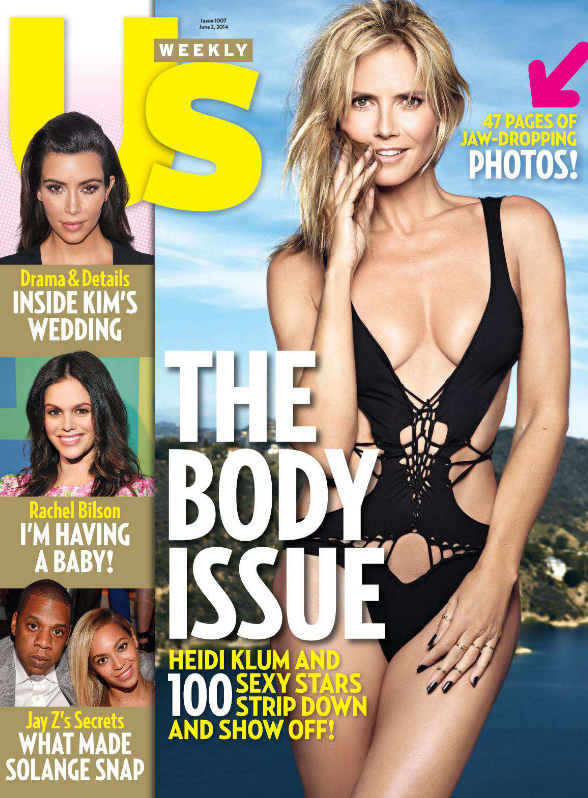 Before we cover this story, I would like to point out some of the many McDonalds commercials Heidi Klum did in her native Germany. Klum wasn't just eating the salads, either, she was seen eating fried chicken wraps and burgers in the commercials. I was living in Germany at the time and it seemed like I saw Klum's face everywhere. Heidi has endorsed a lot of things, so when she derides young models for eating junk food and having cellulite, I guess she can't be expected to make any connection to her McDonalds spokesperson role. Heidi covers the new Body Issue of US Magazine, which makes me wonder why the Kimye wedding didn't rate. The Kardashians must not have given US an exclusive or maybe we'll get a Kimye wedding cover next week. Here's some of what Heidi told US.
On young models' diets
I try to explain to the girls [on Germany's Next Top Model] that eating is important to stay in shape, but also to have beautiful hair, nails and skin. They eat a bunch of crap. They're 16, 17 years old and some have more cellulite than I do! It's like, yeah, you eat one bag of chips after the next or those fruit tarts – what do you call them? – Pop-Tarts. I'm pretty good about not eating too many carbs. I love vegetables.

On NYC breakfasts
I don't eat bagels – no way! A bagel is basically a cardboard box. And if you slap cream cheese on it, it's bad on top of bad. I'd rather do a black bread with half an avocado and salt and pepper. But usually I'll have a smoothie in the morning.

On dessert
I go to a lot of birthdays, with four kids. I hate all those cakes: carrot cake, cupcakes. I like ice cream, though. I don't do anything fat-free. I do whole milk, whatever that is.

On her weight
I go up and down at times, which is tricky for my stylist. It's like, 'Oopsie!' But we just take the dress out. My scale ran out of batteries a year ago, and I never put new ones in.

On looking ageless
I don't! If you put a 20 year-old next to me, of course you see a difference, but that's normal.

On what's attractive
I love a funny woman who doesn't take herself seriously. That, to me, shows confidence. That is sexy.

On her boobs after breast feeding
I breast fed four kids. My boobs were bigger before, but they're still good! I had to do what I had to do.

On body image
Not everyone wants to fit into a pair of skinny jeans. Some women feel sexier when they have more meat on their bones. Their guy likes it more or they like it more. Me, I like it when I'm more fit. I feel very comfortable with the way I am right now.
[From US Weekly, print edition, June 2, 2014]
I agree with her about eating well. I try to eat a lot of salads and healthy foods and I feel better for it, but I do splurge. It wouldn't occur to me to examine young women for cellulite, because I'm not comparing myself to younger women. Plus it's rude to say that! I mean, Heidi is mentoring those models and their bodies are on display, so in that respect of course she notices them. In Heidi's mind she's still hotter than models half her age, and she'll tell you about it. That's what matters to her. And doesn't this US cover kind of speak to that? It's still her career.