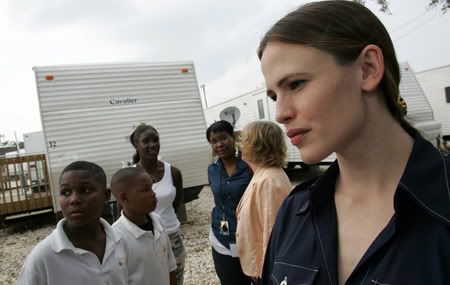 Alias is ending on May 22nd, and Jennifer Garner has said that she's looking forward to some time off with her nearly six month-old daughter, Violet. She may not have much time to rest, because she's negotiating for a role in The Kingdom, a political thriller:
It looks as if Jennifer Garner is in talks to join the cast of The Kingdom, a political thriller about an FBI team investigating the bombing of American workers in the Middle East. Directed by Peter Berg (Friday Night Lights) the Universal Pictures film already has Jamie Foxx and Chris Cooper on board. Given the plot outline, it looks like Garner would be in familiar government super agent territory, considering her long tenure as the indefatigable Sydney Bristow (an agent who knows both Krav Maga, electromagnetic lock picking and Pilates!).
Garner made headlines last week with her charity work with hurricane Katrina victims. She toured New Orleans with Reese Witherspoon and Cicely Tyson, and was brought to tears by a children's performance:
"I've been shocked and heartbroken," said Garner, star of TV's "Alias" and the film "Elektra," who cried when the children danced and sang "Something Inside So Strong" by South African singer Labi Siffre.
It's good of her to lend her celebrity to the cause, and more government resources and effort should be put into support for Katrina victims. Many were without adequate housing for months.
Garner has said that Alias had a good run, but that she is sad to leave her character behind.
Whatever she does next, Garner is sure to do well. She's a positive, friendly person and doesn't take her success for granted.
Here she is outside The Late Show last night, and in New Orleans with Reese Witherspoon. There is also a scan from People magazine about their trip. [via]