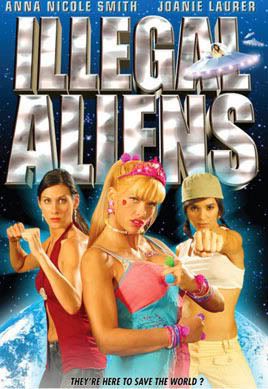 Anna Nicole Smith's last film, Illegal Aliens, is to premier at the Cannes Film Festival in May.
Yes. Anna Nicole, a B movie, premiering in CANNES, people! Opportunistic, anyone? I sure as hell think so:
Initially, the sci-fi "comedy" was scheduled to debut in April, but Anna's untimely death left the release date up in the air.

In the movie, Anna is one of three aliens who "morph into super-hot babes and arrive to protect the earth from the intergalactic forces of evil." The cinematic gem's stellar cast also includes Joanie "Chyna Doll" Laurer and "Dynasty" star John James.
I thought Cannes was for prestigious releases of decent movies, not for films that belong in straight to Blockbuster's $1.99 section!
Let me clear up some facts for everyone before I wake up Sunday morning and find the Daily Mail selling Anna Nicole Commemorative Plates: Anna Nicole Smith was a Playboy model for a blink it and you'll miss it minute. She was best known for being drugged up all the time, and for sleeping with a grandad to get his dough. By all tabloid accounts, she sometimes was not a very nice or responsible person. She took too many drugs, and she died.
All of the above reasons do not make her an actress, and it surely does not warrant that her last film be shown in Cannes. I know people want to compare her to Marilyn Monroe, but Marilyn made classics like Bus Stop, The Seven Year Itch, and Some Like It Hot. Those films, if released now, deserve to be released in Cannes. Just because someone dies does not mean make their last film any good.
If studios release this out of sympathy for Smith's death, then where does the trend stop? Why don't they release Jenna Jameson's films in Sundance because she's battled cancer, or give Britney an Oscar for Crossroads because she had a bad year?
Seriously, there is an ex-WWF wrestler in the movie — if that is not an omen of how bad this movie must be, then I don't know what is!
Video note by Celebitchy: Here's the trailer.