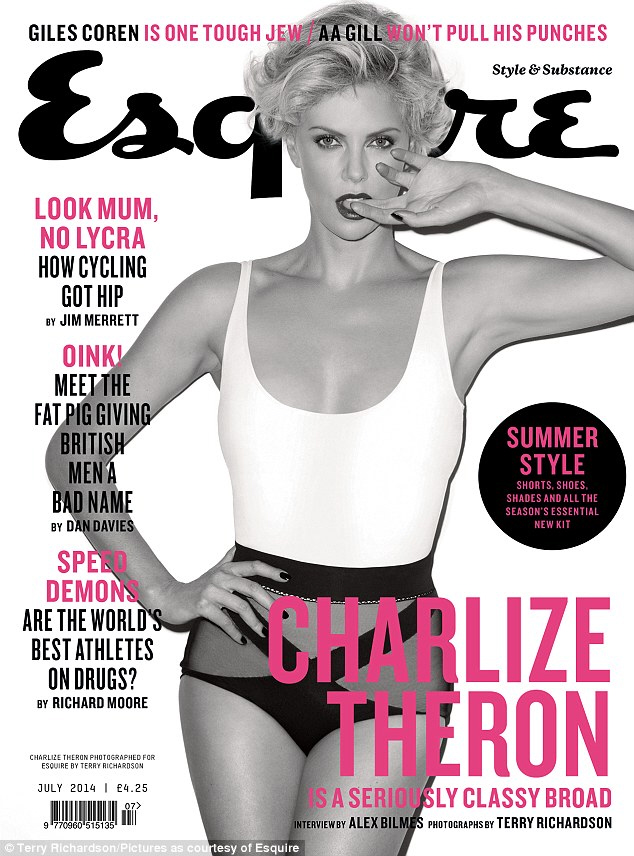 I've never realized this before, but holy mother, Charlize really does look like Madonna. It's dependent on the styling of course, but if you threw a pair of lace gloves and a bustier on her, this would be Like a Virgin-era Madonna. Bless. Anyway, Charlize covers the new issue of Esquire and bad news, the photoshoot is by Terry Richardson. You probably figured that out already because the background is "p0rn-shoot white wall" and Terry handpicked the most cartoonish photos to use for the editorial. First Sean Penn and now Uncle Terry? Charlize, you need to spend time with better dudes.
As for the Esquire interview, I only got about halfway through before I had to stop. It's not that Charlize is uninteresting – she's always a pretty good interview – it's just that Esquire consistently hires some of the worst celebrity profilers working in magazine journalism. The piece is written to death and I'm sure all of the interesting stuff is buried in the last few paragraphs. So, you can read the full piece here (Sean Penn makes a cheerful guest appearance) and here are some highlights:
Her life isn't aspirational: "I'm sure some people would be like, 'I would never want to have that life.' Oh, I'm sure there's a lot of aspects to my life that a lot of people wouldn't want. Just personal choice things. Like the fact that I'm single at 38. That's not necessarily what a lot of women want…. I mean unmarried. But I'm just saying, a life is good if it's the life that you want."

Dating Sean Penn: "I wasn't in any place that I even wanted something like [a relationship]. Then one day you go: Oh, [Jackson's] almost two now, and he has his little activities that he goes to and he's got a bedtime now, and you have more time again. And it's like if you are open to something, if you just let it happen, it will happen. When you least expect it. It was nice to be single and now it's nice to be not single."

A Million Ways to Die in the West: "I don't think I'm funny in it. But I don't think that was my job…I don't do comedies, I mean, I just don't.'

How she was raised: "I think I am who I am today because I was raised by parents who instilled certain fundamentals in me. Yes, there were things in my family that weren't healthy – like any family but maybe to a little bit more of a severe degree – but the one thing I can give both of my parents was that I was raised with a really good foundation. I was f–king lucky to be born into that. Self-worth. Being a young girl and not putting your worth into your beauty. That was not something that I was raised with. So when I left home and everybody was like, 'Oh, you're pretty,' I was like, I don't even know what that concept means."
The bulk of the conversation, oddly enough, was about Charlize's turn as Libby Day in the adaptation of Gillian Flynn's Dark Places, which comes out later this year. I mean, why not talk about A Million Ways, right? That's the film coming out immediately. But all of that talk was just an excuse for the Esquire writer to ask her a million questions about her father's death by her mom's hand and to her credit, Charlize doesn't punch the writer. She just answers sort of matter-of-factly without saying anything new. Enough already!
Photos courtesy of Terry Richardson/Esquire.