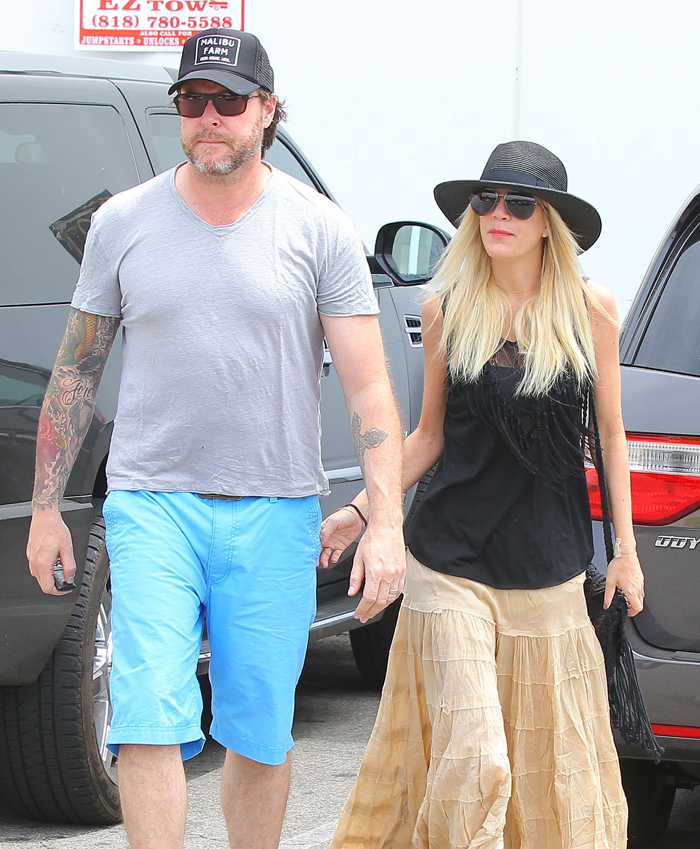 Tori Spelling and Dean McDermott are still here. The first season of Lifetime's True Tori has finally drawn to a close. No word on whether the series will be renewed. No matter what, Tori will be handing us plenty of vom-worthy details of her sex life. Plus there's the awful screaming, drag-out fight that will live on in infamy.
Before the season was over, Tori had to toss in one last bit of disgustingness. She revealed that Dean got a special tattoo just for her. He already had a tattoo of Tori's face above his elbow, but this one is somehow worse. Yes, that's correct. Dean has a tattoo above his nether regions that reads, "Tori's." Gross:
Tori Spelling and Dean McDermott's reality series, True Tori, came to an end on May 27, and viewers were left with quite the hefty dose of TMI.

Spelling revealed during a girls-only lunch that her estranged husband of eight years has a tattoo of her name — in the possessive form, reading "Tori's" — above his penis.

When discussing whether she was okay with the TV host leaving to film Chopped Canada in Toronto — the same city where he previously cheated on her with Emily Goodhand — a friend suggested she make him sign a legal document about the consequences of cheating or drinking again.

Spelling, however, then pointed out that even having a tattoo of her name on his body didn't stop him from fooling around. "It says 'Tori's.' And months later he cheated on me," Spelling told her friends.

Aside from revealing McDermott's intimate ink, the episode also showed the couple go on their first date in six months to celebrate their eighth wedding anniversary.

In the end, McDermott ended up heading to Canada to film the show, after his manager warned him there could be a $5 million lawsuit if he backed out.

"I'm mad at myself. This was the biggest f–k-up of my life. I jeopardized everything — my wife, my family, my career, everything," he told the camera.

Despite her reservations, the 41-year-old told mother of four told McDermott he had to go. "It means everything to me that you wouldn't go," she said. "[But] we can't let one huge mistake define us."

The next day, the whole family took McDermott to the airport to send him off, where the couple shared a kiss and an emotional goodbye.

"I know what's at stake here," the 47-year-old told the camera, "My relationship with my wife, my relationship with my children. It's tough. We've gone through a lot. But I will not let them down."
[From Us Weekly]
I did not need to know this, but at least we know for sure that Dean didn't really cheat. Not even made-up Emily Goodhand would sleep with some dude with a "Tori's" tattoo above his crotch.
Here's a quick round up some more Tori tidbits from the past few days:
* Radar has a very non-shocking exclusive report about how Tori purposely "shaped the truth" on True Tori to make Dean "look like the bad guy." Ya think?
* The Mail says Tori's dramatic hospitalization for "severe abdominal pains" and "migraines" was "stress induced." Tori was also dehydrated. She's fine now.
* Radar has a hilarious report about how Tori uses two full-time nannies all the time. But when she went into the hospital, Tori told the nannies to get lost so that Dean would have to take care of all four children by himself. There's also sadness in this report because Tori's oldest kids, Liam and Stella, "seem so lost in all of this. No one is paying attention to their needs."
* Yet another report from Radar (do you see a trend yet?) says Tori and Dean's neighbors are completely irritated with how the family moved in and started filming. All of a sudden, the neighborhood was turned into a haven for a film crew and tons of paparazzi. Tori also has "five or six dogs" that bark around the clock.
Also, Tori stopped by Toys 'r' Us and bought a ton of crap. She surely called the paps.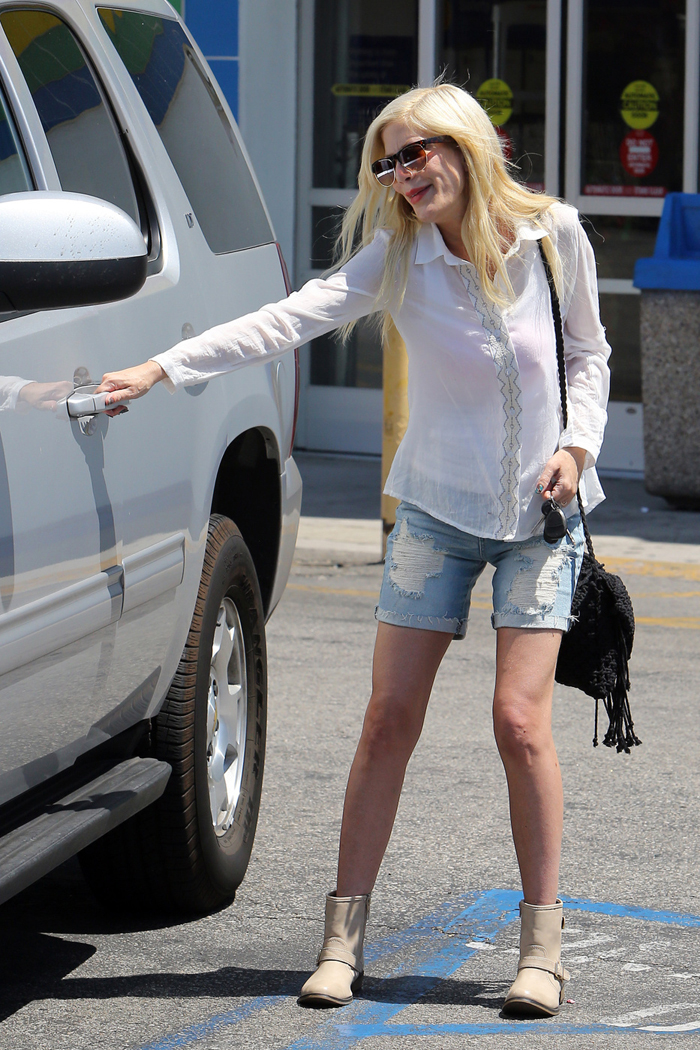 Here are some photos of Dean's tattoos from 2009. He has at least four other tattoos for Tori.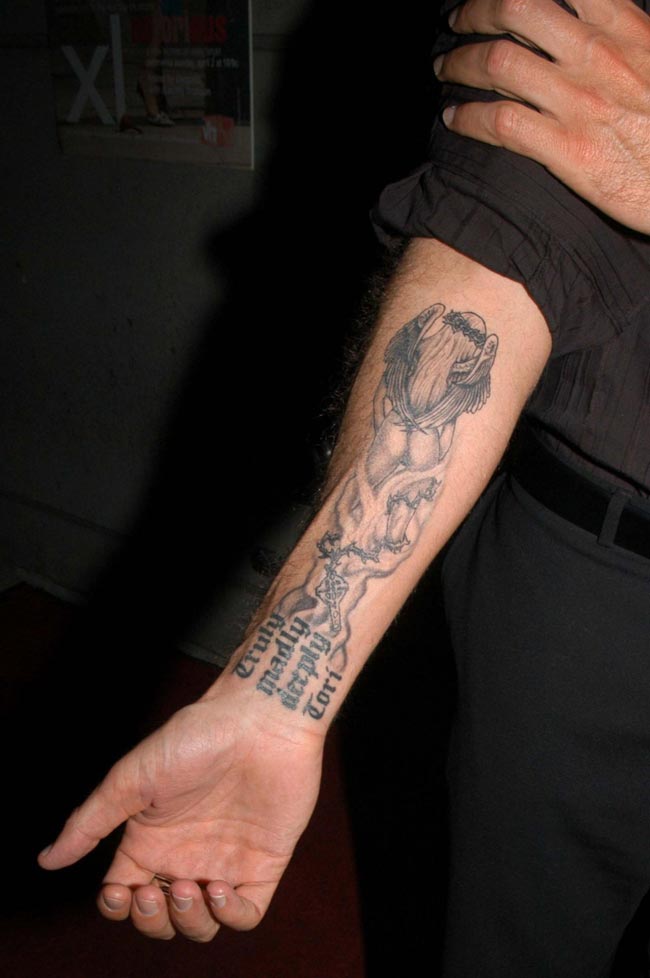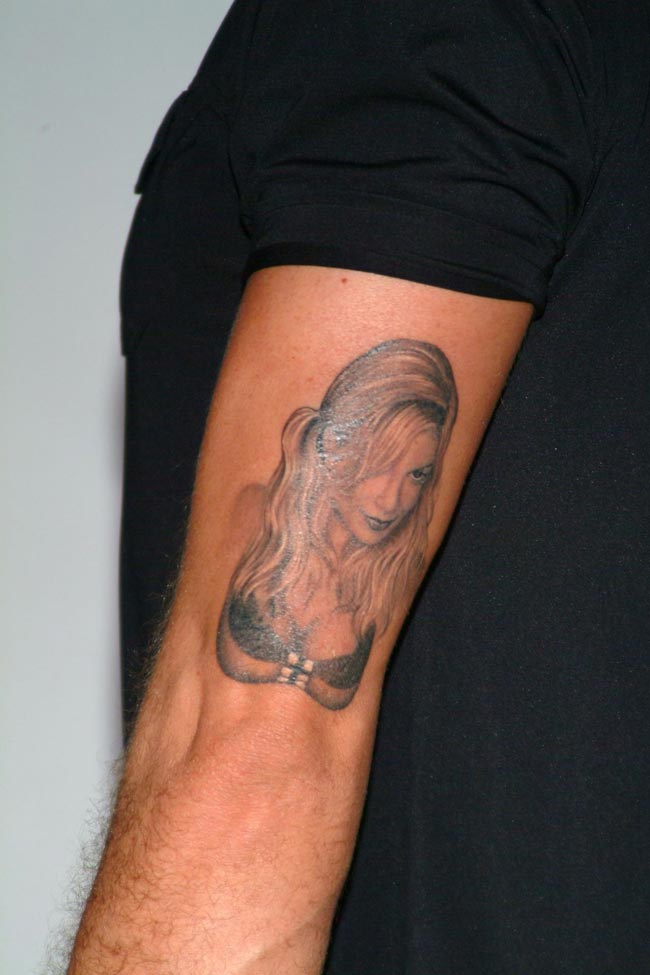 Photos courtesy of Pacific Coast News, WENN & Fame/Flynet