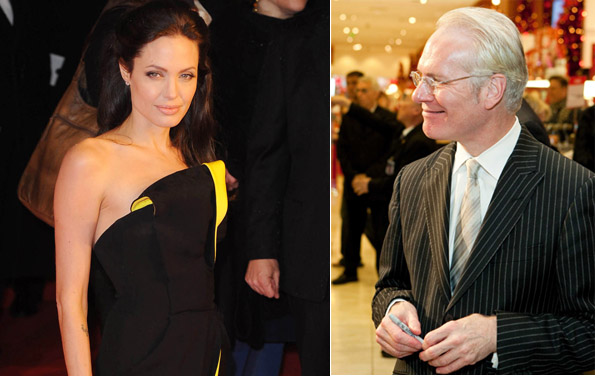 I love Tim Gunn. I love his good heart, his style, his voice and mannerisms. I love Project Runway, even though I may never see it again because it's stuck in litigation. And it's great that Gunn adores Meryl Streep and Angelina Jolie – he admires them so much they are the top two people he wants to meet on Oscar night. Gunn will be co-hosting ABC's "live pre-Oscar special", which I think is just a fancy way of saying "red carpet".
Gunn gave an interview to E! Online, and he was he usual sassy self. Last year, he famously called Jennifer Aniston's style "desperate", so you know he's totally Team Jolie. In this interview, Gunn calls La Jolie's style "age appropriate" and "context appropriate". I'm a Brangeloonie, but even I don't think Angie's style is flawless. She's been dressed in glittery, pale sacks for most of the red carpets this year. But I will give him "context appropriate" – Jolie knows what's appropriate for what occasion. Here's the full Tim Gunn interview:
Tim Gunn would like a word with Meryl Streep.

"I am her biggest fan and I can't get enough of her," the Project Runway mentoring guru tells me. "But wearing my fashion hat, I want to say to Meryl Streep, 'You need to accept responsibility for what you are wearing. I don't know that you do.' She is so smart, so stunning, and she has a great figure."

Gunn says he'd love to go shopping with Ms. Streep to help her—yup—make it work.

"Sometimes she gets it right, but more often she doesn't," Gunn says. "The message she's sending is, I'm too smart for this and it doesn't matter to me what I'm wearing. I want to say to her that it should matter to you."

Gunn may finally get that chance to chat with Streep on Sunday, when he cohosts ABC's live pre-Oscar special with Good Morning America's Robin Roberts and Jess Cagle (Entertainment Weekly's managing editor).

Gunn is also hoping to meet Angelina Jolie on the big day. No, he doesn't think she needs any help in the fashion department. Jolie, Gunn gushes, always gets it right.

"She's one who knows her body, understands how important silhouetted proportion is and getting your look right is," he explains. "She always has a great fit. But you know what impresses me more about Angelina Jolie than the red carpet dresses? It's how she navigates the real world. She does it without looking inappropriate. She's age appropriate and she's context appropriate. She has a sophistication yet a sexiness and she has a consistent polish."

…Gunn is still not sure what he'll be wearing to the Oscars. But it does sound like he's leaning toward his J. Crew tuxedo. He says, "I'm taking a note from Michelle Obama."
From E! Online
J.Crew tux? Tim, go for Armani! He'd be dazzling in Armani, wouldn't he? I found his Michelle Obama remark very telling though – through NY Fashion week, multiple designers have been commenting that they've taken their cues from Michelle Obama's style, elegance and frugality. And am I the only one who wants to see Tim Gunn style Meryl Streep? She would look fabulous.
Tim Gunn is shown on 12/9/08. Angelina Jolie is shown at various events the past few months. Credit: WENN