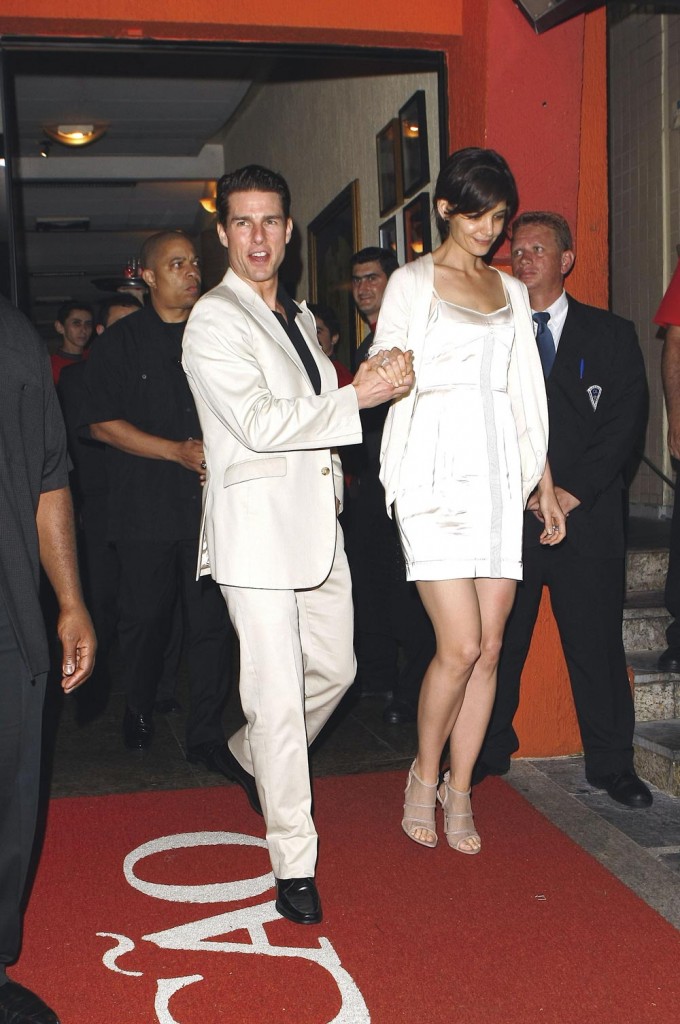 Tom Cruise is a man of leisure at the moment. He can jet off to Florida for a little rest and relaxation, attend Daytona, then take his girls to DisneyWorld to meet Cinderella. His comeback is nearly complete. The only thing that would enhance it would be a magnanimous appearance at the Oscars, even though the Academy failed to nominate him this year for his hilarious appearance in Tropic Thunder (though the Academy recognized Robert Downey Jr.'s comeback).
But Tom Cruise won't be doing "presenting" duties at the Oscars. Allegedly, according to OK! Magazine, Cruise and Holmes will not be attending this year's Oscar ceremony. It could be a fake-out, like when Tom presented in 2002, the year his new ex-wife Nicole Kidman was nominated for Moulin Rouge. Or it could be that the Academy didn't even ask Tom or his wife (or both) to present.
Perhaps it's because Valkyrie was a box-office dud or because Mad Money was an even bigger disappointment, but it looks like this year's Academy Awards ceremony will be TomKat free.

According to a source close to Tom Cruise and Katie Holmes, the Hollywood power couple had been planning on attending the Feb. 22 festivities, despite neither of them getting any love from the Academy.

But then in the last couple days "plans changed," says the source adding that it's all a bit of a mystery as to why, since both Tom and Katie are still planning on being in town for the weekend.
From OK! Magazine
Even though I've lately been giving into the power of Xenu, I know Tom Cruise's publicity-seeking ways too well. Even if he's not attending the Oscar ceremony, he'll find some way to be apart of the Oscar festivities. Perhaps Tom and Katie plan to party-hop all night? That would be my guess, but maybe Xenu will provide some last-mintue presenting duties so Tom won't lose face.
Tom Cruise and Katie Holmes are shown leaving a restaurant in Brazil on 2/2/09. Credit: WENN