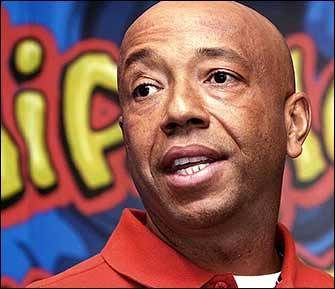 Hip-hop mogul Russell Simmons risks alienating people in the rap/hip hop community with his stance on music censorship. He believes that the recording industry and radio stations should ban words such as "bitch," "ho" and the n-word from "clean versions" of rap songs from the airwaves.
I'm surprised this is coming from the man who was married to Kimora "Get out of my face, bitch" Lee.
From Page Six:
Currently such epithets are banned from most clean versions, but record companies sometimes "arbitrarily" decide which offensive words to exclude and there's no uniform standard for deleting such words, Simmons said.

Expressing concern about the "growing public outrage" over the use of such words in rap lyrics, Simmons said the words "bitch," "ho" and "nigger" should be considered "extreme curse words."

"We recommend (they're) always out," Simmons, the pioneering entrepreneur who made millions of dollars as he helped shape hip-hop culture, said in an interview Monday. "This is a first step. It's a clear message and a consistency that we want the industry to accept for more corporate social responsibility."
I think this is funny, considering the guy who is president of Def Jam, the company HE founded, is Jay ("Aint No N****") Z.
Don't get me wrong–I do understand where he is going with the idea. The "clean" version of the Pussycat Doll song Wait A Minute, for example, is useless; if your kid has a dirty enough mind and vocabulary, they can easily fill in the blanks. Censorship and music haven't always made the best bedfellows ever since Tipper Gore took up the campaign ages ago. Simmons has his heart in the right place — I just don't think his idea is going to be well received by everyone.
I think Simmons is going to have a battle with this issue, especially by people whose careers were built out of pulling the free speech card and saying things like "I have hos in different area codes". He's going to be seen like he's biting the hand that keeps him in tacky gold jewelry a bit, isn't he?