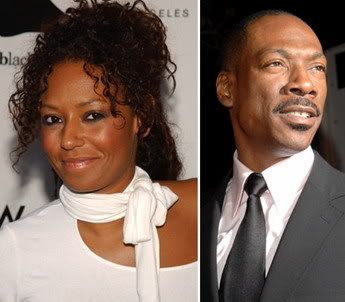 Melanie B (or Scary Spice as she is better known), has not named her daughter Fortuna Daphne Bay as previously thought. She has actually named her daughter Angel Iris Murphy Brown.
Thanks be to Jeebus! Finally, a semi-normal sounding name for a Spice Girl offspring. Still find the Murphy Brown thing funny, though.
Here's where she got the inspiration for her little girl's name:
Mel B has dealt a blow to Eddie Murphy's claims he's not the father of her baby, by naming the girl after him.

According to Mel B, whose real name is Melanie Brown, the name was inspired by a number of things.

She said: 'Angel, as she was my little angel through my pregnancy. Iris, as it's my Grandma's name, Murphy because he's the Dad and Brown, because I'm the Mum.'
Eddie Murphy is not going to be happy that she's put his surname on the birth certificate, as he's still busy denying to everyone that the child is his. He's especially not going to be happy that Mel B is insinuating to the press that Eddie is the baby's father (although I think, like the whole Larry Birkhead thing, that everyone knows this is a foregone conclusion).
I believe Mel B, and if she's actually proven right, I don't see Eddie actually winning anything except looking like an awkward prick about the whole situation. He should just do a Chris Rock and own up to the fact he fathered a child with the woman, no matter how Scary she is. I'm sure Maury Povich can do the tests on national TV — free publicity and DNA results, it's a win/win situation for all!
Update by Celebitchy: Here's Melanie B and little Angel on the cover of OK!. Picture found at CelebWarship.