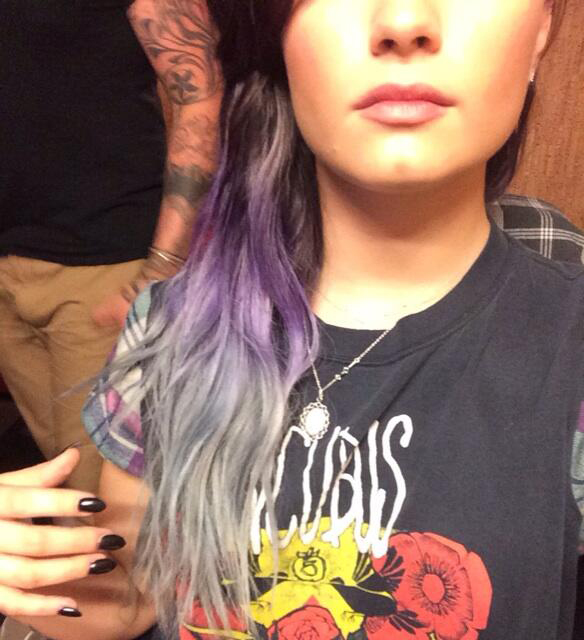 Demi Lovato has changed her hair color again. Now she's sporting a brown-to-lavender-to-grey ombre style. She also paid a visit to Late Night With Seth Meyers to promote (I think) her upcoming world tour. This isn't the first Seth Meyers clip that I've watched, but it's the first one where I've noticed how uncomfortable he seems as host of his own show. Am I the only one who sees this? Seth's's not as frenetic as Jimmy Fallon, but Fallon's overall energy lets him get away with weirdness. With Seth, it's offputting.
Demi decided to use a big chunk of her visit to talk about her belief in aliens. Not just any old aliens. Alien mermaids. For real. Demi thinks there are mermaids in the Indian Ocean that are really aliens:
Demi Lovato: "I know that [aliens are] real … How self-centered would we be as humans to believe that we are the only living things in the universe?"

Seth Meyers: "Well, call me self-centered. Because I don't believe in aliens."

Demi: "Well, I'm also a huge fan of conspiracy theories."

Seth: "You … I think this is my favorite. You're all in on mermaids."

Demi: "Okay, I can explain. So you know Atlantis? There was that underground city."

Seth: "Underwater city."

Demi: "You know what I mean. I believe that there could possibly be mermaids, which is actually an alien species that lives in parts of the Indian Ocean that we have never explored before. And Christopher Columbus had actually seen three mermaids on the way to America. I just really think it's possible. There's this, like, really extremely convincing documentary that came out."

Seth: "The Little Mermaid?"

Demi: "No! It was on, like, National Geographic — no, the Discovery Channel. And then the next day they had to say it was fake. I mean, they're aliens. You can laugh all you want."
[From Late Night with Seth Meyers]
Seth encouraged Demi to do her research and come back. LOL. Demi is probably talking about the discredited faux documentaries "Mermaids: The Body Found," and the follow-up, "Mermaids: The New Evidence." Both "docs" aired on Discovery Channel's Animal Planet in 2012 and 2013. Both were hoaxes with fake news segments, fake "found footage," and fake expert interviews to give them the feel of legitimacy.
Columbus did claim to have seen mermaids during his voyage, but they weren't hot mermaids. They were "not half as beautiful as they are painted." Scientists believe the creatures were manatees. They definitely were not alien mermaids. A lot of people do believe in alien life forms. I think they do exist but are nothing like what we expect. I think we'll actually be very disappointed if we discover alien life because they'll resemble plankton or moss. Nothing sentient. Feel free to disagree.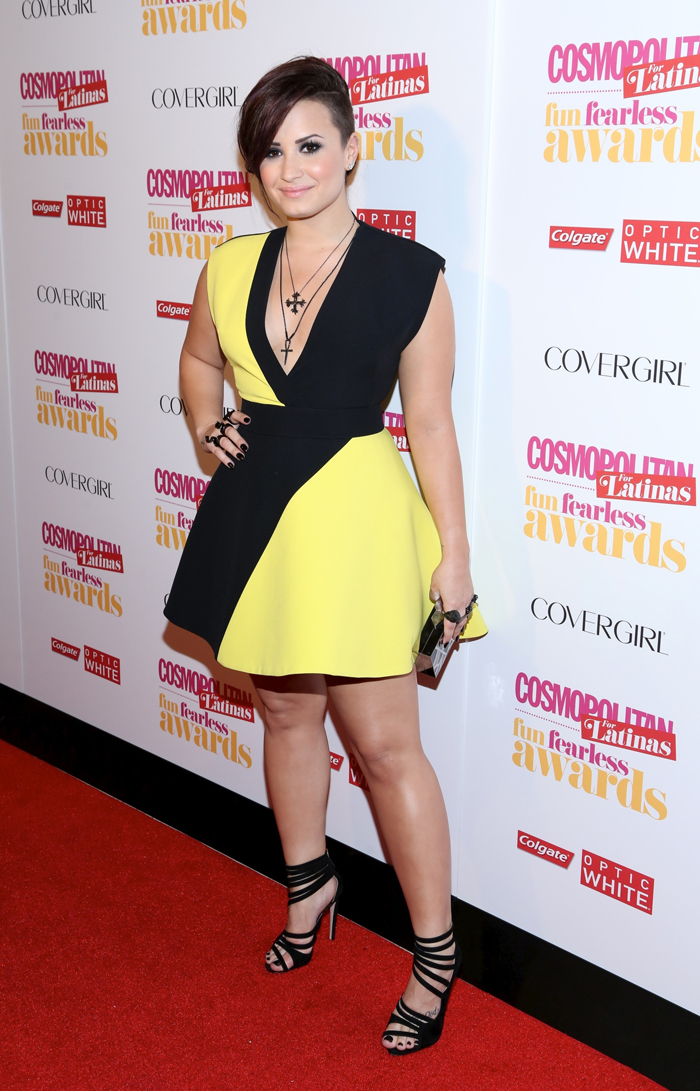 Photos courtesy of Demi Lovato on Twitter, Fame/Flynet & WENN