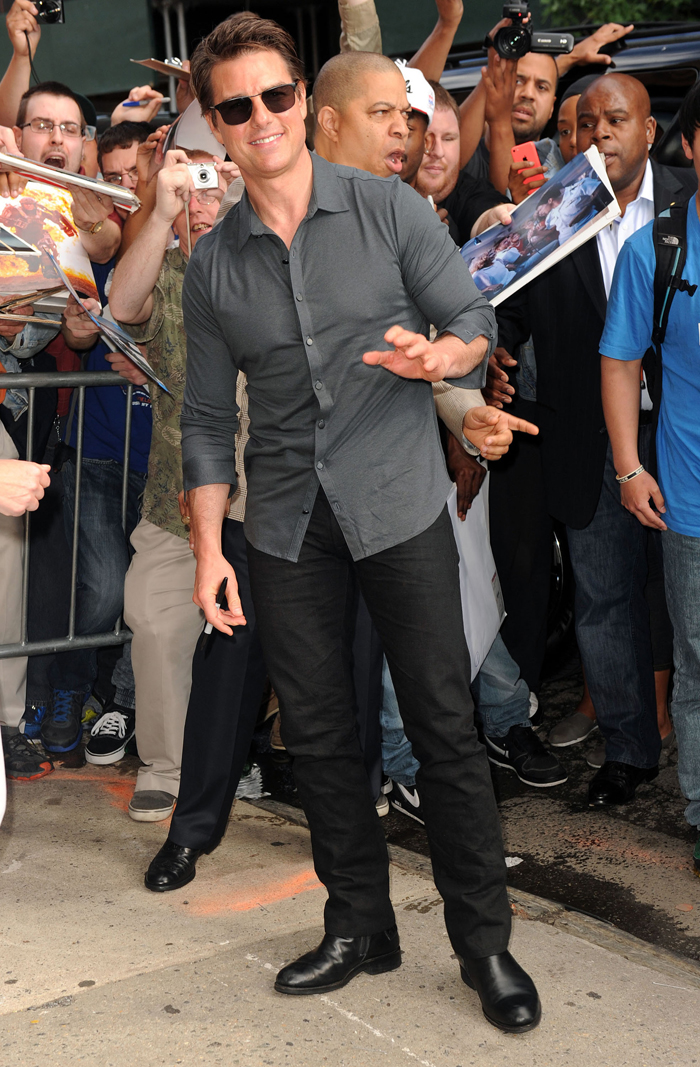 These are photos of Tom Cruise paying a visit to Jon Stewart yesterday and Jimmy Kimmel a few days ago. Edge of Tomorrow comes out today, and Tom finally relented from his silent, nodding press tour to do some last-minute solo promotion. I get way too much pleasure from seeing Sciento-bodyguard giving the "stern" finger to the masses. So fierce.
This movie comes with (like most Tom Cruise movies) a gigantic studio price tag. It will probably break even after international and DVD sales to balance out what is predicted to be a weak US box-office. Reviews are largely positive, but I don't know how many people are interested in watching another Tom Cruise alien invasion movie with lots of explosions. Pre-release tracking suggests that The Fault in Our Stars will beat Edge of Tomorrow. Man, if Shailene Woodley beats Tom Cruise, we'll never hear the end of the sunshine vadge. But I'd be willing to bet that Angelina Jolie's Maleficent will hold onto the #1 spot for a 2nd weekend.
The Liftmaster was very subdued as he visited Kimmel. Someone has had some intense auditing media prep. In this clip, Tom admits to sleeping about 2 hours per night. Sometimes more, sometimes less. For real? He also says he invented the international press tour while promoting Top Gun:
"It was amazing. We traveled all over the world … Italy, Paris, Japan … I always wanted to travel … It took four months, this tour. We used to do these tours foreign and it would take months. You'd spend weeks in one place, which I loved spending that time. I was working, Scorsese was editing The Color of Money, [there] was an early draft of Rain Man, and I was there in Paris, and I thought, 'I wanna make movies.'"
[From Jimmy Kimmel Live]
Well … as absurd as it sounds for Tom to claim this "invention," he's not wrong. Tom was the biggest movie star of the 1980s and '90s. Maybe he didn't actually dream up international movie tours, but he's the first one who became famous for doing it. Does anyone else feel a dash of nostalgia for the movies that Tom mentioned? Those were unforgettable films with great scripts, not simply "Tom Cruise action movies." He's pretty much stuck in one genre now, but it's still working for the moment.
Tom also admitted to watching a movie every day. Here's the clip. He's playing it so safe for this tour.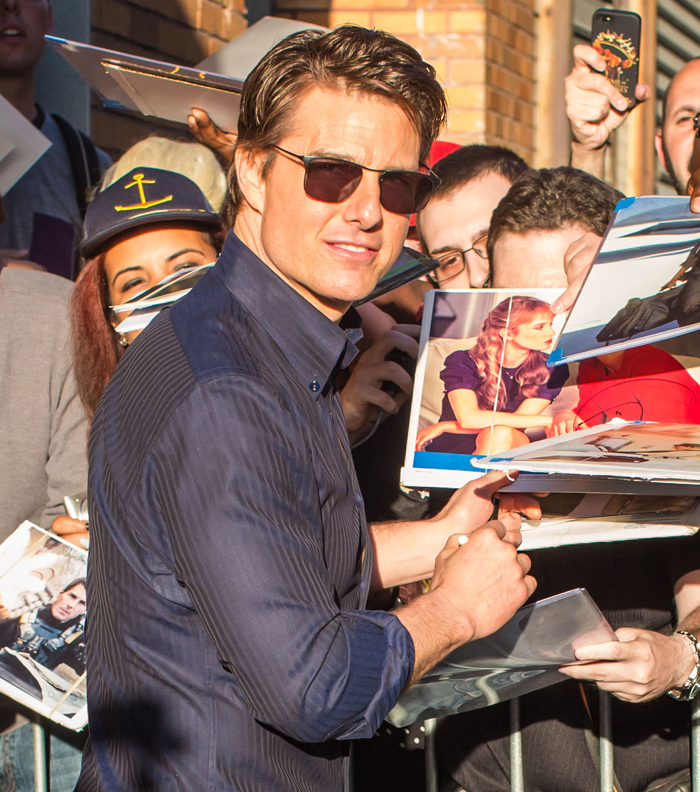 Photos courtesy of Fame/Flynet & WENN